Black Tot Rum – Bold, Beautiful Take on British Navy Rum
Any and every account of history is always full of holes. Chroniclers are, of course, to blame. Biases, inaccuracies, oversights, and lies ensure that the stories of our past remain incomplete. Black Tot Rum, though, changes a bit of that…at least as it relates to one such old story.
The historical date in question: July 31, 1970; one of the more notable days in the annals of rum. Fittingly, it was a Friday. A perfect day for a grand happy hour toast marking the end of one of the world's most storied drinking traditions…
The Daily Tot.
As we've covered a bit before, each sailor in the British Royal Navy was afforded a daily ration of rum or "daily tot of rum" from 1655 until that fateful day in July 1970. That's 367 years worth of rum! Millions upon millions of barrels sourced primarily from Barbados, Guyana, Jamaica, and even Australia.
(Occasionally rums from Jamaica, rons from Cuba, and rhums from Martinique were also added to the mix.)
Millions upon millions of barrels of rum for however many countless British sailors. In other words…
A LOT OF RUM.
If you've ever made large quantities of food or drink for a big group before, then you just know there had to be leftovers, right? Popular history recalls Black Tot Day, a funereal designation assigned to underscore the lamentable, at least to many sailors, final day the rum ration was issued.
That same popular history, though, doesn't say much of anything about what happened to the surviving stocks of Navy Rum.
This is where Black Tot Rum comes in.
Luck Exists in the Leftovers
As the rest of the story goes, leftover rum was kept stored away in Navy warehouses in the UK. Occasionally, the British Government would dip into the stocks for major functions. For the most part, though, after that final tot, the rum was left alone and largely forgotten. That is, until, the British Navy needed the warehouse space.
Scores of stone flagons filled with British Navy Rum were sold off to collectors. In the 2000's, a few eventually made their way to Sukhinder Singh.
You may not know Sukhinder Singh by name. I sure didn't. If you've ever googled most any spirits of any real significance, though, then you've very likely come across his website, The Whiskey Exchange.
The self-styled "World's Specialist Drink Retailer," Whiskey Exchange offers global delivery on 9,000+ fine, often bespoke, spirits. As such, Singh and Co. are always on the lookout for rare and exceptional whiskies, rums, bourbons, etc. Leftover authentic British Navy Rum, as you might well imagine, certainly qualifies.
The Birth of Black Tot Rum
The first reincarnation of authentic British Navy Rum is called Black Tot Last Consignment. Developed by Elixir Distillers, an offshoot of The Whiskey Exchange, Last Consignment debuted in 2010 to commemorate the 40th anniversary of Black Tot Day.
No mere nod to the past navy tradition, Black Tot Last Consignment really is what it says is: the last of the original British Navy Rum. Forgotten leftovers now re-blended, repackaged, and given new life at a price worthy of its rare antique status.
(Editor's note: I haven't had the opportunity to sample any Last Consignment as yet. It's definitely at the top of my rum "bucket list," though.)
A bit lower in price range, but certainly not quality, is Black Tot Finest Caribbean Rum.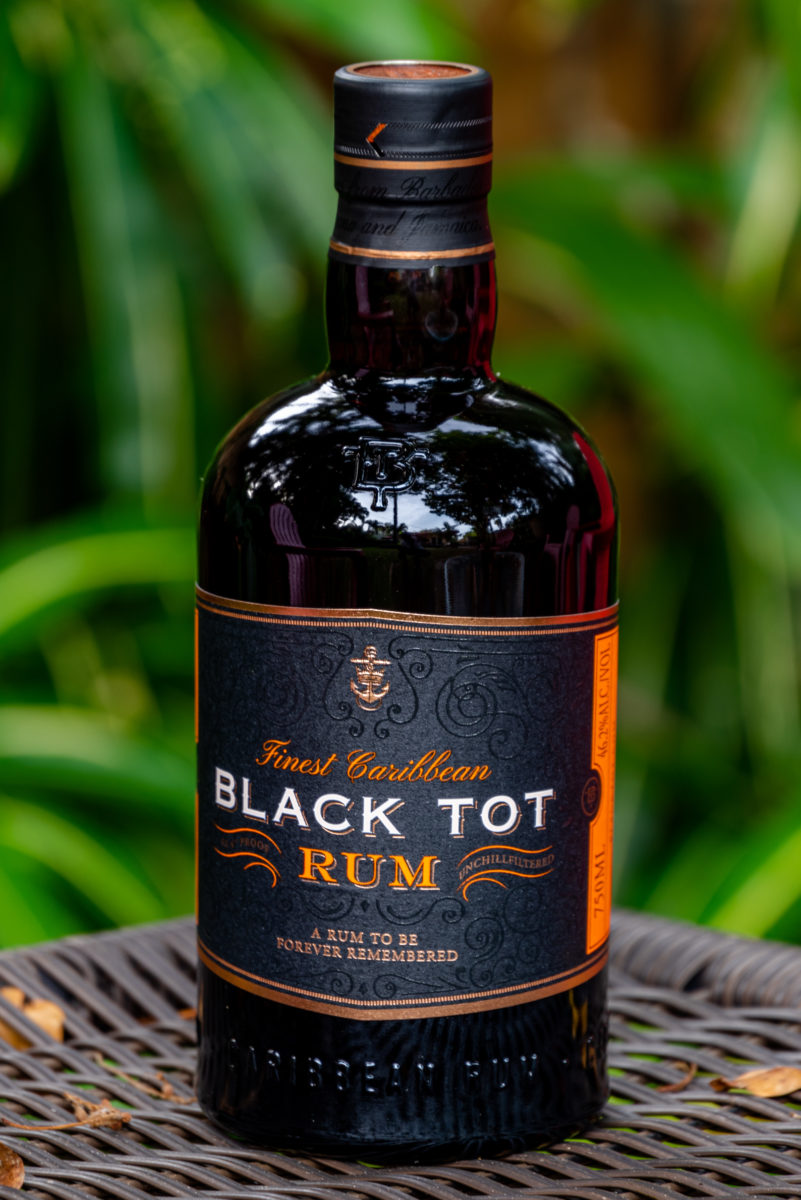 Complimenting What Cannot Be Copied
Understanding that its stock of Last Consignment would some day run out, Elixir sought to develop new blends. The most affordable, Black Tot Finest Caribbean, was released in 2019.
Unlike other rums that intentionally try to replicate the old Navy Rum recipe, Elixir sought to create an altogether new, yet complimentary naval rum with Finest Caribbean.
The company spent two years developing Black Tot Finest Caribbean. Different ratios of varying styles of rums from Guyana, Barbados, Jamaica were tried and re-tried before arriving at the perfect blend of Caribbean rum—both pot and column.
I say "perfect" because it is just that to me. Here's what I mean.
Black Tot Finest Caribbean Rum Tasting Notes
In the glass, Finest Caribbean is dark. Very apropos of a Navy Rum. At the same time, though, there's a nice bit of a red/amber hue to it; the kind I really like. In short, it's gorgeous.
On the nose… I mean… wow!
Big and bold, the olfactory experience is all kinds of awesome darkness. Dark molasses, dark chocolate, dark sugar. Maybe even a hint of dark licorice.
Indeed, black looks and smells beautiful with this stuff.
So, how does it taste?
Once again, the operative word is bold. Robust hints of charred tropical fruits (banana?) shine alongside notes of chocolate, coffee, and molasses. The flavor experience isn't smooth and refined, though. In line with traditional Navy Rum, Finest Caribbean is rough around the edges and a tad overproof—due to being bottled at 46.2% ABV.
If you, like me, prefer a bit of burn with your rum, though, then Black Tot Finest Caribbean can definitely work as a sipper. The warm finish lingers beautifully, soothing you to the core of your soul.
Positively delicious!
Where to Buy Black Tot Caribbean Finest Rum
The full line of Black Tot Rums are available for online orders via The Whiskey Exchange, of course. Here in South Florida, though, I can find Black Tot Caribbean Finest easily on Total Wine store shelves.
Look for it and let us know if your rum review has it living up to its "A Rum to be Forever Remembered" tagline.
Cheers!
Related Posts