Cayman Shoe Tree: Dirty Story Behind The Caribbean's Trashiest Tree
Editor's note: On my most recent visit to Grand Cayman (September 2022), I noticed that the Cayman Shoe Tree is no more. A few random flip flops remain, but it's far from what it used to be. All that we're left with now are fond memories of a worthwhile effort…
Few attractions that I've ever come across on my Caribbean travels appear as strangely out of place as the Cayman Shoe Tree. Fewer still more poignantly address one of the Caribbean's biggest problems: litter.
The Caribbean is not perfect.
Oh, I know we make it sound that way. Believe me, though, we West Indians are well aware of our warts, litter tops among them.
When I was a kid growing up in St. Croix, I remember once getting a ride home from school with a family friend who tossed a soda can to the side of the road like it was no big deal. This guy used to be like an uncle to me. After that litter incident, though, our relationship was never the same.
The environmental awareness movement hadn't quite arrived in the islands in those days. Even now, though, we as a region have a long way to go when it comes to dealing with rubbish.
I mean, how many times have you been disgusted to find old beer cans on otherwise serene and secluded shores? Or cigarette butts lining a remote rainforest hiking trail?
It's not that litter is omnipresent. It's just that in islands as magnificent as ours, it shouldn't exist at all.
Enter the Cayman Shoe Tree
Upon first glance, the Cayman Shoe Tree may seem to be exacerbating the litter problem. Indeed, it stands out for all the wrong reasons as you make the scenic seaside drive along South Sound Road steps from where I captured the last photo in this post.
So, what is the Cayman Shoe Tree? How did it start, and why?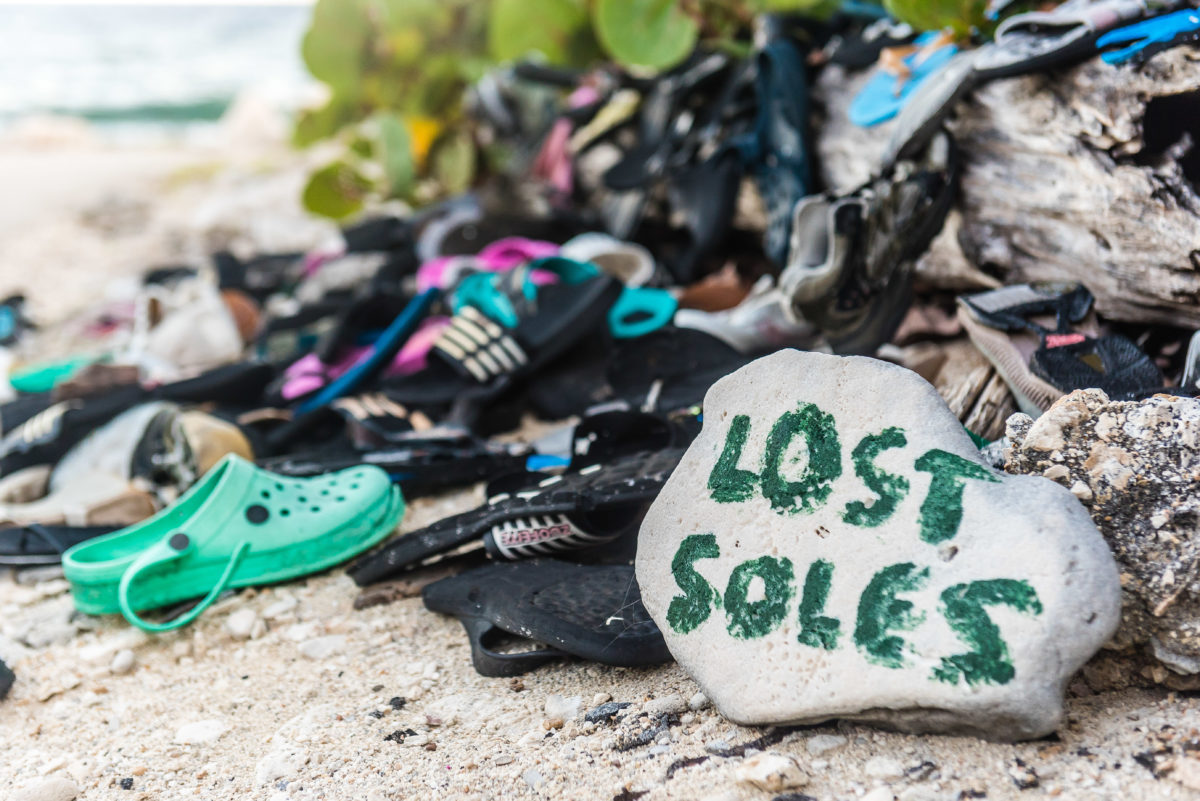 To get some answers on the genesis of this unusual attraction, I tracked down the couple who started the whole thing, Wolfgang Brocklebank and his fiancée, Giovanna Inselmini.
Wolfgang, who hails from British Columbia, Canada, lived in Grand Cayman for nearly four years following the passing of Hurricane Ivan in 2004. An electrician by trade, he was more than happy to leave the cold and snow of Canada behind for a few years to help with the island's reconstruction. His fiancée, Giovanna, is from Switzerland, where as Wolfgang puts it: "They are crazy about recycling."
The couple met in Grand Cayman and fell in love, both with each other and with the island.
As young couples in the islands are often wont to do, Wolfgang and Giovanna often whiled away their free time searching for secluded beaches.
We always used to go out to East End. One beach we found past the Morritt's was our favorite. It was small, with ironshore on each side and nice sand in-between.
The only problem: you guessed it, litter.
Every time we went, we couldn't believe how many shoes we'd find. One day we thought, let's start collecting these shoes, put 'em in garbage bags, and do something with them. No one was going to clean them up, so we thought we should do our little part.
The couple soon discovered, though, that their little endeavor was quite a significant undertaking.
We picked up 333 shoes on that first day—over just four hours on a small 200-meter stretch of beach. No two shoes were a perfect pair either.
Making a Statement
After living with the shoes at their house for a few days, the couple decided to make a statement. A statement drawing attention to Cayman's litter problem and the need for increased recycling. They picked a dead tree at the side of a much-traveled road just south of Seven Mile Beach. This ensured as many tourists and locals as possible would see it. Then, one night, they started affixing shoes to it.
That first night, we worked for four hours and got six feet up the tree, and we still had a ton of shoes left. By the third night, other people started leaving shoes at the base of the tree, and I knew we were on to something.
A Facebook page launched. Travelers kept leaving more and more shoes. Knowing they were soon to leave the island, Wolfgang and Giovanna eventually left a metal box at the base of the tree with nails and a hammer. This way, new residents or visitors could carry on the tradition.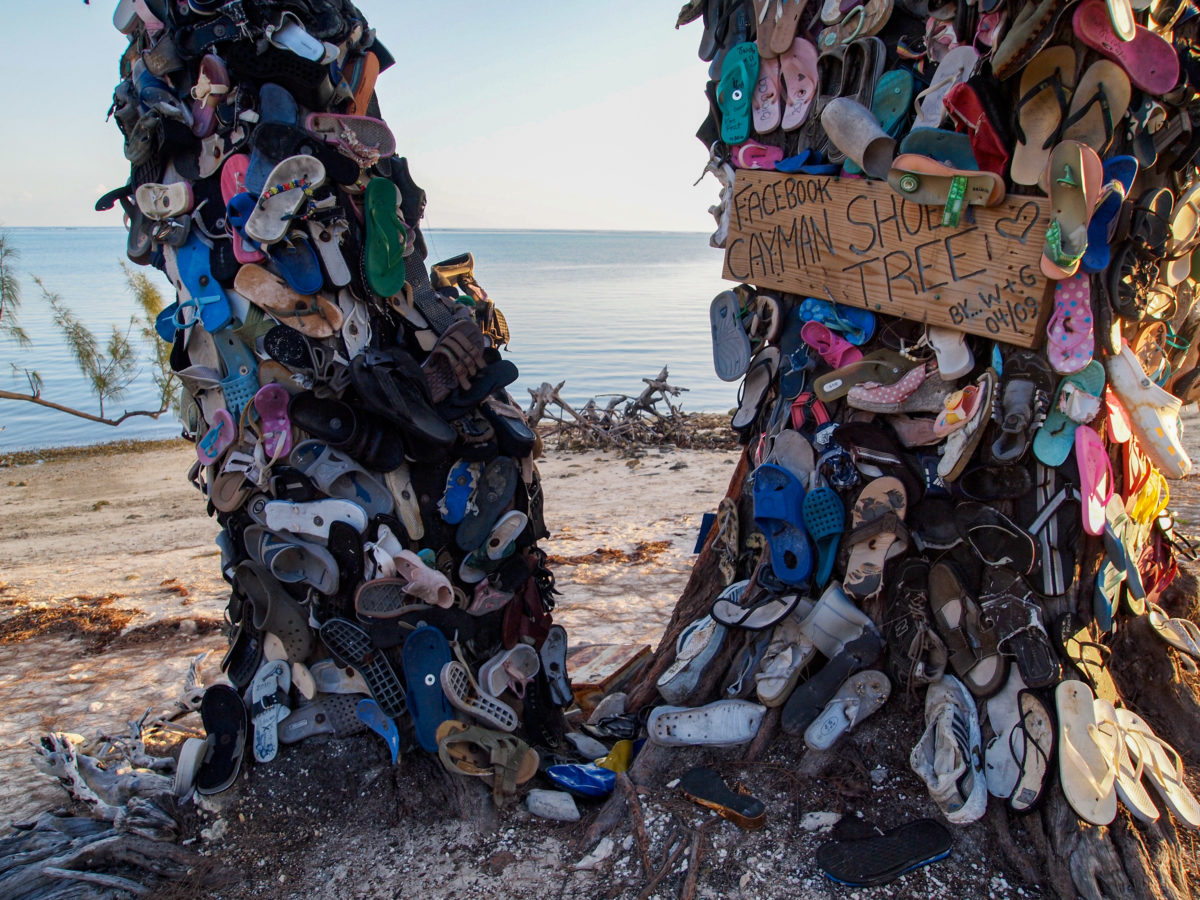 Now, back in Canada, Wolfgang speaks with equal parts pride and surprise over the growth of the Tree and the change he hopes it achieves.
If you go to any beach that nobody's been, it's amazing how much garbage you find. There isn't a lot of recycling in Cayman, but hopefully, the Shoe Tree can raise awareness.
If one filthy dead tree can yield miles of immaculate, litter-free beaches, then I'm all for it!
How To Help
For more on the Cayman Shoe Tree, visit the Tree's Facebook fan page. To help out, please remember to leave our pristine Caribbean beaches as you found them.
That is, of course, unless you discover any trash. If so, then, by all means, lend a hand and pick it up!
Related Posts