Falling in Puppy Love Along Seven Mile Beach, Grand Cayman
Are you still married?
It's a question those of us in the travel biz get all the time. The busy travel schedule definitely puts a strain on my home life, but at least I can make it up to the wife and kids with (what else?) more travel. Trips I've made to Nevis (with the wife) and Tobago (whole family), for instance, were for just that very reason.
For my dog, Hershey, though, there's just no forgiving travel transgressions.
Dog Lover's Lament
The mere sight of my luggage is akin to a knife in the back for Hershey. At least it appears that way from the sad expression she always wears while staring holes through me as I pack before every trip. Leaving Hershey at the door on my way to the airport is always tough. Equally hard is returning to an empty hotel room every night, no smiling face or waging tail to greet me.
It's lonely on the road for us dog lovers, you know?
At least it is everywhere I've traveled in the Caribbean except Grand Cayman. On a recent trip there, I found a cool way to endure a few days away from Hershey, and at the same time, make a small difference for some needy four-legged friends.
Grand Cayman Doggie Day-Cation
Upon arriving on the island, I read in a local magazine about a Doggie Day-Cation program run by the Cayman Islands Humane Society. Through it, locals and visitors alike can provide walks and playtime fun for the dogs and cats in their care.
I called for more info and got the news I was hoping for. Not only could I show up and take a dog for a walk near the facility, I could actually take a dog with me for the whole day!
The next morning, I woke up early, hopped in my rental car, and headed to the Humane Society. It was 9am on a Sunday. They had just opened and everyone was busy tending to the animals. After a couple minutes, a large older man asked me if I was there for a dog. "Just for the day," I made sure to clarify, lest he thought I was picking out a brother or sister for Hershey.
The man led me to the back where I was met with row after row of sweet faces like these…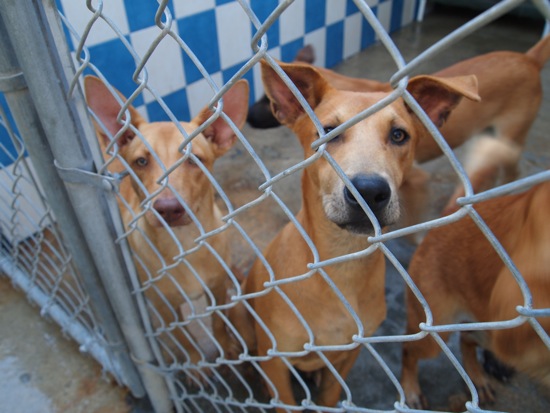 "Which one you want?," the man deadpanned, as though we had done this dance many times before. I, on the other hand, was overwhelmed. So many beautiful dogs, all locked up; barking, leaping, clawing for even the slightest shred of attention in hopes of getting some one-on-one time… Maybe even a new home.
My Sweet Boo Boo
I settled on a one year-old pup named Boo Boo, (Boo for short). After a few tense moments extricating her from the cage she shared with her brother and another dog, we got her on a leash and over to reception. "So, are there any forms or anything that I need to fill out," I asked.
"Nope," the man said. "You can just take her. We close at noon today, so if you can't bring her back by then, just stop back tomorrow."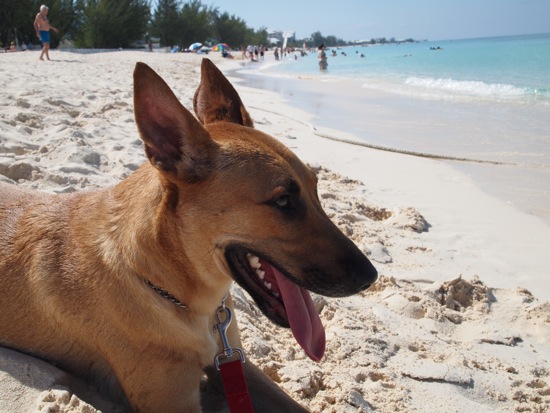 That's right, you can arrange to keep your Cayman pound pup overnight! This assumes, of course, that your hotel allows for pets. On this particular occasion, though, 9am to noon was perfect for me. Even better, the lack of red tape meant that we'd be able to maximize our time together.
Or so I thought. First I had to coax Boo into my car.
Boo was about as good on the leash as you'd expect any one year-old to be. That is to say, she was alright. At the same time, though, she was not getting into that car for anything…or anyone.
This brings me to three pieces of advice for anyone planning on trying this little adventure:
Doggie Day-Cation Tips
Get one of the volunteers to help you load your part-time pup into your rental car. I wasted close to 15 minutes trying to coax Boo in myself; an epic losing battle if ever there was one.
Most definitely ask for plastic bags to collect dog waste before leaving the shelter. The minute I got Boo Boo to a sweet section of Seven Mile Beach, she christened the pristine white sand directly in front of the Governor's Mansion. Umm yeah, that was a bit awkward.
Make sure you have water. It's hot on the beach, especially for dogs like Boo who are deathly afraid of the ocean. Thankfully, I met a really nice lady staying in a condo just a little ways up from the Governor's Mansion who was kind enough to bring Boo some water.
Point #3 also brings to mind a nice little side benefit to having a cute dog with you on Seven Mile Beach: it makes it easier to meet people. This is a cool deal, especially if you're traveling alone and seeking some company, if you know what I mean. (Yes, I'm still married).
Making Friends, Falling In Love
Anyway, Boo and I strolled along Seven Mile Beach for a good, long while. We made friends (hi, Linda!), snapped a few pics, and frolicked in the sand for the better part of the morning. Boo was a little anxious at first, but soon settled down and adapted nicely to our brief beach life together.
At one point, while sitting by ourselves near the shore, Boo started digging in the sand right behind my back, madly flinging sand in all directions in an effort to better snuggle in close. Later, she edged alongside me, playfully dragging her body through the sand before finally resting her head in my lap. I was in heaven.
Sad Good-bye
The return drive to the Humane Society was hard. It was only five minutes, but I wished somehow it could be a helluva lot longer.
Back at reception, another volunteer returned Boo to her cage.
Just like that, it was over.
I returned to my car, ready to tackle a Sunday afternoon of fun. I knew, though, that the rest of my trip would not be the same.
In three short hours I had fallen in love, lost that love, and in the process, gained one of the most amazing travel experiences of my life.
To learn more about how you can enjoy just such a unique and special experience on your next trip to Grand Cayman, visit the Cayman Islands Humane Society website.
Save
Related Posts