Uncommon Inspiration: Taking a Chance And Sailing Away
Editor's Note: Living the dream must begin with a single step. Please join me in welcoming Kelley Gudahl of Sailing Chance as she embarks on what's sure to be the adventure of a lifetime. 
You know that feeling you get right before you leave to travel? That feeling of excitement to explore the unknown? Not knowing what you're going to experience, but knowing it'll be amazing? I love that feeling. You know that other feeling, that feeling of deep and utter depression that you get when it's all over? That feeling I hate and am determined to avoid at all costs.
It was a particularly cold and dark January night in Brooklyn in 2012 when my boyfriend, Jason, and I were out to dinner. He was recapping a recent three-week trek through hot and sunny Central America. I was beyond jealous and lamented the fact that my travel was limited to the standard 10 days of vacation doled out each year by my employer. Excitedly Jason told me he'd figured out the secret – how he was going to be able to leave the 9-5 forever and travel for the majority of the year.
I'm going to open a hostel in Colombia!
"I'll use every meager penny of profit it generates to travel. Hostel owners trade places with other owners all around the world so there's always somewhere to stay. The lifestyle should allow me to travel for long periods of time and the time that I can't, I'll be surrounded by travelers."
Me: "I want in."
After a lot of research and a quick jaunt to Colombia to make sure I actually liked the country (but seriously, what's not to love?) it was set – we were moving to Colombia! And, because we like to do things a little more on the uncommon side, we decided we were going to sail our 1974 34' Seafarer sailboat down there with our two dogs. This way we could see as much as possible between the U.S. and South America along the way.
Just like that, we left our NYC corporate lives, packed up all our belongings, donated what wouldn't fit on our boat (I still cry for all my lost shoes) and said goodbye to all our friends.
Tears were shed – for the life and people we were leaving behind, and for the life that was to come. A life that fulfills Patrick's three simple questions to a tee.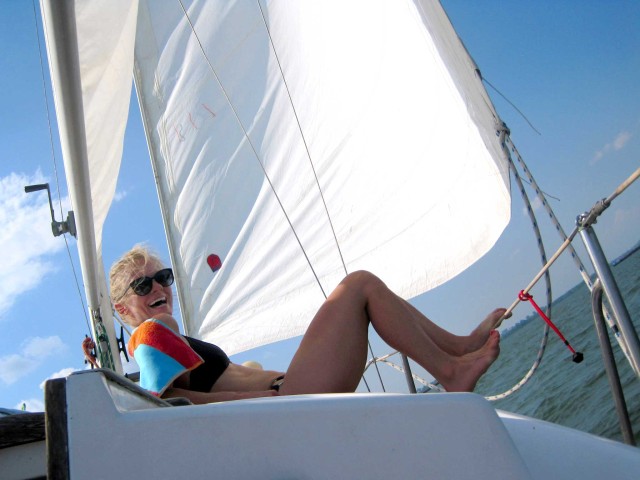 We traded our small Brooklyn apartment for an even smaller home on our boat. We traded certainty and a more traditional way of life for adventure and the unknown. We left one of the busiest cities in the world for nights where we're the only ones in our anchorage. We'll be spending the next few months sailing through the Caribbean – from the Bahamas over to Mexico and down the Central American coast.
The only thing I know for certain is that I have no idea what to expect from this journey.
And I couldn't be more thrilled.
Fair winds and following seas, Kelley! We'll be sure to bring you updates on her progress, or visit SailingChance.com to get the latest. Stay tuned.
Related Posts