On-Site Curacao: Bravely Taking My Fingers Where They'd Never Gone Before
Did you read the culmination of Patrick's death-defying three-part opus recounting his arduous climb up Pico Duarte? It's as epic a tale as we've been fortunate enough to share since we started Uncommon Caribbean. Aside from Dave Keener's Volcano Half-Marathon adventure, Pico Duarte is easily the toughest challenge we've tackled thus far.
You may have noticed, though, that the "we" doing all the tackling does not include "me." It's not that I'm averse to the tough stuff, mind you, it's just that I tend to focus my energies on less dramatic (though no less torturous) feats of daring. Take, for instance, the trials I endured here…
This is the waiting area inside the Atabei Spa at the Hyatt Regency Curacao. Atop that buffet sit a wide assortment of herbal teas, healthy snacks, flavored and mineral waters. I'm sitting in an impossibly comfy chair. The lighting, soothingly dim. The music, even more so. Outside, it's steaming up to 90+ degrees. In here, the thermostat is set around 65. Still, somehow, I'm a little hot under the collar.
I'm nervous… maybe a little scared. The reason: this lady…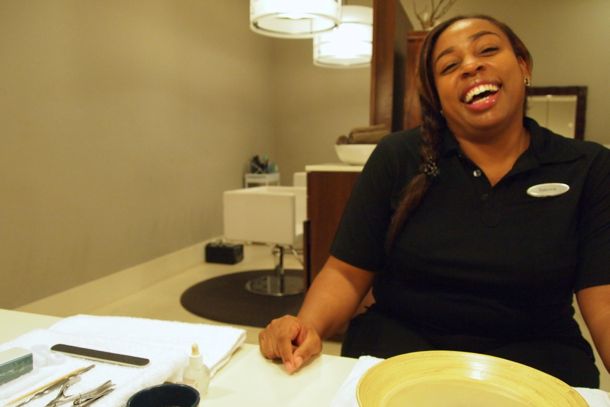 Her name is Sabrina. She's one of the lovely nail technicians at the Atabei Spa, and yes, she's laughing at me. Specifically, she's laughing at my fingernails, which to that point in time had never endured a manicure.
Pico Duarte it was not, but I was anxious nonetheless, especially when Sabrina continued chuckling while lining up those sharp instruments you see laid out so nicely on the white towel to her right. As you may have guessed, my nails are of the typical male variety: short, unkempt, dirty. The prospect of making them even remotely presentable was, indeed, laughable, though I was more concerned with the attendant blood-letting sure to result from such an endeavor.
I kept picturing that pretty white towel slowly turning blood-red, a fingertip rolling across the floor as Sabrina screamed (laughed?), "We've got a bleeder! We've got a bleeder!"
Okay, okay: I'm over exaggerating. Truth be told, part of the reason Sabrina was laughing so much was that I felt compelled to share my silly fears with her. She assured me all would be fine and promptly broke out this…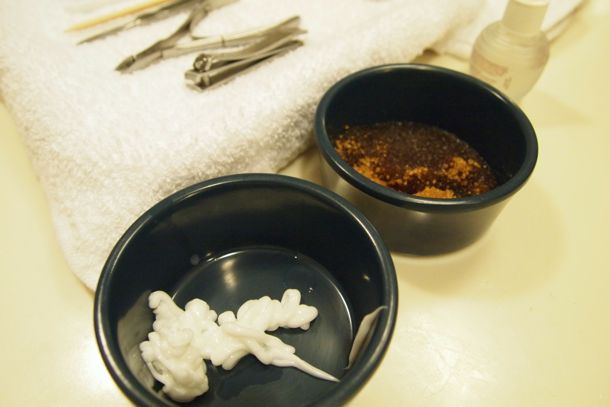 It may not look like much, but there's some seriously therapeutic goodness in those little tubs. Best of all, that goodness is also all-natural and very local. I'm referring particularly to the brown-gold stuff up top. Called the Curacao Laraha Scrub, it's a blend of brown sugar melted into Curacao Liqueur, combined with citrus oil and orange peel. After a careful and bloodless filing, preening and scraping of what little nails I had for her to work with, Sabrina went to town with the brown rub, giving my hands and fingers a fresh, clean and relaxed feeling I'd never experienced before.
By the looks of the menu of services at Atabei, you can enjoy that same type of special feeling, infused with authentic elements of Curacao, in a wide variety of ways. From the Hyatt Regency Curacao website:
The inspiration for our luxury Caribbean spa stems from the ancient culture and rituals of the Arawak people, the original inhabitants of the island.
You can see and feel this inspiration brought to life in the Laraha Scrub, the use of local aloe in facial and other skin care treatments, and the many different oils, lotions, and soaps produced for Atabei by Curacao's very own, Dinah Veeris.
One of the best people you can meet in Curacao, or anywhere else in the Caribbean, Dinah is a world-renowned herbalist with an incredible backstory that I'll have to save for another day. For now, just know that all her products are 100% natural, cultivated and homemade in Curacao, so when your treatments at Atabei include 'em, you're benefiting from the best the island has to offer.
If I ever get back to Atabei, I'll surely look for Sabrina to work her magic on my hands again. I'll also want to try the Stemps Massage. This particular treatment employs an old, traditional healing method unique to Curacao using sachets of locally grown herbs dipped in warm organic oil.
If it can do for my back what Sabrina did for my hands, I'll be feeling very dushi, indeed!
Related Posts