On-Site Dominica: Previewing the New Sunrise Farm Cottages
All around is nature in Dominica; most everything to see, eat, drink and experience, uncommon. Even as the modern world spreads its way inexorably across the fabric of daily life here, it seems this is one corner of the Caribbean where the authentic charm of the real West Indies will always ring true.
Sunrise Farm Cottages suggests as much.
One of Dominica's newest hotels, the cozy retreat opened just a few short months ago in the Castle Bruce area, midway up the island's windswept Atlantic Coast. I happened upon it a few weeks ago while waiting for my prearranged guide to take me hiking along a section of the Waitukubuli Trail. The trail head lies just outside the main entrance to Sunrise, so, as my guide was running a little late, I decided to check it out.
What I found was a neat little collection of 10 free-standing wooden cottages spread along a steep slope to the shore. Except that you couldn't see the shore. Sunrise Farm developers were careful to let a thick line of trees at the base of the property alone, ensconcing a few cottages amid the thicket for added shade and privacy.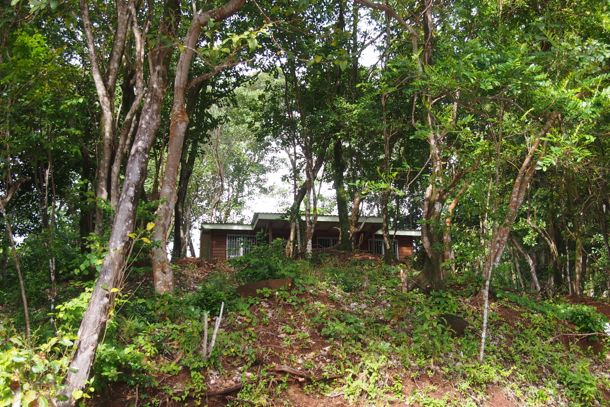 Mid-way up the hill, the pool area and its surrounding cottages are more open, an ideal option for families with small kids…
My favorite accommodations here, though, are the ones at the top of the hill, like the one pictured at the top of this post. Up here the cool breeze blowing off the coast is steady and sweet, filling my head with visions of noonday naps on my verandah, no a/c required.
These are also the cottages that afford guests the best views of sunrises apparently so spectacular, they're featured right in the hotel name. No doubt, whale-watching from those magical verandahs must be excellent as well.
Each cottage at Sunrise Farm features local art and design elements with simple yet comfy furniture, full kitchens, private bathrooms, living/dining areas, Wi-Fi, telephone, TV, air-conditioning you'll probably never use, those breezy verandahs, and more. You can even have your cottage outfitted with standard or deluxe inclusions. More on that here.
Up at the main building, I found more sweet stuff behind a well-stocked bar (Even had Cruzan Rum!) and on the menu for the property's 100% local and health-conscious restaurant. The meals served at Sunrise Farm are local and made with ingredients sourced locally, from the fresh fish and meats they get from area farmers, to the organic produce grown right on-site.
How refreshing and great, I thought, to see a brand new property adapting to its natural surroundings, while also espousing a true sense of the authentic West Indies in its cuisine and decor. I was so in love with everything at Sunrise Farm Cottages that I almost missed out on my hike! I was just so comfortable I didn't want to leave.
Just means I'll have to go back soon… for that noonday nap and so much more…
Low season rates at Sunrise Farm Cottage start at just US$120 per-night based on double occupancy. If you want to squeeze another couple friends into your cottage, it will cost you US$25 per-person nightly. Discounts are available for residents of Dominica and other CARICOM countries.
For bookings and more information on Sunrise Farm Cottages, visit them online.
Related Posts