Experience Exquisite Rooms and Extreme Views at Xeliter Vista Mare, Dominican Republic
A stay at Xeliter Vista Mare is an exercise in awe — a modern slice of luxury set in the lush, green hillside high above the largest bay in the Caribbean, the views it offers up simply can't be beat. Luckily, the rooms, beach, and location are no slouches either…
The Rooms
On a recent visit, I was lucky enough to find myself staying in a one-bedroom apartment at the very top of the property. The interior, like all of the just 87 apartments on the property, was pure modern luxury. Walls were whitewashed while slate panels graced the kitchen and natural wood furniture throughout served as a natural contrast.
The open kitchen, dining area, and living room were all smartly designed and well appointed, but I must admit, I spent almost zero time in them. And who can blame me with this view demanding my attention out on the spacious balcony:
In the distance you can see the Dominican Republic's Los Haitises National Park on the far side of the Bahia de Las Flechas. To the right is exclusive Cayo Levantado. The water in the middle serves as a spring playground for romantically inclined Atlantic humpback whales.
In the heart of whale watching season it's entirely possible to just sit on this private balcony, a pair of binoculars in hand, whiling the day away in the company of whales.
I spent at least an hour every morning, and several hours toward sunset, taking in this view every single day.
And for the times I couldn't pull myself out of bed, well, this was the view from that vantage point:
I can't stress this enough, the views from Xeliter Vista Mare (especially those on offer from the topmost apartments) just cannot be beat… Well, except by the ones offered by the two-story pool or open air restaurant.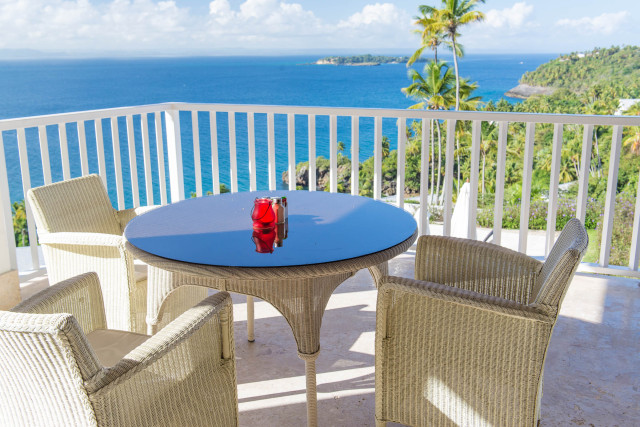 The Beach
When I finally tore myself away from sunrise on my balcony the first morning, I made a beeline down to the property's secluded, private beach.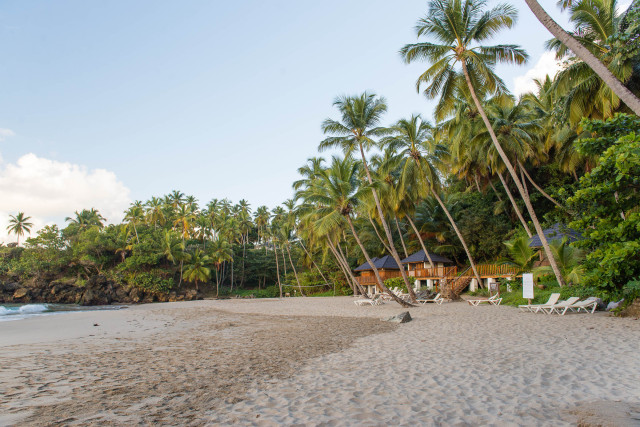 Nestled between two rocky outcroppings, this approximately 100-yard beach greets lucky sun worshipers with slightly off-white sand, clear warm water, smooth waves, a picturesque line of palm trees, a rustic wooden facilities area, and some of the least salty sea water I've probably ever swam in.
Tucked into the bay as it is, I guess it's just naturally low in salt. So much so, I was swimming underwater in the cool morning waves with my eyes comfortably open — no burn, no problem.
I can't remember the last time I did that!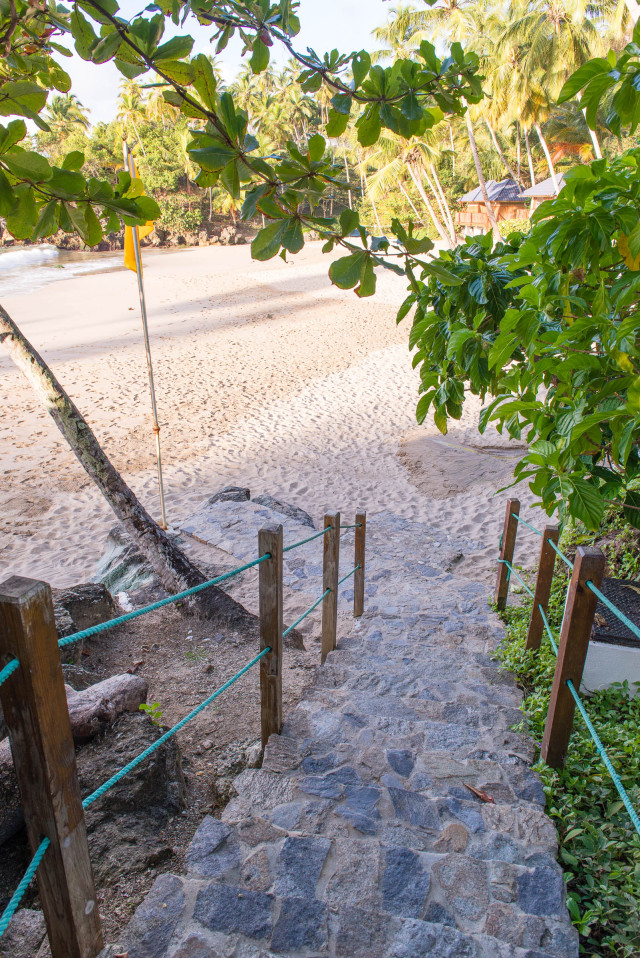 The beach at Xeliter Vista Mare is almost like the most beautiful, massive pool you've ever imagined!
The only real problem for folks staying in the upper reaches of the property is the very steep climb back to your apartments. It's not for the faint of heart and should only be undertaken after several hours truly relaxing on that sand.
The Location
I'm not going to lie, I may be in love with the Samana Peninsula.
Just a quick 10-minute drive from Xeliter Vista Mare is one of the best beaches in all of the nearly 19,000 square miles of the Dominican Republic: Playa Rincon — its waters are even more immaculately turquoise, its sands even more perfectly white. This is a massive beach backed by coconut palm tree covered hills. And on most days, it's incredibly empty.
Then there's Samana town proper. Here, you can charter boats out into the bay for whale watching excursions, secure some serious eats, or even get into a little trouble at many local bars.
Further on past town you can visit El Salto del Limon, a 150-foot waterfall hidden in the rainforest that shouldn't be missed.
The tip of the Samana peninsula is a wealth of experiences just one motoconcho ride away for intrepid uncommon travelers, and there may not be a better home base for all these adventures than the ultra-lux Xeliter Vista Mare.
Rooms start at around $215 per night.
Visit Xeliter Vista Mare for specials, more information, or to book a stay today.
Related Posts