On-Site Great Exuma: Rasta Steve's "World's Best" Conch Salad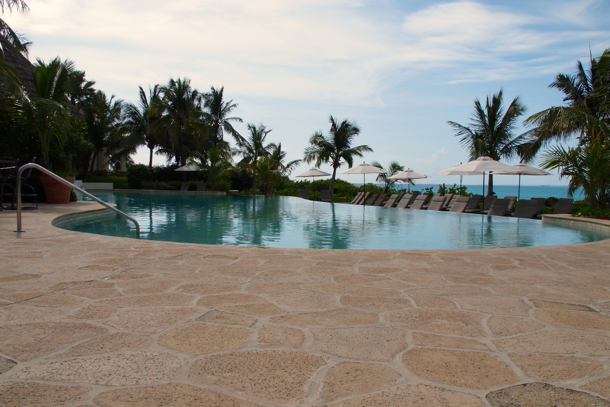 Eating well is a given when you're staying at the posh Grand Isle Resort & Spa in Great Exuma. Not only is the property's Pallappa restaurant among the finest in this part of The Bahamas, but it's also being expanded in a way that makes "bigger is better" seem small.
But let's say it's Sunday around lunchtime and you're off-property. What you'll find is that not much is open. What you may desire, considering you're in the conch cuisine capital of the world, is some serious conch salad.
What you should do is find Rasta Steve.
At least that's what I did when I faced just this very same scenario back in late-July. I found Steve running the show at The Out Deck, one of a cluster of colorfully-named and painted roadside bars/eateries just north of George Town known collectively as The Fish Fry, or The Fish Fry at the Old Navy Base. At the time we arrived, the whole place was just waking up. None of the huts appeared to be fully operational just yet, save for Hasty's Home Plate, which advertised "Souse All Day" on a sign above the entrance. Poor Man Kitchen – "Where a dollar goes a long, long way!" – was more emblematic of the ghost town feel of the place.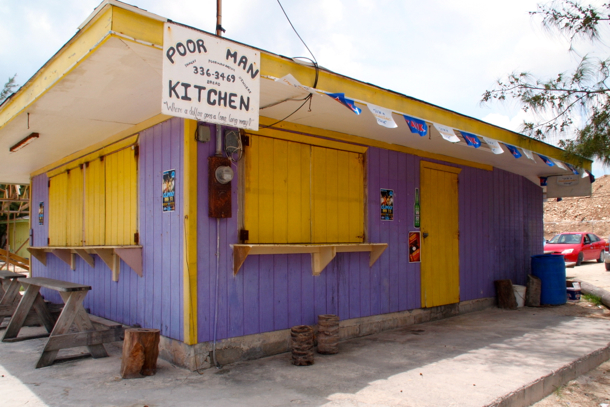 I really wanted conch salad, but after wandering the whole Fish Fry and not seeing any other open doors, I resigned myself to Hasty's Souse. That's when I heard him…
You wanna' try the world's best conch salad?
A slight and brightly smiling rasta made the haughty query from inside the bar area at The Out Deck. He was opening shutters, arranging stools and not backing one inch off his boast.
My thing is conch salad. Nothing else. That's how you know it's the best.
Yeah, you just know I had to put this to the test! Immediately upon taking him up on the offer, Rasta Steve grabbed a couple buckets, walked the width of The Fish Fry and waded into the sea to collect my lunch…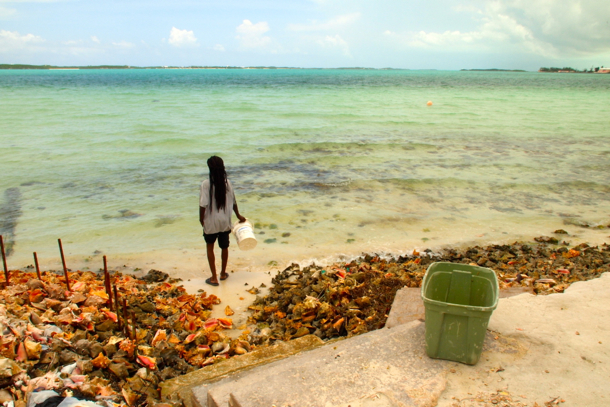 Back on land, Steve expertly removed the conch from their shells using a hammer and a knife, chatting with me about being from Little Exuma, his nickname (Bobo) and the seven years or so that he's been working at The Fish Fry making his "world's best" delight.
After skinning and cleaning the conch, we headed back to The Out Deck, leaving the scraps to a voracious horde of seagulls straight out of old Alfred H.'s imagination. There, Rasta Steve followed a fairly standard recipe for Bahamian-style conch salad. Onion, green pepper and tomato were chopped along with about one pound of conch meat and mixed together in a bowl. Fresh orange, lemon and lime juices were then squeezed over the mix and some homemade goat pepper added for seasoning.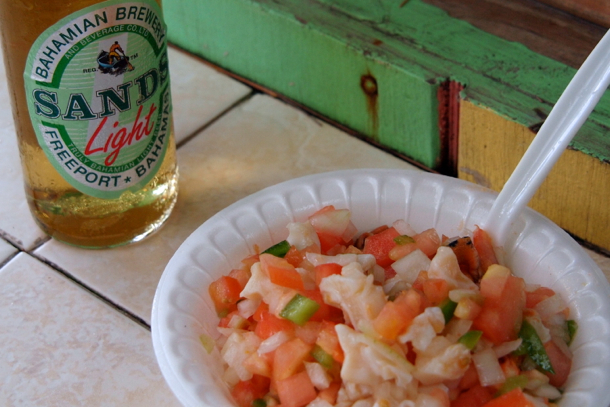 I practically inhaled this bowl. Sure I was starving, but as advertised, Rasta Steve's conch salad was also really damn good!
It started raining, classic Gregory Isaacs tunes filled the air, other patrons came and went. All the while, Rasta Steve and I carried on our discussion. Marriage, women, kids, politics, life – the whole thing seasoned with de conch.
So, what's the verdict? Is Rasta Steve's conch salad really the world's best?
I don't know, but it is plenty good and the experience of hanging out with the chef/conch man is definitely world-class.
The Fish Fry is impossible to miss. It sits right along the Queen's Highway just a couple minutes north of George Town. Hours of operation vary for each of the individual establishments. Rasta Steve's hours, in his own words:
I'm open when I get a chance.
During the winter months, that generally means most days. In the summertime, like when I visited, I guess it pays to be lucky.
Related Posts