Spoiled to Death – The Sad Story of The Swimming Pigs of The Bahamas
A secret's worth depends on the people from which it must be kept.
The minute I ran across this quote from celebrated Spanish novelist Carlos Luis Zafon I thought of pigs. Really special pigs. The ones that live a wild and carefree life on Big Major Cay in the Exuma chain of The Bahamas. The most famous pigs this side of Porky and Babe.
Special pigs we conspired to kill.
We didn't do this purposely, of course. When we published this piece celebrating these most absolutely uncommon of West Indian wildlife, the swimming swine weren't nearly as well known as they are now, their happy existence in paradise known mainly to locals and boaters familiar with the area.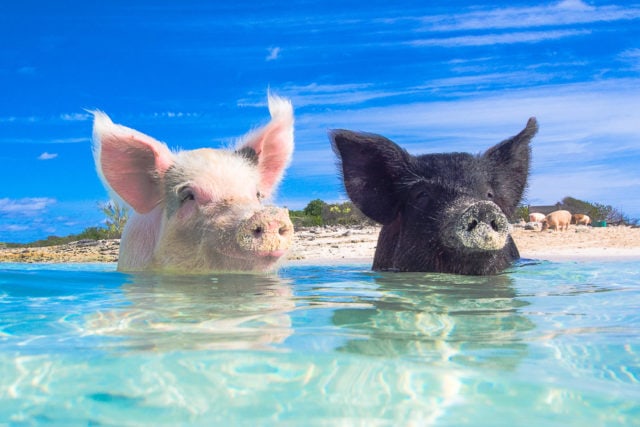 In short order, though, the pigs were everywhere. An avalanche of articles, videos, magazine ads, TV coverage, even billboards appeared proclaimed the pigs a must-see for anyone visiting The Bahamas. Naturally, many people did.
Sadly, not all of them did so responsibly.
Seven of the pigs were found dead earlier this year. As detailed by National Geographic, the most likely cause of death was irresponsible tourists.
Sure, there were other factors; climate change among them.
Still, the greatest burden must be borne by us humans, or, more directly, the segment of us humans from whom I wish the most valuable travel secrets could be kept forever.
So, should you go to the Exumas; to Big Major to marvel at the remaining swimming pigs? I say yes. Just don't forget to pack your common sense and compassion.
For more details on how to get to Big Major and how to feed the pigs responsibly, click here.
*Lead photo credit: Zach Stadler.
Related Posts