Devil's Island, French Guiana – Hell on Earth for 100 Years
Beautiful, right? It looks like an idyllic Caribbean islet paradise of the style and type we routinely showcase here. Soaring coconut palms trailing up a slight incline. The shoreline, a mix of rocks and sand. Calm blue seas inviting a swim. It's paradise personified… or so it would seem. This particular island outpost off the coast of French Guiana actually better espouses its infamous name than its alluring appearance. That name: Devil's Island.
From Salvation to Hell
Devil's Island is part of an archipelago of three small islets. They were formerly known rather inspiringly as the Salvation Islands. Whatever divine deliverance anyone enjoyed here, though, disappeared in 1852. That's when the French established a penal colony encompassing the entire archipelago.
Prisoners from France and other parts of the far flung Second French Empire were brought here for 100 years. To be sure, the trip was a death sentence.
Right from the start, the penal colony in what's now known as the Devil's Islands, was notorious for its unusually brutal conditions. Inmates were subject to hard labor and torture. They were often kept in chains throughout the day, their legs sometimes shackled to iron rods at night. Malaria, dengue fever, and other diseases combined with poor sanitation to pose persistent health problems. Violent assaults among prisoners were also common.
I mean, the death rate at the height of operations was 75%!
Club Fed it most certainly was not.
Prison Life in The Devil's Islands
Living conditions were not universally inhumane across all three islands, however.
Île Royale, through which all inmates passed, was more laid back. Play by the rules here and you could expect to enjoy a moderate level of freedom. Mess around or try to escape, though, and you'd face solitary confinement in nearby Saint-Joseph Island. Sentences stretched from a few months to as much as five years, during which inmates were confined to a pitch-black room the size of a small closet.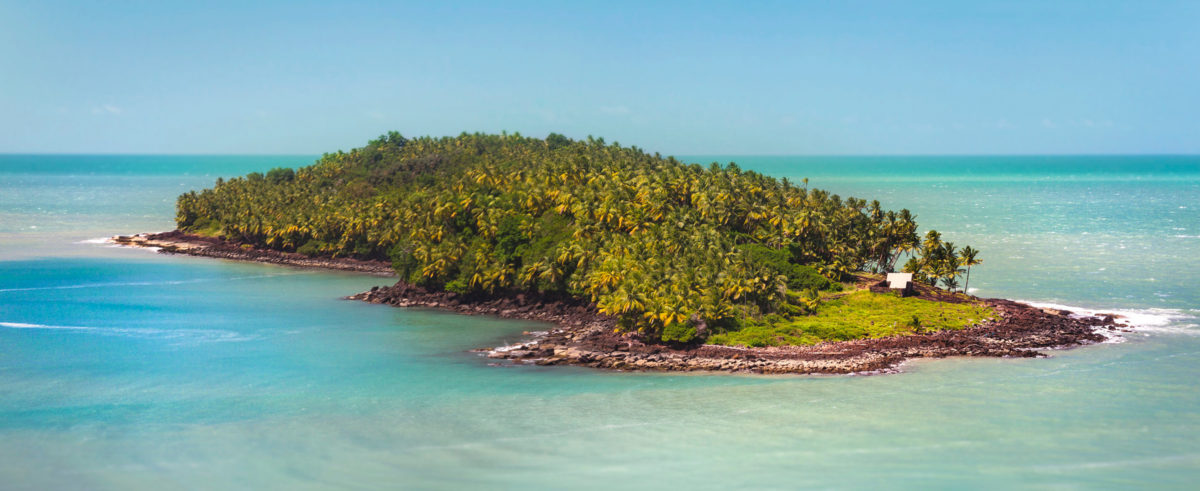 Devil's Island was reserved for political prisoners. Then as now it was the most inaccessible of the three Devil's Islands. Rough currents and sharks bely the beauty of its surrounding seas. Landing here by boat was, and still is, a dangerous proposition. A cable car connecting Devil's Island with Saint-Joseph Island was the only way in or out.
Prisoners kept here are said to have endured the harshest conditions. No more than 12 persons were ever kept here at a time.
Though small, it was the big attention drawn to Devil's Island by Captain Alfred Dryfus that helped to spell the end of the facility.
The Dreyfus Affair
A French army officer of Jewish faith, Captain Dreyfus was twice falsely convicted of treason, the first time in 1894 at the age of 35. His sentence: life imprisonment on Devil's Island.
During the five years that he ultimately remained incarcerated, evidence absolving Dreyfus of any crimes was leaked to the press. Growing public support for his release eventually forced then French president, Émile Loubet, to pardon Dreyfus. He later went on to serve the French army with distinction in World War I.
The Dreyfus Affair was well-known throughout Europe at the time. It cast the French government in a negative light, not only for the corruption in its military judicial system, but also for its inhumane penal system in French Guiana.
A scathing condemnation of the system later followed in Dry Guillotine (1938). The book was written by René Belbenoït, a thief who escaped Devil's Island to the United States. His accounts brought increased global attention to the atrocities committed in the now infamous island jails.
It wouldn't be much longer before the whole system was shut down.
Editor's note: Another escapee, Henri Charrière, wrote Papillon (1969), the most famous account of prison life in the Devil's Islands.
Visiting Devil's Island Today
The Devil's Islands penal facility was closed in 1953. Over its 101 years in operation, more than 80,000 prisoners did the harshest of hard time here. The many who never left were dumped into those beautiful blue surrounding seas.
A quick ferry ride across those same waters from Kourou can take you to two of the Devil's Islands today – Île Royale and Saint-Joseph Island. Guided tours are available on both islands. Among the restored buildings and ruins are a church, a lighthouse, and an asylum. On Île Royale, the former prison director's house has even been converted into a pretty nice hotel.
As for Devil's Island, the cable car system is long gone, making access impossible. Views of the island from Saint-Joseph and all the haunting history in the other Devil's Islands definitely make the visit worthwhile to me.
*Photo credit: Flickr user KLEFER.
Related Posts