Billy Joe's Beach Bar: Legendary Grand Bahama Conch Shack by the Sea
Sadly, the legendary Billy Joe passed away in 2013. The bar is gone now too. Hurricanes Matthew (2016) and Dorian (2019) dealt severe blows from which Billy Joe's could not recover. Will the good times ever resume rolling here? Time will tell, I guess. In the meantime, we have great memories like these…
When visiting large, sprawling resorts in the Caribbean's most popular tourist destinations, humble beach shack bars like the one pictured here are not only far from your mind, they're also usually far away. Imagine my surprise, then, at finding Billy Joe's located about 15 paces from the pool deck at the far western end of the Grand Lucayan Resort (formerly Our Lucaya) on Grand Bahama Island.
Confounding Legend
Billy Joe's Restaurant & Bar is was a local institution on Grand Bahama. I first heard of it from a journalist friend soon after my PR agency signed on to do some work for the resort a few summers ago. My friend's recollections were sketchy, though, as he last traveled to Grand Bahama in 2000.
If it's still there, you'll find it adjacent to the resort directly on the beach… But that's a big 'if', if you ask me.
Well, Billy Joe's is was still there… sort of. The original Billy Joe's, which opened 40+ years ago, was located a bit further west from its current most recent spot. It moved in the early 2000's, which probably explains some of the confusion.
Another contributing factor: Billy Joe's apparent lack of telephone.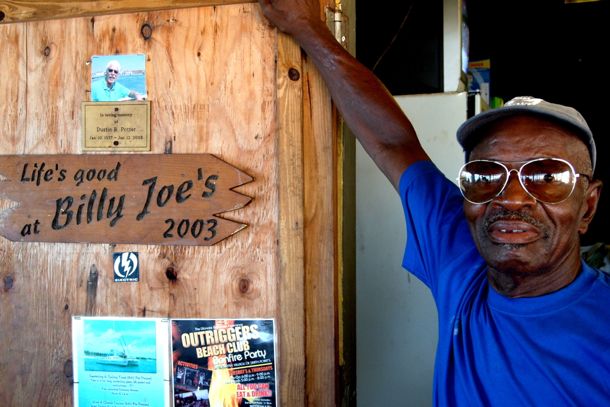 Billy Joe's is was a completely separate entity from the Grand Lucayan. The relationship is was strong enough, though, that the best way to reach the bar by phone is was by calling the resort. It makes sense, really, as the bar is was so close to the property. Billy Joe's obviously also derived a great deal of its clientele from among resort guests interested in some local flavor.
Hot Spot for Locals and Celebs
My bartender, Patrick, was quick to tell me that Billy Joe's is was "the place for locals on the beach" in Grand Bahama. At the same time, though, he also mentioned that Rod Stewart had just stopped by the Saturday preceding my visit. Indeed, you never knew who you might run into here.
Celebrities, Grand Lucayan guests, and locals are were all drawn to Billy Joe's for its strong drinks, cold beer and laid back beachfront atmosphere. Undoubtedly the main attraction, though, is was the cracked conch. As bartender Patrick says…
You haven't been to Grand Bahama if you haven't had the conch!
Billy Joe's does not disappoint either. The heaping serving I enjoyed here was some of the freshest, tastiest conch I've ever had. They serve served up about 200 dishes of the stuff every day, so clearly they know knew what they're they were doing.
Billy Joe's Searing Devil's Kool-Aid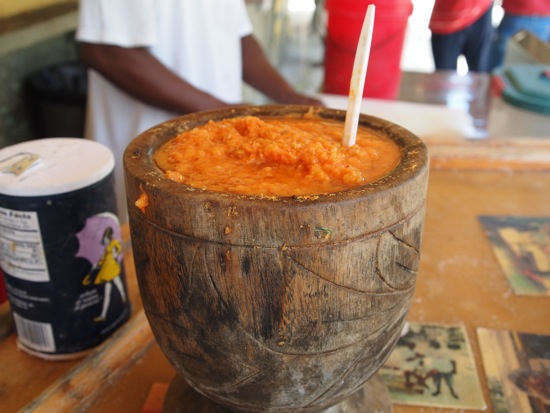 The secret to the succulent conch at Billy Joe's is was an incendiary homemade hot sauce called Goat Pepper. They know knew it around the bar as Devil's Kool-Aid, and yeah, it's that hot! Just a little dab is was all it takes took to keep the cold beers comin', which I guess is was the point.
Meeting Billy Joe himself also adds added flavor to the experience of this place. At 75 years-old, this former cab driver has seen it all in Grand Bahama over the years. He can could be a bit gruff, and is was fairly busy running things at the bar, but if you hang hung out long enough (something that is was not hard to do here, believe me) you'll you would find that he's he was happy to share a story or two with visitors to his little corner of beachfront heaven.
Related Posts