Friday Happy Hour: Celebrate Grenada's 1st Olympic Gold with Old Grog Rum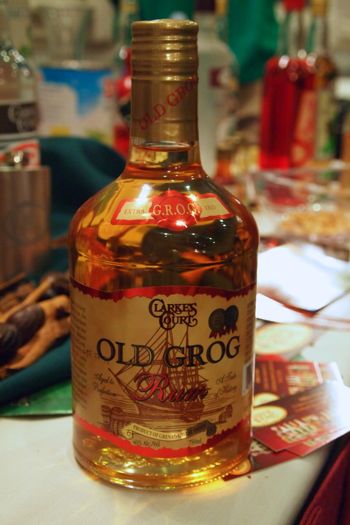 The Caribbean is positively bursting with pride over the amazing performances put forth by our home grown athletes at the London 2012 Olympics. Usain Bolt, Shelly-Ann Fraser-Pryce and the rest of the superstar Jamaica track team have garnered most of the headlines, and deservedly so, but did you know there are 360 athletes from 22 Caribbean countries competing in the Games?
Win or lose, all are engendering tremendous feelings of pride throughout the region, perhaps none more so than Kirani James from Grenada.
Not only did the 19-year-old from the small seaside village of Gouyave win Grenada's first Olympic medal this past Tuesday, he brought home the Gold in one of track and field's toughest races, the 400 meters. His time was historic as well. James crossed the finish line at 43.94 seconds, becoming the first non-American to break the 44-second barrier.
At the exact moment Kirani made history, back home in Grenada, pandemonium…
Kirani James wins gold in London - live from Gouyave, Grenada
Grenada's Prime Minister immediately declared a "half-holiday," though I wouldn't be surprised if some of the partying is still going on. No doubt, there's a good bit of Old Grog being enjoyed throughout Grenada this week…
One of 14 different tasty options in the famed Clarkes Court family of rum products produced by Grenada Distillers, Ltd., Old Grog has been one of Grenada's favorite rums since 1937, though it espouses a tradition that dates back much further.
I'm talking all the way back to the days of King George III. At that time, the King had Grenada's finest rums shipped to him in casks marked G.R.O.G. The abbreviation stood for "Georgious Rex Old Grenada," a tell-tale Royal mark denoting that this special rum was exclusively for the Kingdom's most special guy.
The Old Grog of today is still pretty special. At least I thought so when I tried some at the 2012 Miami Rum Renaissance Festival. I'm not usually a fan of gold rums, but Old Grog impressed me with its nice balance of tropical fruit (mostly banana) and fine rum.
Clarkes Court uses both whiskey and bourbon barrels to age the rums that comprise Old Grog, a nice little twist that likely contributes a great deal to its appeal (at least to me). The rums are aged between four and 10 years, drawing unique characteristics from the whiskey and bourbon barrels before being blended into what was, before this past Tuesday, the most revered gold in Grenada.
To many here in the states, where Olympic athletes benefit from cutting-edge sports science, with the very latest in training techniques, medical care and nutrition propelling Team USA to a record medal haul every four years, Grenada's singular Gold Medal might seem small. To Grenadians, everyone with any ties to Grenada, and no doubt countless other West Indians like me, however, it's enormous… A seminal event never to be forgotten with wonderfully positive implications that extend well beyond the arena of sports.
Congrats to Kirani and all the exceptionally talented Caribbean Olympians!
West Indies to the World!
Save
Save
Related Posts