How to Host Your Own Oil Down in Grenada: Taste of the Caribbean
It's not hard to find an Oil Down in Grenada. On a recent visit, a Saturday afternoon drive turned up more than a few of the tell-tale iron pots simmering smartly over open flames. I saw 'em along roadsides, in backyards, on beaches and parking lots, the island's signature dish and celebration playing out just as we'd detailed before.
But, let's say you're visiting Grenada with a horde of others. You want to taste and experience an Oil Down, but don't want to overrun a local fete with your crew. Solution: host your own Oil Down!
Oh wait, you don't want to do all the prep work and cooking called for in this recipe? No worries. My buddy Tom Alexander is your man.
A welder by trade, Tom (35) has been cooking for most anyone who'll pay him for 15 years. I met him here, at Marie's Bar up near Sauteurs, where he had been hired to prepare an Oil Down for the afternoon's bar traffic.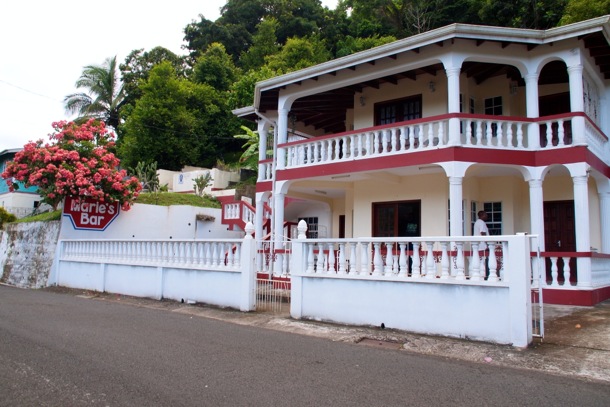 If you get the chance, I highly recommend stopping in at Marie's. The owner, a man named Stolly, is a chemist who lives in the UK. Family roots, the bar and his love for Grenada bring him back often, though. When he's on-island, Marie's is open daily. Otherwise, it's only open on weekends, so it's probably best to trek up here on a Saturday.
Cold beer, strong drinks, friendly people, and on this special occasion, yummy Oil Down, make Marie's a great local roadside spot any uncommon traveler would love.
Now, back to Tom and his culinary talents… He and his assistant, Charmane, were just about finished preparing their Oil Down when I happened into Marie's, so they happily opened the pot so I could get a look and smell. Many of the usual Oil Down ingredients were readily apparent – breadfruit, dumplings, beef, chicken, plantains. The smell was straight out of my mother's kitchen – I was home!
Resting on top, though, was something I hadn't expected – fish!
Tom explained that any kind of meat works in an Oil Down. People just tend to use what they have, or can get their hands on. He had some nice fish, so with the other meats and provisions just about all the way cooked, he placed the fish on top of the boiling mixture.
The fish doesn't need as long to cook,
Tom explained while dishing out the seemingly modest portion he's holding here…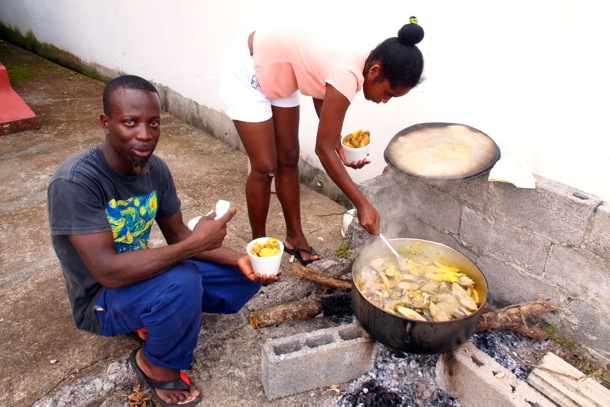 Those looks were definitely deceiving, though, as the contents of that little styrofoam container had me stuffed for the remainder of the day. There was a little bit of everything in my dish, though the fish really shone through as the star of this meal. Tender and incredibly juicy, it melted in my mouth, elevating all the other flavors in the process.
Yeah, I was really taken by my first authentic Oil Down. If you want to experience similar gastronomic heights with your group of friends next time you're in Grenada, just give Tom a call. He told me he would happily put on an Oil Down for Uncommon Caribbean readers!
Depending on the size of your group and the ingredients you select, the cost could be as little as EC$50 or EC$100. And speaking of ingredients, you can rest assured that Tom and Charmane only use the best local stuff available. As Tom says:
We don't cut no corners.
By the taste of things, I concur.
To get in touch with Tom, call him at Tel: 473-416-2370.
Related Posts