Where to Find Great Roadside Roti in Grenada: Taste of the Caribbean
My persistent search for great roadside roti everywhere I roam has met with its share of ups, downs and surprises over the years. Certainly, I never imagined that I'd find a better brand of my favorite meal in Grand Cayman than I would in Barbados!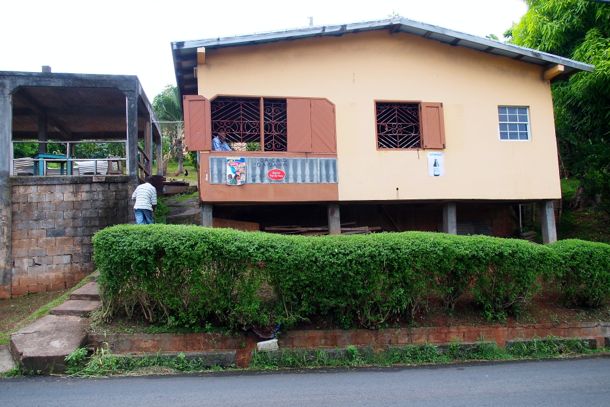 In hindsight, though, I think that Cayman roti may have benefited from the element of surprise. Not that it wasn't good, of course. It's just that roti was never on my radar for that Grand Cayman adventure, and sometimes when you unexpectedly find something good, you're more inclined to remember it as great.
Roadside Roti Surprise in Grenada
This brings me to J Roti Shop in Grenada. As was the case in Grand Cayman, I wasn't looking for roti at all when I happened upon the nondescript residential-style building pictured above. It was about 11:30 in the morning and I hadn't quite worked off the large bake and saltfish breakfast I'd enjoyed at my hotel just a couple hours earlier. We were on the road to Grenville, Grenada's second largest town, with no real agenda, so naturally we stopped upon seeing this sign…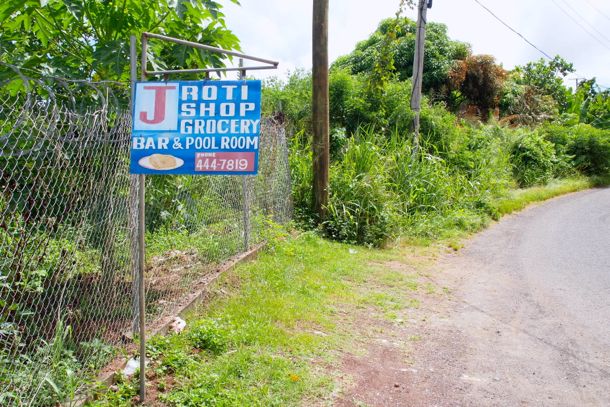 As you can see, J Roti Shop sits right along the road. If you're driving north along Grenada's east coast toward Grenville, you'll find J's about five minutes past the "Welcome to St. Andrew" sign sponsored by Republic Bank. It's on a downward sloping hill across from a tidy garden of sorrel and papaya plants secured behind a chain-link fence.
Outside, it's a rustic, extremely local scene the polar opposite of the fancy resorts, beach bars and restaurants in the south around St. George's and Grande Anse Beach.
Inside, well…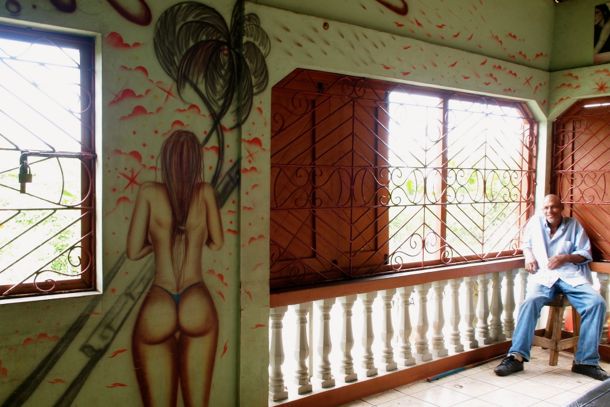 Indeed, the decor is an acquired taste, but the roti is a whole 'nother matter!
Yes, it was unexpected, and no it's not the best I've ever had, but J's roti was pretty damn good. I mean, it had to be since I don't even have a photo to share with you, right?
Yeah, I ate it that fast, which should also hint at its modest size. In fact, J's roti was probably about the same size as the roti I enjoyed at Singh's in Grand Cayman – not quite enough to fill you up for the whole day, but hot and spicy enough to put a smile on your face.
In a word: great!
Related Posts