Ackee Tree, Barbados and Discovering Sweet Roti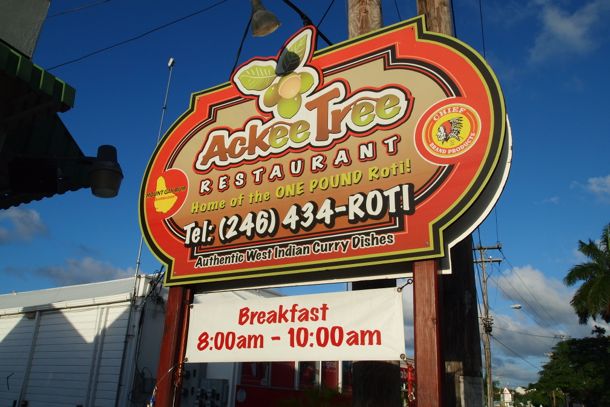 So, here I go again picking on yet another Bajan roti place…
Unlike my last gripefest over the affront to all good and decent West Indian cuisine that is the McRoti served up at Chefette, the roti I encountered at the Ackee Tree back in October was more curiosity than complete car wreck. It had all the right characteristics: nice soft shell (not overly dry, doughy or hard), hot curry beef with more meat than potato, all made at the hands of a sweet lady from Trinidad.
Sweet. Umm…yeah. We'll get back to that in a minute.
First, let's explore a couple of unusual factors that attracted me to Ackee Tree.
The Name: When I first got wind of the Ackee Tree, I never thought I'd find Trini roti there. Ackee fruit is more closely linked with Jamaica than anywhere in the Caribbean, if not the world, so I figured if anything, Jerk cuisine would be the menu items de rigueur.
Wrong.
As noted here, there are tons of different names for my all-time favorite West Indian fruit, guineps. Just so happens that in Barbados (and St. Lucia), they're primarily known as ackee.
Even knowing this, though, you'd have little reason to guess that a restaurant carrying the name Ackee Tree would be a good spot for roti. This brings us to…
Advertising: In this area, the Ackee Tree deserves a ton of credit. Their ads in the local tourism magazines would convince anyone with a love of good, homestyle roti to pay them a visit. This is especially true if you're a Trinidadian. I mean, what self-respecting Trini wouldn't want to check out a roti shop with the hutzpah to print this boast in their ads:
Roti may have been invented in Trinidad, but it was perfected in Barbados!
Perfected. Umm…yeah.
I was drinking a glass of water when I came across that line in a local magazine…water that was soon sprayed all over the page where the ad was printed. Needless to say, I was immediately sold on visiting the Ackee Tree, if only to confirm what I already knew (that boast could never be true), and to experience the second major Ackee Tree claim to fame: their ONE POUND Roti.
One pound sounded like a lot, especially when printed in all-caps like that. What I got looked nice, though it didn't seem inordinately large…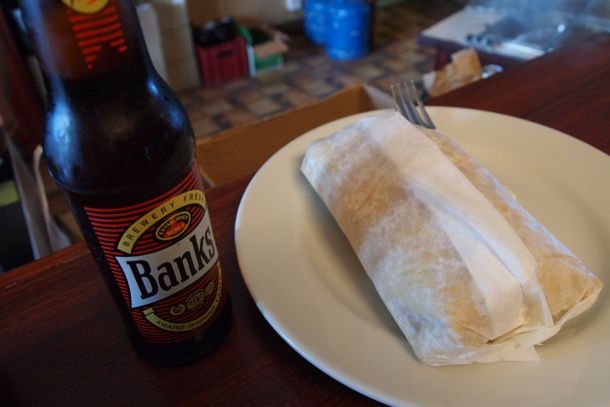 The rotis I grew up with, made with love in my Mom's kitchen, were at least twice this size. So too are the rotis I enjoy regularly here in South Florida at Joy's Roti Delight. I've never put 'em on a scale, and we didn't weigh Ackee Tree's offering either, but I'd say Ackee Tree needs to add a bit more to their roti to live up to the all-caps.
Still, as most roti lovers would surely attest, it's not so much the size of the roti that counts as much as the taste. In this area, there can be no compromise. A roti is supposed to be hot. It's supposed to be spicy. It doesn't have to scorch your tongue (unless you want it to), but it has to have spice enough to warm your taste buds as much as it warms your soul.
What I've never, ever found roti to be is sweet… Never, that is, until I bit into the Ackee Tree ONE POUNDER.
My shock this time didn't cause me to ruin any other magazines, but it did spur me to call my Dad in Tobago. His take:
Blasphemy!
He kinda' hung up on me after that. We've never spoken of it again.
Instead, I spoke to the nice Guyanese woman serving up the roti at Ackee Tree that day. She explained that the owner, who was away for the afternoon, was from Trinidad and formerly served a more traditional Trini roti. Only problem was, her Bajan customers preferred their roti sweet. Lining the roti shell with a healthy dose of Tamarind sauce before adding the curry did the trick.
There were a lot of other traditional West Indian dishes on the menu at Ackee Tree that I'd like to go back and try, but when it comes to finding truly excellent roti in Barbados, my search continues…
Related Posts