Reveling in the 'Rasta Roti' at Roti Sue Restaurant, Antigua
Your mom's chicken soup. The Colonel's fried chicken. Coca-Cola. The tried and true recipes for some things just shouldn't be messed with. One simply does not fix what is not broken. For me, this general rule applies most emphatically to roti.
The ultimate comfort meal of curry wrapped in a thin dough—borrowed from India and perfected in Trinidad and Tobago, as Patrick described it in an earlier post, roti is without question our all-time favorite food. Moreover, to us, roti, in the traditional Trini form we grew up knowing/loving by the grace of our mother's magic hands, is love; the very essence of the very best culinary wonders that the West Indies has to offer.
As loyal UC readers well know, our love of roti informs much of our adventuring, our insatiable appetites for the wondrous wraps often resulting in our favorite travel dining experiences. On our most recent visit to Antigua, those appetites led us to Roti Sue.
Sitting astride Dockyard Drive directly across from the entrance to Falmouth Harbour Marina, Roti Sue is impossible to miss. Lime green and purple has a way of standing out.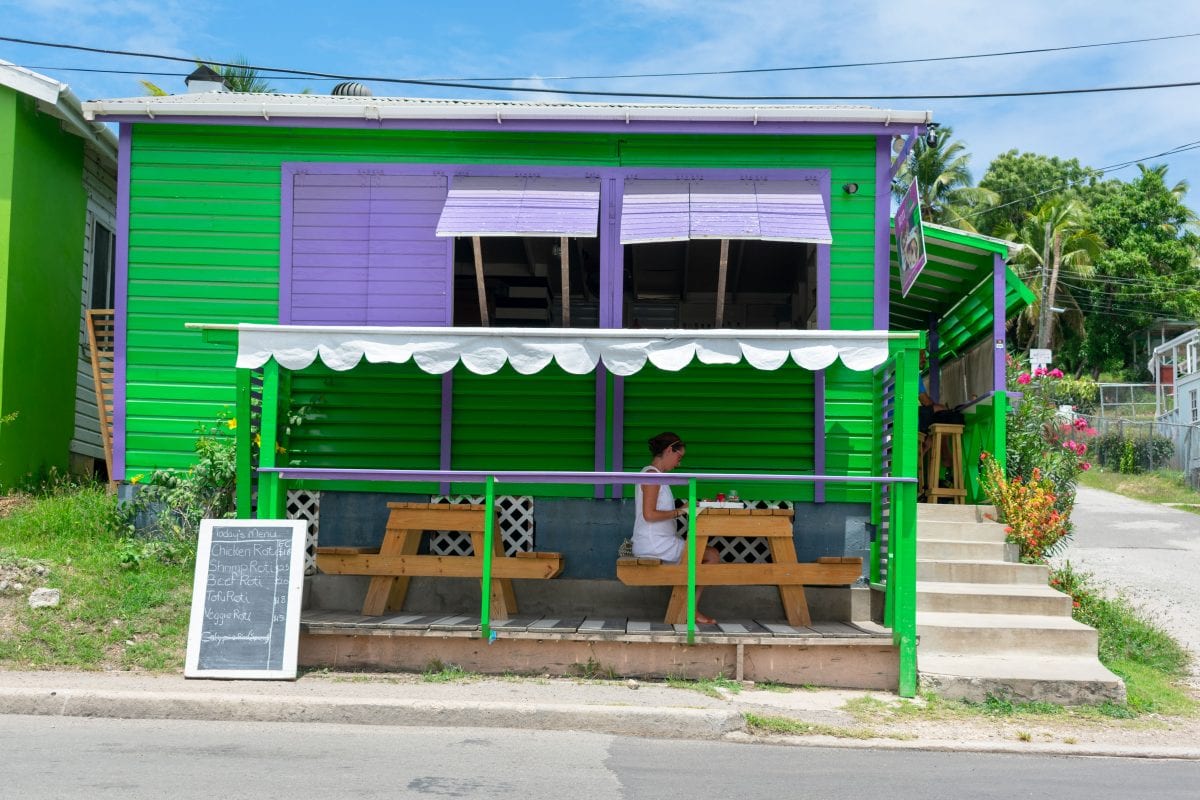 If it was those four magic letters on the Roti Sue sign that pulled us in initially….
R-O-T-I..!!
…it was another key word at the base of it that ensured we'd stay.
Trinidad..!!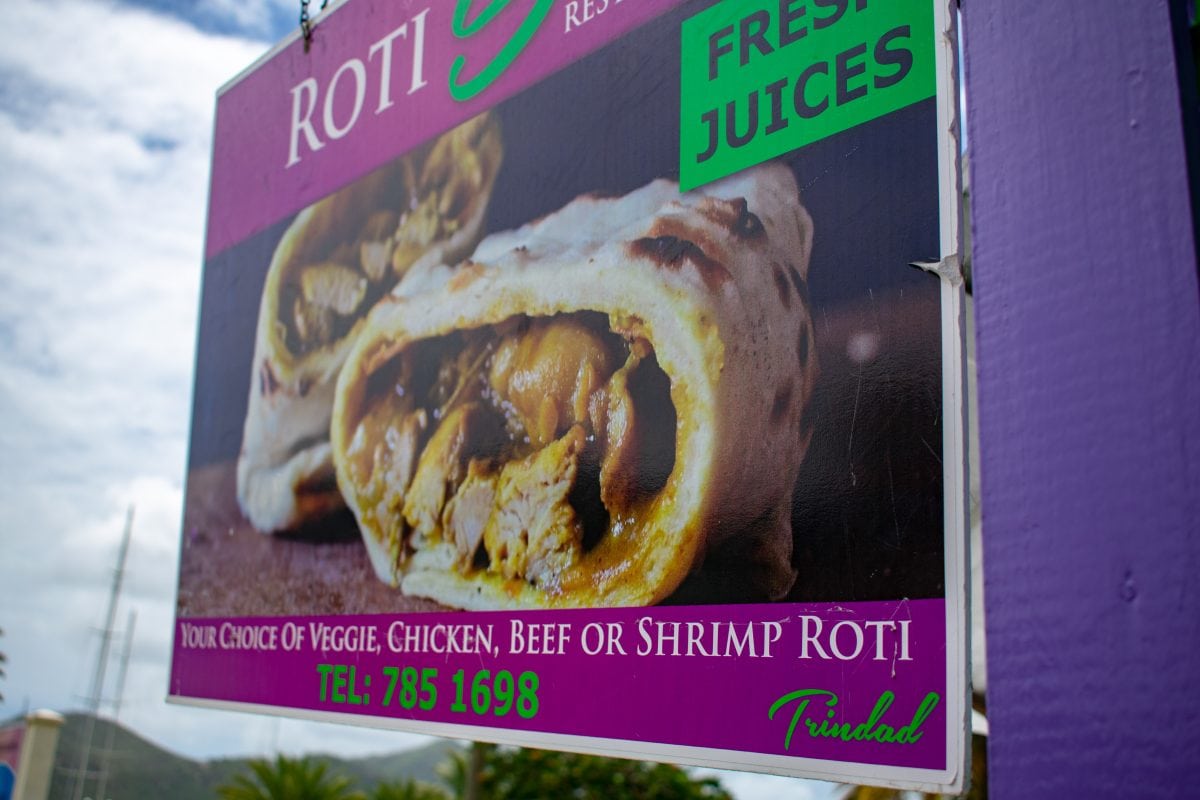 YES!! This place must be legit!!
Wadadli and rotis were ordered. I went with shrimp, while Patrick opted for chicken. We settled in, chatting up Sue and her assistant about current events in Antigua, our Mom's roti, and rotis we'd sampled recently in Barbados, Grand Cayman, and Grenada. Some crazy soap opera playing on Sue's TV further fueled the conversation; the laughter. All the while her magic hands never stopped, her every motion a symphony of love.
For me, the effect was straight out of a time machine. In many ways, liming there with Sue, I could've been back in my Mom's kitchen. You could feel the love.
Finally, it was time…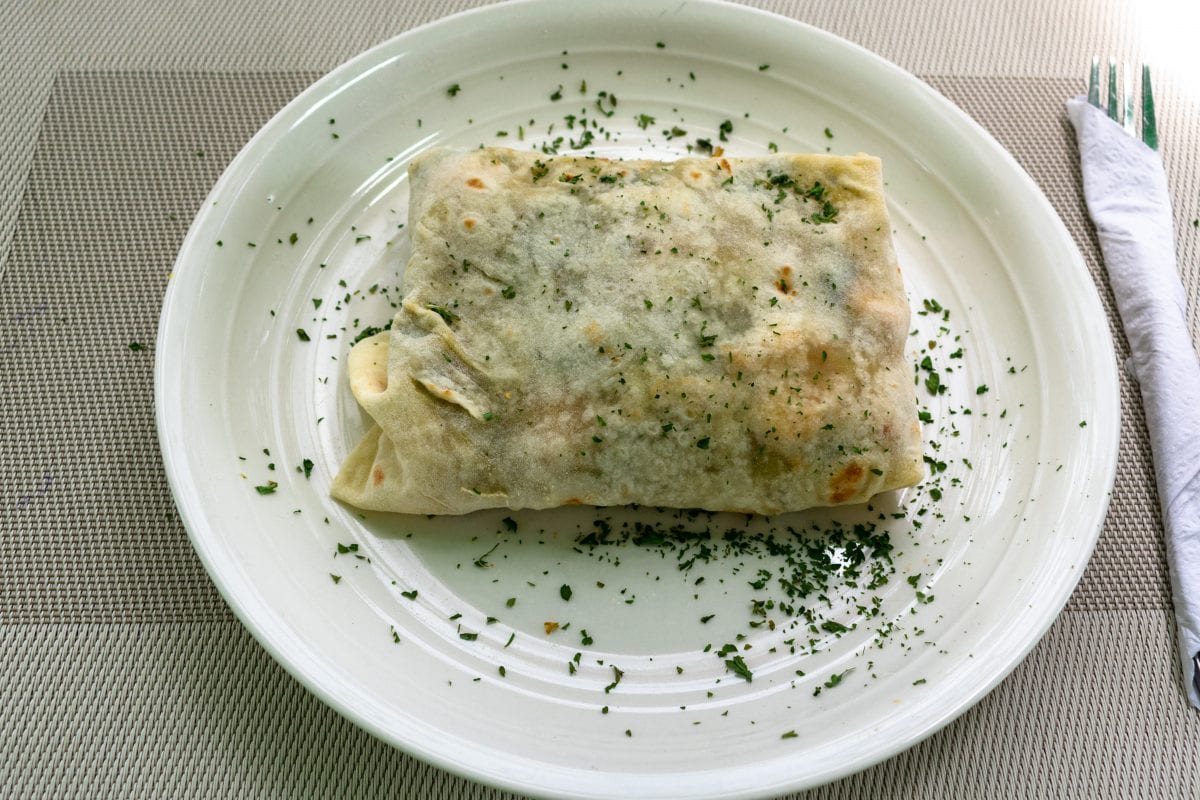 My first impressions were a bit mixed. In size this roti was on point. Big, fat, beautiful. The skin, though, appeared a little too thin; certainly too thin to be traditional Dhalpuri like Mom used to make.
Upon attempting to pick up the roti for the first time, it was clear that I was right about the skin. The tips of my fingers went right through it, the whole thing threatening to come apart at first touch.
I'd have to break one of my cardinal rules of eating roti ⎯ I'd have to use a knife and fork.
Inside the roti, more big surprises. In place of the thick and savory curry traditional of Trini roti, complete with your meat or seafood of choice, potatoes, and chick peas, there was a whole slew of veggies I'd never seen in a roti before.
Pumpkin, corn, okro, green beans, spinach… What was I eating??!
After the initial shock wore off, one immutable truth became clear:
I love this roti!
Despite its large size, it was light and not too filling; the perfect bit of fuel to continue our day's adventuring.
What was the deal, though? How could it be that a genuine Trini woman like Sue was making this healthy roti here in Antigua? Her answer…
I like it like that.
It's just that simple for Sue, and perfectly amazing for anyone lucky enough to stop in here for a bite.
Roti Sue is open daily from 11am to 8pm, except for Tuesdays and Sundays when Sue and crew take a rest. When you stop by, be sure to give her a big hug from us.
Related Posts