Sans-Souci Palace Haiti: Striking, Stirring, And Uncommon
Epic, grandiose, awe-inspiring – Sans-Souci Palace is the type of attraction you'd expect to find nestled in the heart of some storied European capital; an enduring symbol of its country's longstanding power and glory preserved for all time amid ever-more-modern buildings and infrastructure.
Expect the unexpected
When adventuring in Haiti, though, you learn quickly to expect the unexpected. In the case of Sans-Souci, that means an uncommon location in the tiny town of Milot, 165 miles north of the more commonly beaten paths in and around Port-au-Prince. (Better to fly to nearby Cap Haitien with these guys to get here.)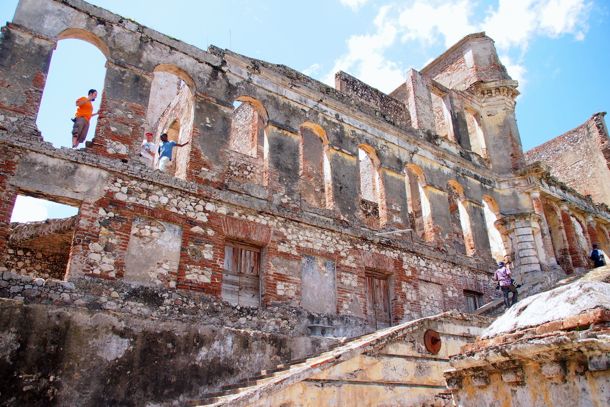 Sans-Souci crowns the dusty, humble town like a beat up tiara atop an aged beauty queen in sweat pants and an old T-shirt. Hints of the old glory remain, though, with just a little imagination required to envision the lavish feasts and parties once hosted here by King Henri I.
King Henri And Sans-Souci Palace
Henri Christophe, as he was better known, was among the key figures in the Haitian Revolution (1791-1804), which resulted in Haiti becoming the first and only country in the world where slaves won and held onto their independence. A former slave himself, Christophe managed the plantation that was Milot for a time during the Revolution. After the fighting was over and independent Haiti's first leader, Jean-Jacques Dessalines was assassinated (October 1806), Christophe returned to Milot and created a separate government from that based in Port-au-Prince. Naturally, he was soon elected as the first President of the State of Haiti, as he called it, eventually elevating himself to Henry I, King of Haiti, in 1811.
History remembers King Henri as a ruthless despot who re-enslaved his people in order to build his kingdom and personal fortune, notions disputed by my local guide during my visit to Sans-Souci. What's not in dispute, however, is the enduring legacy of Haiti's tremendous potential that he left behind in grand structures like Sans-Souci.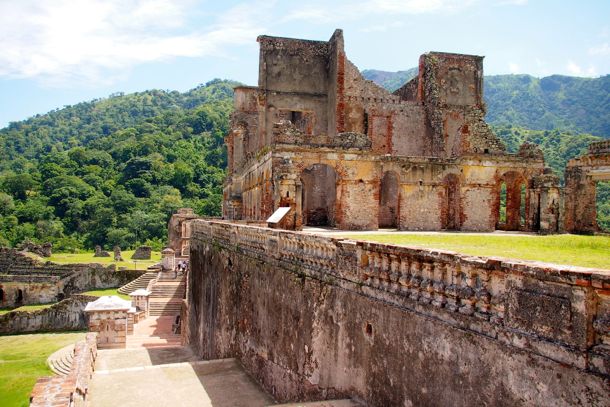 The Palace, completed in 1813, was known throughout the modern world at the time as The Versailles of the Caribbean. Sprawling gardens, fountains, bronzed lions, artificial springs, opulent furniture, decor and art pieces from all over the world were once literally everywhere the eye could see. The statue below, for instance, was imported from Italy for Henri's wife, Queen Marie-Louise. There were once 15 of them scattered all about Sans-Souci…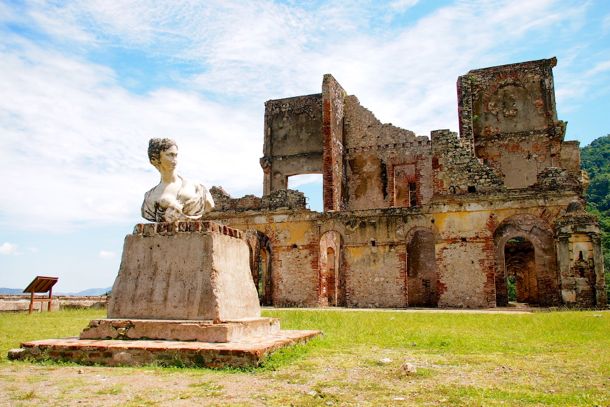 King Henri's penchant for grand structures (he also commissioned the famed Citadelle Laferriere) was said to serve a greater purpose than simply inflating the infamous leader's outsized ego. As my guide suggested on a few different occasions during our tour, the King had good intentions.
He wanted to show the rest of the world that the black people they knew only as slaves could achieve grand works the equal of any society.
Slave History
Remember, this was the early-1800s. Freedom would not come to slaves in America for another half-century. Equality wouldn't come for quite a bit longer than that. Yet here, in a remote enclave of northern Haiti, former slaves that had fought for and won their independence had built a full-scale aristocracy on par with the Europeans (though they mocked it), complete with the most ostentatious palace in the New World.
I felt the weighty significance of this immediately upon scaling the steps of Sans-Souci and gazing out at Milot below.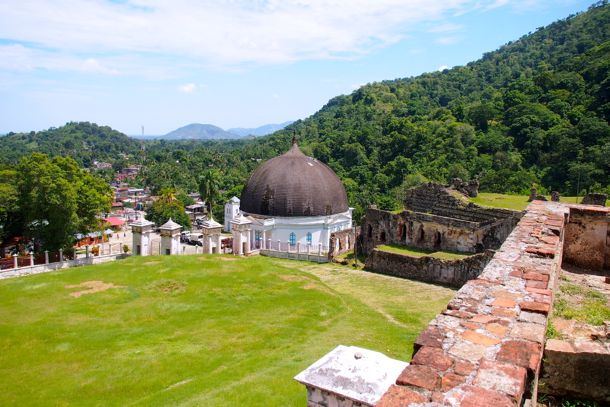 Knowing the tragic history of slavery and racism, their lasting effects when it comes to feelings of self-worth and achievement among many black people, and all the challenges Haiti has faced as a country over the centuries makes the grandeur of Sans-Souci all the more moving, impressive, and incongruous.
I found myself staring blankly at and around Sans-Souci for extended stretches wondering how it could be; what could've been…
No doubt, similar thoughts must've crossed King Henri's mind near his end as well. After nine years on the throne, a stroke severely weakened him, leaving his growing number of disapproving subjects and enemies with a window to get rid of him. King Henri beat them to the punch though, taking his own life by shooting himself in the head with a silver bullet in the throne room at Sans-Souci.
His son would succeed King Henri, both in assuming the throne and in assassination, his end coming just 10 days after his father's. The age of Haitian nobility was over… for awhile, anyway…
Sans-Souci lived on, of course, though a massive earthquake in 1842 took it down to its current state. Less extravagant, yes, but certainly no less worth a visit, Sans-Souci Palace stands among the most significant historical attractions in the Caribbean.
A guided tour is strongly recommended to get the most out of your Sans-Souci visit. Check in with my friends at Agence Citadelle for rates and package information via email at info@agencecitadelle.com, or call them at 011-509-2940-5900.
Related Posts