Haiti's Ascent Plain to See at L'Observatoire: Uncommon Attraction
Beyond the mountains, more mountains.
It's a simple, yet powerful old proverb in Haiti that fits the country and its history of struggles beautifully.
Indeed, Haiti is full of mountains. Its original Taino name, Ayiti, actually means "land of mountains." Only about 20% of the country's land mass can be classified as plains, while slopes bearing a grade of more than 20% cover nearly two-thirds of Haiti's 10,714 square miles!
The proverb isn't just about topography, though. It speaks to facing challenges and overcoming them even when you find new challenges on the other side of the mountain.
Evidence of the resilience proud Haitian people have displayed in constantly facing mountains over the years can be found throughout the country. One of my favorite examples is located, fittingly, high atop Mount Boutilliers (elevation: 3,000 feet). It's name: L'Observatoire.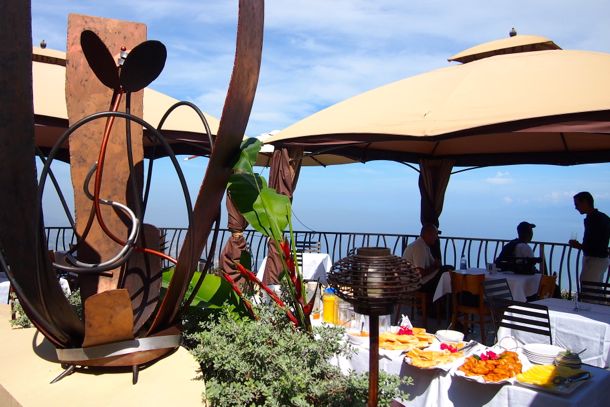 Nestled in the clouds with an utterly commanding view of Port-au-Prince below, L'Observatoire is equal parts bar, restaurant, and peaceful oasis. Most of the eats are local Haitian dishes, with a few international treats as well. There's a full bar too; beer, wines, rum, cocktails, etc.
The decor is equally as intoxicating as anything behind the bar, efforting toward the chic feel of a trendy South Beach cafe with its artful appointments, white-linen tablecloths, umbrellas, and gazebos.
All that's nice, but you really go to L'Observatoire for the view. It's nothing short of stunning, especially when you consider that chaotically bustling Port-au-Prince is a mere 30-minute drive (depending on traffic) down the mountain. Amid the peace and tranquility at L'Observatoire, it's easy to imagine that the city is a whole world away.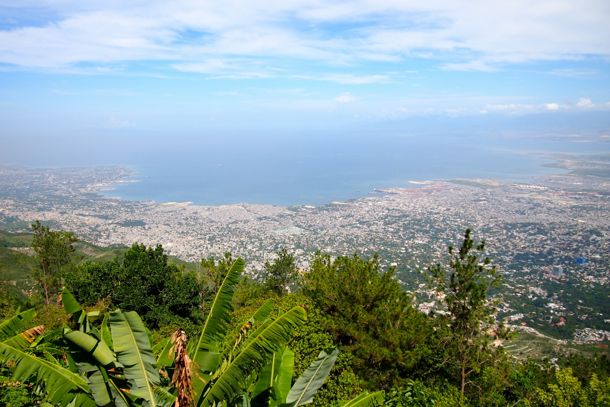 In a similar fashion, the whole concept of L'Observatoire seemed a world away for many years. The current owner/manager, Marie-Claude Gabriel, told me that the original idea for the place was hatched more than 40 years ago by her father-in-law, the old "mountains" of political instability and a less than favorable environment for tourism investment in Haiti keeping the restaurant from coming to life.
These days, of course, things are different in Haiti. Tourism development is on the rise, with the local Ministry of Tourism helping to finance a number of key new projects around the country. The impact of the support has been profound for places like L'Observatoire, according to Marie-Claude…
The Minister of Tourism, Stephanie Balmir Villedrouin, she saw how important it was to re-open this spot to help us put Haiti back on the touristic map. So, we re-opened finally (in November 2012) and this being said, it's a dream come true.
Another mountain conquered in Haiti.
L'Observatoire opens every day at 10am. Closing time is 9pm Sunday-Thursday, and 2am on Fridays and Saturdays. Reservations are accepted, but not wholly necessary. Even if you arrive and all the tables are full, there's the bar and that amazing view to keep you occupied and happy.
For more on L'Observatoire, be sure to check them out on Facebook.
Related Posts