Deal of the Week: Spring Savings at Hotel Bakoua, Martinique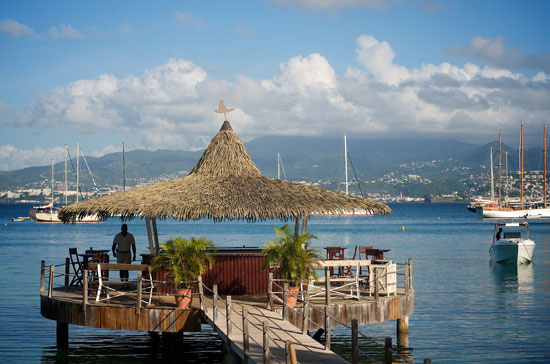 When it comes to hotels with colonial West Indian charm, it's hard to beat Hotel Bakoua in Martinique. After all, the property's main structure was originally built as a colonial estate. Now part of Sofitel's MGallery collection, the 139-room Bakoua retains an authentic, East India Company style, with vast open spaces, rattan and precious wood furnishings, and a lush tropical garden that leads to a seascape of endless skies above the Bay of Fort-de-France.
One of our favorite things about Bakoua is its lobby bar, which ranks high on our list of the most picturesque places to enjoy a cocktail in the Caribbean. The bar area fronts a small, yet alluring infinity pool, which seemingly drops right into the Bay. Night views of Fort-de-France and the Carbet peaks to the north are truly breathtaking.
Of course, Bakoua's other bar (pictured above) is pretty cool too.
With two such unique watering holes, it's little wonder, then, that Hotel Bakoua is such a popular location for TV and film productions, as well as fashion photo shoots.
For spring 2010, Hotel Bakoua has teamed up with the travel pros at Vacation Travel Mart to offer $200 savings on five-night minimum air+hotel packages for travel between May 5 and June 30. For example, a six-day/five-night package including round-trip air transportation from Miami starts at $1,269 per-person based on double occupancy. That's just a hair over $200-a-day and airfare is included!
Eligible bookings must be made by April 9, 2010.
For reservations and more information, click here or call 1-800-288-1435.
* The information in this story was accurate at the time of publishing. All rates and specials are subject to change at the travel provider's discretion.
Related Posts