First Look Inside Martinique's Fort Saint Louis in 13 Years: Uncommon Attraction
For more than a decade, this was among the rarest views in all of the Caribbean. To enjoy it, you had to be inside Fort Saint Louis, the 17th century solid stone stronghold towering over Fort-de-France and the city's namesake bay. To do that, you generally had to be in the French Navy… or run a business tending tennis courts.
Anyone who has visited Fort-de-France over the past 13 years, laid eyes on Fort Saint Louis, and wanted to check it out knows what I'm talking about. (Well, maybe not about the tennis courts, but I'm getting to that.) Unlike El Morro in Old San Juan, Fort Christiansvaern in St. Croix, or any number of other old, historic forts throughout the Caribbean, Fort Saint Louis has remained closed to the public since 2001.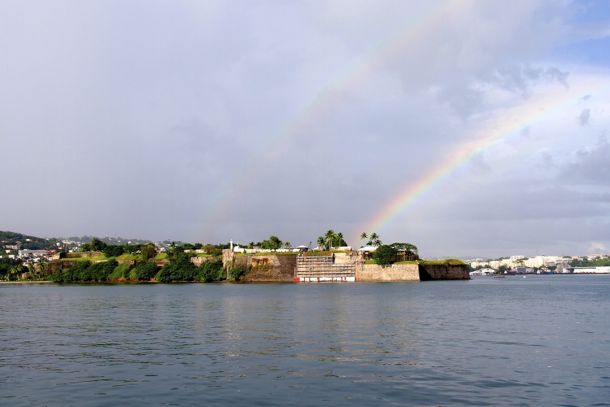 No, the extended closure wasn't about some massive renovation and restoration project. Fort Saint Louis actually was in such great shape back then that the French Navy reinstated it as an active Naval Base in the wake of 9/11.
Just a few weeks ago (July 20th, to be exact) all most of that changed…
Fort Saint Louis is now once again open and welcoming history-loving visitors inside her ramparts. I know because I got a chance to check it out just one day after the official opening.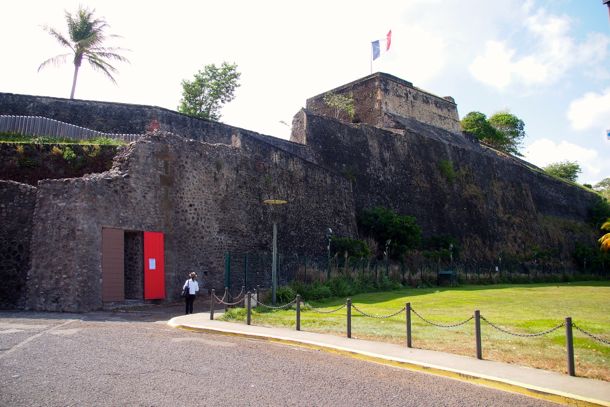 Touring and exploring many parts of the various levels that comprise the sprawling 473,612 square-foot facility would've been fun armed simply with my imagination, but we were lucky enough to have a great English-speaking guide from the Fort-de-France Office de Tourisme to really provide some great insight. Historic anecdotes, notable facts, special dates – she shared it all, even going so far as to introduce this guy…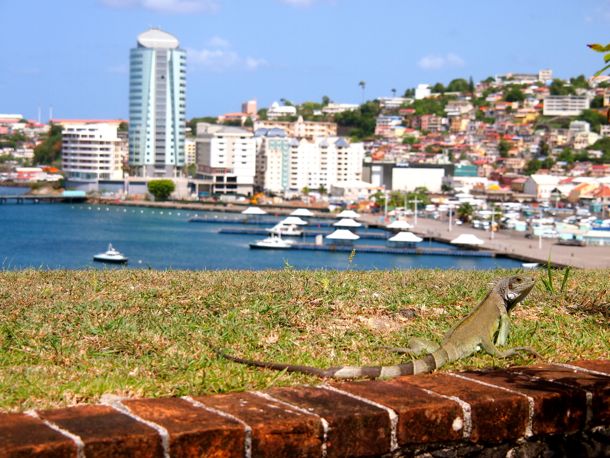 Green Iguanas (species: Iguana iguana) like these roam freely around the fort, though they're not native to Martinique. According to our guide, they were originally brought here as part of a zoo once housed within the fort during the 1800's.
Yeah, my imagination could not have helped me there. Nor could it have ever conjured any even remote thoughts of seeing this…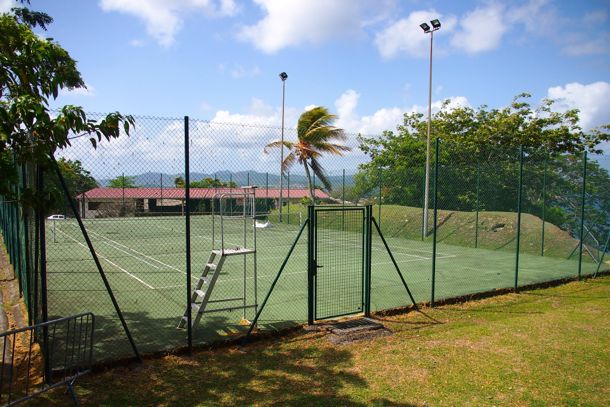 Yes, it's a tennis court… inside the fort.
More specifically, it sits atop Fort Saint Louis, nearly 200 feet above the city streets below. It's there as a means of recreation for the French Navy, which still maintains a force of about 100 seamen in residence at the fort. Their section of the facility is off-limits to visitors, of course, though you may encounter a few of them coming and going or performing training exercises, as we did during our visit.
Fort Saint Louis is open for tours Tuesday–Saturday from 9am to 4pm. Guided tours are available with commentary provided in English, French, Spanish, and Italian.
To enter the fort, visitors must first check in at the Fort-de-France Office de Tourisme information kiosk located at the northwest corner of the La Savane Park at the intersection of Rue de la Liberté and Boulevard Alfassa. The entry fee is 8€ (about US$11) for adults and 4€ (just over US$5) for children, who must be at least six years of age and accompanied by an adult to gain entrance.
Related Posts