Le Deux Palais de Justice, Martinique: Uncommon Attraction
Progress… *sigh*…
I'm fairly progressive about most things, though as I've shared before, I'm not always that big on the changes that accompany the persistent march of time in the Caribbean.
I mean, just look at this stately old building…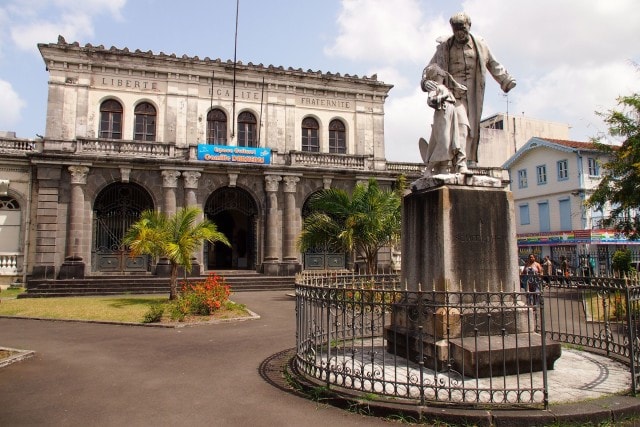 This is the Palais de Justice (est. 1906), or municipal courthouse, in downtown Fort-de-France. More than a bit weathered and grey, it nevertheless shines as a stoic reminder of the historic city's vibrant past.
Italian neoclassical styling and an artfully expressive statue of the famed French abolitionist, Victor Schoelcher, at the front lend the old courthouse an ancient Roman air more reminiscent of your more celebrated historic European capitals than most other corners of the Caribbean.
If the small palms at the front don't tell you you're in the tropics, though, just walk beneath her arched entryway and through to the rear where it will become plainly obvious…
Like the Palais itself, the mango trees in this expansive courtyard date back more than 100 years, providing shade and snacks to generations of courthouse staff and visitors.
Through those gates further back…
…the backside of the Palais, another majestic old courtyard, and the bustling streets of Fort-de-France.
To me, the Old World charm in and around the old Palais de Justice is simply intoxicating.
The vibe at the new Palais, though… well…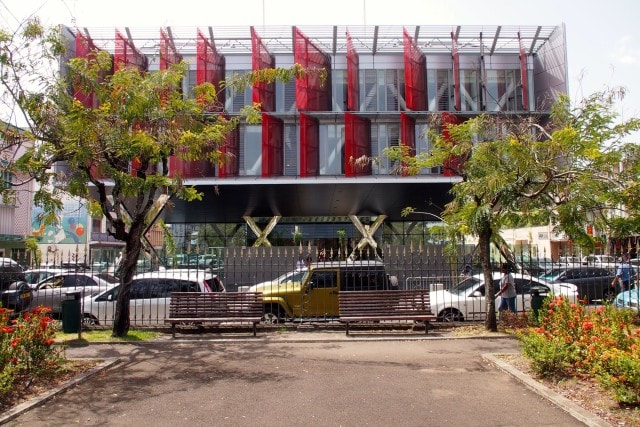 As much as the old Palais speaks to the island's storied past, it's almost as if the new one is intended to communicate with the Martinique of the future… the FAR, distant future…
That the two buildings literally face each other only amplifies the contrast, though I guess it's not such a bad thing – the new always reminded of the proud achievements (and pitfalls) of the past as Martinique moves forward.
At the same time, the old Palais de Justice still maintains its usefulness, serving today as a center for art and culture named in honor of Camille Darsieres, a lawyer and political contemporary of Aimé Césaire.
When you visit Fort-de-France, definitely take a stroll inside to see unique works of art produced by local students and celebrated artists, while also savoring a bit of the island's historical past.
Related Posts