Deal of the Week: Web-Only Savings of 20% Off Blue Tulum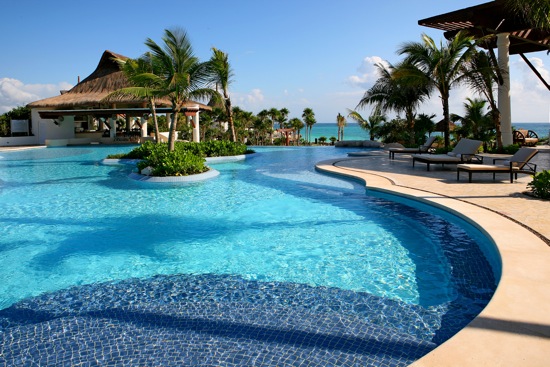 Seis de Mayo – the dreaded day after.
Most of us overdid it last night reveling in memory of that most unlikely of military triumphs by the Mexican army over the French at the Battle of Puebla on May 5, 1862.
Wait, what? I lifted my annual 364-day ban on killing my brain with tequila for the battle of where?
That's right, Cinco de Mayo is not the independence celebration that most of us think it is (Mexican Independence Day is actually September 16). Apparently, Corona's favorite holiday isn't even celebrated very widely in Mexico.
No matter, Uncommon Caribbean likes a good party and really any reason will do. But here, now, amidst the wreckage of another epic fiesta, we're ready for an escape to Tulum.
Located 2 hours south of the endless Cinco de Mayo that is Cancun (1 hour south of Playa del Carmen, the Yucatan's other party zone), Tulum's tranquil, laid-back vibe is the perfect antidote for any hangover. Pristine, uncrowded beaches, friendly faces and the majestic Mayan Ruins in Tulum make this an ideal vacation spot, no matter your condition.
No raging keggers. No Girls Gone Wild.
For accommodations in Tulum, you can't do much better than the Blue Tulum Golf & Spa Resort. Don't let the name fool you, though: this is not a sprawling mega-complex.
Blue Tulum is comprised of only 96 suites, each with its own Jacuzzi. Golf may be its middle name, but the links, and the crowds they can attract, are conveniently located a few miles away. There's also no beach. The resort sits on a jagged, rocky coast with a small sandy tanning area and an expansive pool. Fabulous beaches are just a short bike ride away.
To me, Blue Tulum is actually a small, sexy all-inclusive property with an excellent spa, attentive service, fine cuisine, and a wonderfully secluded seaside location right next to the Tulum Ruins. It's gorgeous and exclusive, yet unpretentious in a way that's kind of unique among resorts along the Yucatan.
Right now, you can take advantage of 20% savings on your next Blue Tulum escape. Nightly rates start at just $185 per-person for resort stays in May and June, and go lower for July and August. And remember, that's all-inclusive!
Savings are only available online, though, so click here for reservations.
* The information in this story was accurate at the time of publishing. All rates and specials are subject to change at the travel provider's discretion.
Related Posts