An Uncommon Guide to Summer 2013 Travel to Old San Juan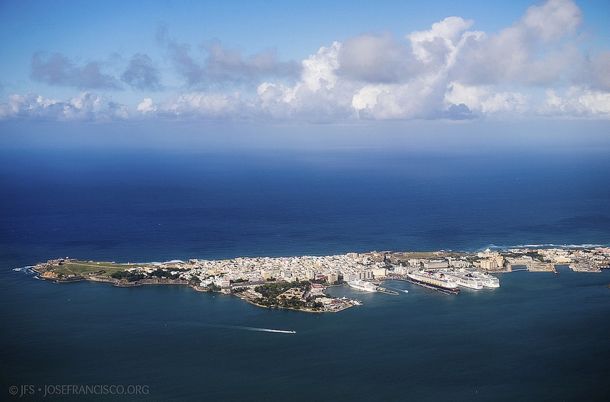 If you follow us on Facebook, then you may already know I'm a big fan of my window seat photography. I've been snapping shots out airplane windows since I was a kid, though the one above snapped by our friend José Francisco, PhD, is definitely among my favorites. It shows one of my all-time favorite places, Old San Juan, Puerto Rico.
As we've shown before, this delightfully congested 500 year-old urban playground has much to offer the uncommon traveler. I've visited on dozens of occasions over the years, each time soaking in as much as I can of the art, history, food and fun.
Still, every time I leave, I'm left wanting to return for more. Despite her modest seven square miles, Old San Juan seemingly has an endless amount to offer.
If I manage to get back there this summer, here are a few choice things I've never done in Old San Juan that I hope to cross off my to-do list…
Stay at Da' House
My previous hotel haunts in Old San Juan have included the artfully eclectic The Gallery Inn Old San Juan and the actually haunted and classically stylish El Convento. For my next trip, Da' House Hotel is the pick as it seems to be a good combination of the two. On the art side, Da' House is the former home of Centro Nacional de la Artes, an artists collective offering workshops for printing and silkscreening, as well as dance and music classes. The inventive nature and musical spirit of the place remains alive, while the location just above the Nuyorican Cafe suggests the types of sleepless nights and endless fun I tend to enjoy in Old San Juan.
Discover the Nature of Old San Juan
You don't often think of nature when thinking of Old San Juan, but the ancient city does, indeed, have a green side apparently exploring. Luckily, the Conservation Trust of Puerto Rico offers a guided nature tour of the city to make things easy. The tour takes about three hours and costs $7.49 per-person. Explorers are encouraged to call 787-722-5834 for reservations as these tours don't adhere to any set schedule.
Drink at El Batey
For as many times as I've been to Old San Juan, it's almost unbelievable that I've never managed to set foot in El Batey. This is absolutely my kind of place – dark, dirty, and grimy, with graffiti all over the walls, an old, beat-up wooden bar and a closing time of 7am! The jukebox there even still plays old 45s from the 60's and 70's! Yeah, I won't be missing this next time around…
Dance at Sunset at Plaza Dárensa
Sunsets are almost always great in Old San Juan, though I hear that the one that goes down on the last Sunday of every month is extra special if you happen to be with your better half along the picturesque Plaza Dárensa. There, next to La Casita, sunset concerts are held on those special Sundays, inviting dancing and romancing as the last sun rays surrender to the stars. The fun starts at 5:30pm and stretches to 8pm.
Got any other fun things I shouldn't miss when next in Old San Juan? Leave us a comment below so I can be sure to add to my list…
Related Posts