Deal of the Week: Scary-Good Savings at San Juan's Most Haunted Hotel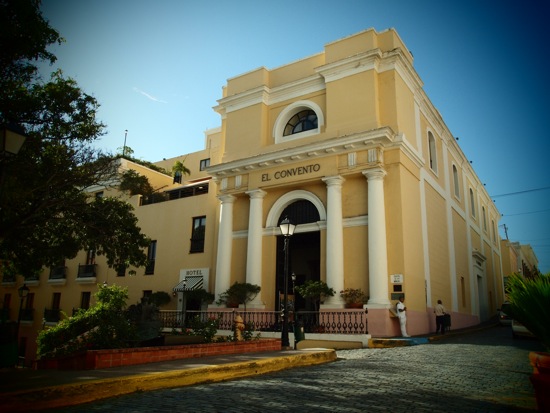 In a town so old that the word "old" is actually in its name; where signs of spirituality are everywhere; and legions of soldiers, pirates and other assorted colorful characters have fought and died, it stands to follow that Old San Juan has a rich haunted history. Among the best places to enjoy the ancient city's paranormal pursuits: Hotel El Convento.
A former Carmelite Convent dating back to the 1640's, El Convento is today one of the finest boutique hotels in the Caribbean. Not only is El Convento rated as a AAA four-diamond property, but it's also the only hotel in Puerto Rico that can boast membership in The Small Luxury Hotels of the World, and it's the oldest member of the Historic Hotels in America – talk about prestige!
The location can't be beat either. El Convento is located directly across from the San Juan Cathedral on Cristo Street, offering all that great luxury right in the heart of Old San Juan.
I didn't stay at El Convento during my most recent trip to Old San Juan a few weeks ago, but I did stop by to check out the view from hotel's rooftop sundeck. There's a small plunge pool and Jacuzzi up there as well; definitely a great spot to watch the sunset over Old San Juan with a cocktail.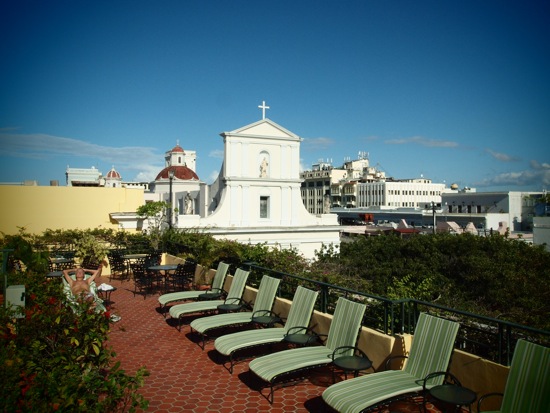 I didn't get a chance to see any guestrooms, but I really liked the cozy Spanish courtyard in the middle of the hotel. An enormous 300 year-old Nispero fruit tree from Spain grows there, providing some welcome shade over the bar and restaurant areas below.
Way back before that old Nispero was planted, El Convento was actually the private home of a Spanish noblewoman named Dona Ana de Lansos y Menendez de Valdez. In those days, of course, all the European powers were continually fighting to establish strongholds in the Caribbean, with San Juan being among the top prizes. When the Dutch came calling at the city walls with nothing but bad intentions, Dona Ana's husband went off to fight. He did not return.
Devastated at the loss of her husband, Dona Ana decided to devote her life to God, giving up all of her worldly possessions, land and home to become a nun. Her home became known as the Carmelite Convent, and there she stayed, serving God alongside her sisters until the day she died.
But of course, Dona Ana's story does not end there…
These days Dona Ana and some of the other nuns who lived with her can still be found at El Convento. Guests and employees have reported hearing eerie swishing sounds, like that of a nun's robes, as Dona Ana and her sisters wander that halls of the old building. Some guests even claim that Dona Ana has awoken them when they've slept in too late!
Try complaining to the hotel manager about that wake-up call!
With all its history, luxury and unique "hosts" like Dona Ana and friends, El Convento is definitely a special place worth checking-in to whenever you're in San Juan. If you're heading there this fall, be sure to take advantage of their One Night Free offer. To get the deal, just be sure to book a minimum three-night stay by December 20, 2010 for travel between now and December 23, 2010. Oh, and hope for availability – a limited number of El Convento's 58 rooms are in play for this promo and blackout dates may apply.
For reservations, click here to visit the El Convento website, or call 1-800-468-2779.
* The information in this story was accurate at the time of publishing. All rates and specials are subject to change at the travel provider's discretion.
Related Posts