Roatan Island Brewing Co – The Caribbean's Most Bohemian Brewery
Living the dream of running off to the Caribbean to carve out a new life takes many forms for those adventurous enough to do so, as we've profiled a time or two. Of all the paths to island life that I've ever heard of, though, the one that led to the construction of the Roatan Island Brewing Co is probably the most uncommon…
This funky-looking fortress was known as The Bay Island Brewery. You can find it on Roatan, the largest of Honduras' incredible Bay Islands, and yes, despite a facade that might suggest some sort of historic Spanish colonial attraction, they actually used to make beer here.
The Roatan Island Brewing Co is/was the brainchild of the renowned Czech artist, Jiri Maska. A Roatan resident since the mid-1990s, Jiri founded his brewery for one very good and practical reason. His explanation, per a January 2006 newspaper article:
I can't live in a country without good beer.
Who can, right? For Jiri, though, good beer came with some serious stipulations.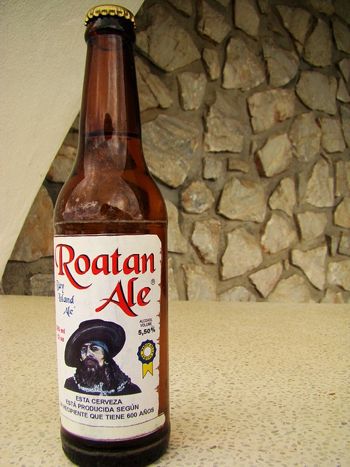 Bespoke Beer Rooted in Old World Traditions
For one thing, Jiri's beer followed a recipe that dates back more than 600 years. Notably, this recipe called for open fermentation methods traditional to beer-making back in Jiri's native homeland. Water used for making Bay Island beers was drawn from a 330-foot artesian well located on the property. Malts, hops, and beer yeasts were imported from Jiri's home region as well. The combination yielded what most certainly must have been among the most uncommon beers in all of the Caribbean.
I'm guessing Jiri may have also thought it was important for good beer to be brewed in artful surroundings. I mean his brewery is purposely designed to mimic a 15th century Spanish fortress.
Not everything about the Roatan Island Brewing Co, though, harkens to the past. Inside those Old World walls, the brewery houses state-of-the-art brewing equipment. Much of it is also powered by solar panels and windmills.
All of this has made me really want to visit RIB Co since I first got wind of it years ago. There exists, however, a problem.
Tapped Out
Indeed, the very same funky fortress pictured above is listed for sale. When I wrote to Jiri asking if it was true that beer is no longer being produced here, he replied:
For now is closed.
Oh well, I still think it would be neat to pay Roatan Island Brewing a visit. Who knows, maybe by the time I get there one of you may have bought the place and gotten the beer works up and running again. If you do, please save a cold one for me…
Related Posts