Company House Hotel Pool – Where to Cool Off Artfully in St. Croix
There's a bit of a secret grotto feel to the Company House Hotel pool. From the front entrance to the property, you'd never guess that such a cozy cool out spot could be hiding amid the connecting structures housing the 33 guest rooms here.
Like many pools at city hotels across the Caribbean, this pool is small. (Lap swim is not a thing here.) Unlike most of those other city hotel pools, though, the Company House Hotel pool is big on charm.
A Different Kind of City Hotel Pool
Location plays a big part in this, of course. Swimming in the heart of downtown Christiansted, just beyond the shadow of the iconic Steeple Building is pretty special all on its own. (As a St. Croix native, naturally this goes double for me.)
Tidy landscaping and potted exotics juxtaposed with a thick tuft of Devil's ivy draping over a decaying brick wall adds to the allure.
Pulling it all together: a whimsical piece of original art celebrating St. Croix and her surrounding seas.
Jan Mitchell-Larsen Mural at The Company House Hotel Pool
The fun and colorful mural is one of the latest master creations of our celebrated friend, Jan Mitchell-Larsen. If you're lucky enough to have any of Jan's signature glass art creations in your house, then you'll no doubt recognize her style.
The mural brims with animated representations of all manner of sea life, birds, sailing vessels, and the types of Danish colonial structures prevalent throughout Christiansted.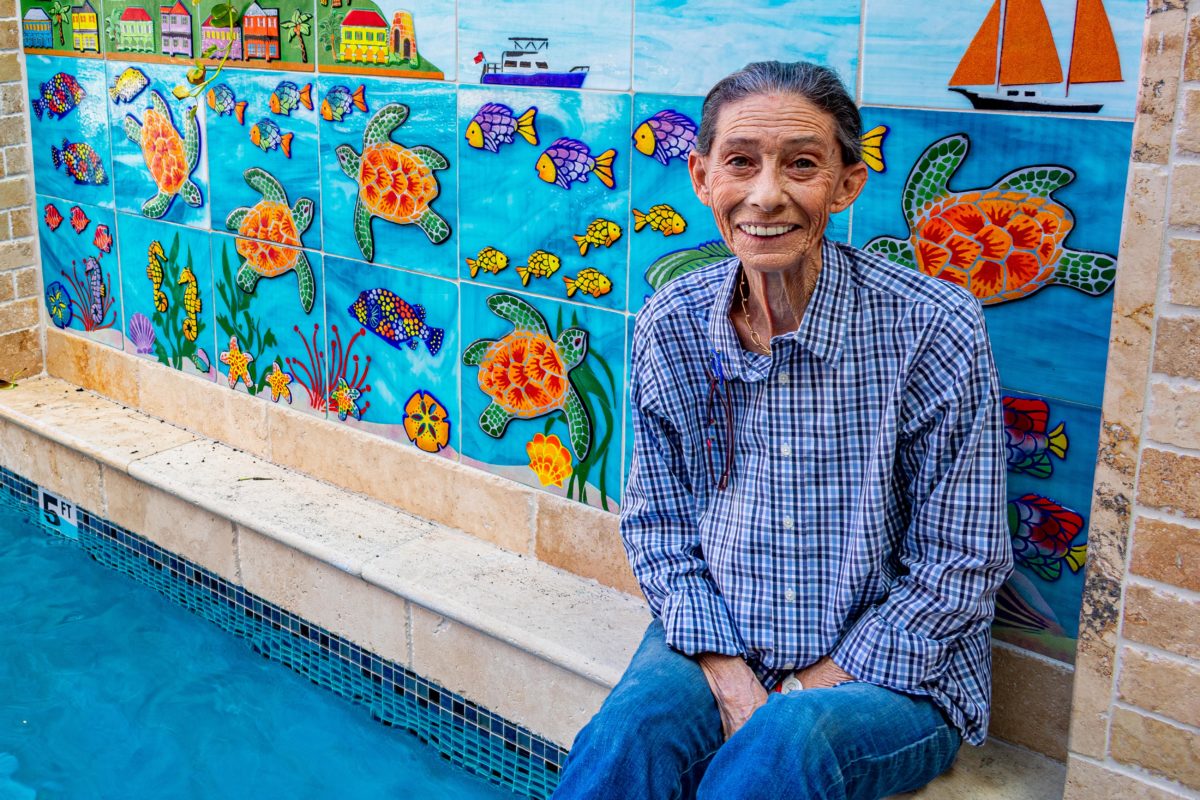 On a recent visit back home to St. Croix, Jan told me that she originally took on the project in early-October 2018. The initial deadline for completion was November 15th. That all changed, though, once the pool contractor was consulted…
The guy who was doing the pool came to see me. He said listen, we need it [the mural] done by October 15th because… once the floor of the pool is done, I have to fill it with water immediately. So, they won't be able to install your wall because it [the pool] will be filled with water.
Jan chuckled softly at recalling the exchange, sighed slightly and said…
Then I started cussing.
In the end, though, Jan did as she always does… she came through.
When you give me a deadline, I meet it.
In the case of the Company House Hotel pool, I'd say she came through beautifully.
To take a dip in this cool pool, be sure to check into The Company House Hotel online.
*Lead photo credit: Kelly Greer.
Related Posts