Cocoa Tea – Enjoy Breakfast with a Taste of St. Lucia
In the states, we have Dunkin' Donuts and Krispy Kreme to help start the day with a filling, doughy, sugar rush. And while I know Steve likes to "run on Dunkin'", I'm sure he'd concede that few things kick off your day quite like a steaming bowl of cocoa tea.
Is cocoa tea tea?
First off, cocoa tea is obviously not tea. There are only 4 actual kinds of tea that come from actual tea leaves – white, green, oolong and red or black. Your bush tea? Not tea.
What is cocoa tea?
What cocoa tea is, however, is a rich concoction made from cocoa grown locally around St. Lucia.
The process of creating cocoa ready for your morning beverage is a bit of a long one that native St. Lucians have practiced for generations. It involves taking the seeds from the ripe red or yellow cocoa pod, cracking them, cleaning them, roasting them, breaking them, grinding them, heating them and more!
Yeah, it's best to savor your cocoa tea.
Anyway, once you have your cocoa stick or ball (we recommend buying one in the market!), the process gets a bit easier.
Back in the day, little flour dumplings were boiled in the cocoa tea, making the drink a complete meal! Forget donut holes, this is the real deal and can be enjoyed for breakfast all over St. Lucia.
Bon appetit!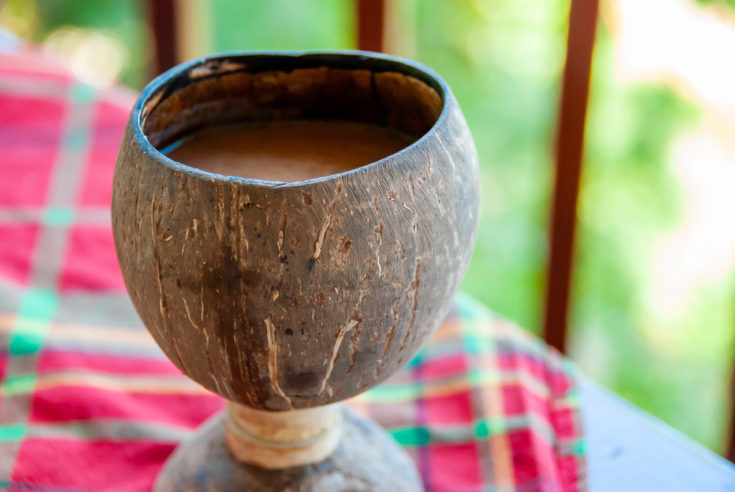 Cocoa Tea St. Lucia Style
Cocoa Tea is a rich concoction made from cocoa grown locally around St. Lucia. Great to start the day or anytime you crave a sweet fortifying treat.
Ingredients
.5 cup Grated cocoa stick
2 cups Water
1 cup Milk
Sugar to sweeten
Vanilla
Bay leaf
Cinnamon
Nutmeg
1 tablespoon Cornstarch
Instructions
Put water to boil with cinnamon and bay leaf.
Boil for about 15 minutes.
Grate cocoa stick and add to boiling water then boil for another 10 minutes.
Add cream (or evaporated milk, powdered milk, or low-fat milk to reduce calories).
Sweeten to taste. Mix the cornstarch with water and slowly add to the boiling mixture, stirring all the time.
Add vanilla. Strain and serve.
Related Posts