Hotel Chocolat, the Sweetest New Spot in St. Lucia: Uncommon Envy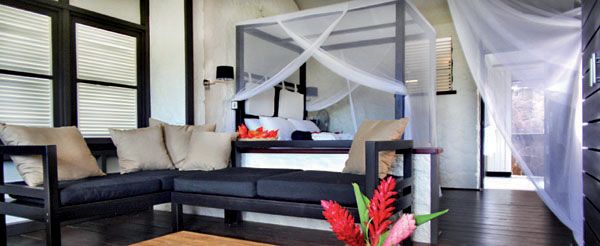 Being the avowed chocoholic and history buff that I am, there is one property above all others that's really drawn my envy lately: The Hotel Chocolat in St. Lucia.
As we noted previously, combining fancy hotels with one-of-a-kind chocolate travel experiences is nothing new in St. Lucia. Hotel Chocolat furthers the notion in fine style, with upscale accommodations and interactive experiences providing a unique window into how chocolate gets made.
And not just any chocolate, mind you. The business of The Hotel Chocolat's parent company, also called Hotel Chocolat, is the production of some of the world's finest choco-treats. The UK-based company originally founded in 1988 as MMS, is renowned for its iconic Giant Slabs, half-kilo chunks of chocolate available in various flavors, and its Purist collection, featuring some of the world's rarest cocoa. A bit of the rare cocoa Hotel Chocolat uses for its Purist collection comes from Venezuela, Peru, Madagascar and Ecuador. The rest – you guessed it – is grown in St. Lucia.
Specifically, the rare St. Lucia cocoa is grown at Rabot Estate, a 140-acre plantation located in the shadow of the Grand Pitons that dates back to 1745. Hotel Chocolat (the chocolatier) purchased the estate (the oldest in St. Lucia) in 2006, becoming the only UK company to have its very own cocoa plantation. In December 2010, they opened The Hotel Chocolat (the hotel) on the very same spot.
That's right, you can stay directly on the very same historic working cacao plantation that produces some of the world's finest chocolate! And while there are ample amenities here designed to pamper you and help you relax (see chocolate spa treatments at the on-site CocoaJuvenate), certainly a big draw for any uncommon traveler is the opportunity guests have to take part in the chocolate-making process. Specifically, the property invites you to work the cocoa harvest, which takes place between November and April – the exact months most of need to escape the cold and snow! Local experts working alongside you share their knowledge for what makes the best cacao, how best to harvest it, how it becomes world-class chocolate and the history of the plantation, providing a unique culinary/cultural travel experience.
When you're not getting your PhD in St. Lucia's chocolate traditions, the trails crisscrossing the plantation's 140 acres and the nearby Pitons provide ample hiking opportunities. Rabot Estate is also home to guava, mango, banana, papaya, soursop, breadfruit trees. Guided Fruit Tasting Safaris can be arranged through the hotel. An on-site 50-ft pool provides a cooling respite, and several nice beaches are just a short car ride away.
For dining, The Hotel Chocolat offers the BOUCAN Restaurant, which naturally features Cacao Cuisine. Inventive gourmet menu items include Cacao Marinated Red Snapper, Cacao Gazpacho, Line Caught Yellow Fin Tuna with Cacao Pesto and Beef Ribeye with Dark Chocolate Port Wine Sauce. Sounds amazing!
The Hotel Chocolat originally opened with just six Cocoa Cottages (talk about exclusive!), each 450 square feet in size. Larger Cocoa Pods Luxe (750 sq ft) accommodations will open next month. All rooms feature contemporary West Indian design, luxury amenities, and private outdoor showers in a setting that's pure heaven to chocolate lovers.
Winter 2011-2012 rates start at $550 per-night based on single or double occupancy, and include daily breakfast.
Related Posts