Enjoy Old Fashioned Trini Food in Modern Port-of-Spain at The 'Original' Breakfast Shed
Good food is a given when you're staying at the Hyatt Regency Trinidad. This jewel of the acclaimed Port-of-Spain International Waterfront Center is fancy in many ways, not the least of which being its fine dining options. Breakfast, lunch and dinner plates I've observed and enjoyed at the property in recent years comprise a nice mix of local and international dishes, often borrowing from each others' distinctive cooking traditions to create unique flavor combos.
The food at the Hyatt is so good, in fact, that I could understand if guests never ate anywhere else during their stay. I, myself, have done so twice in the past three years, but I doubt it will happen again; not since I found my way to Femmes du Chalet, the famed local lunch spot better known as The Breakfast Shed.
I stumbled in here in search of doubles the morning after exceeding the posted warning signs in my head over excessive partying at the LIME 2013 All-Inclusive Carnival Fete.
(Editor's note: You'll find that the terms "all-inclusive" and "carnival fete" go together a little too well during Trinidad Carnival, so if you go, don't be surprised if you find yourself wandering the streets of Port-of-Spain aimlessly in search of any kind of booze-soaking sustenance your own selves…)
I didn't find any doubles (other a.m. stumblers beat me to 'em, I guess), but I did find just about every other traditional Trini treat you could think of in the many stalls beneath the Shed. Callaloo, macaroni pie, stew beef or chicken, oxtail, souse, roti, provisions – it was like the Naparima Girl's High School Cookbook come to life!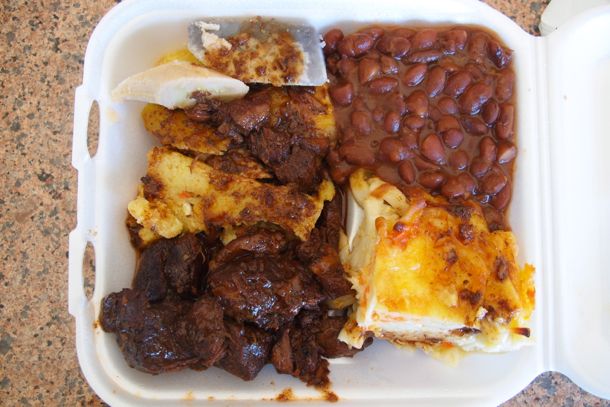 Granted, it's not the most artistic presentation, but they're not interested in style points here. This place is all about feeding you, and feeding you really well, with some real, down-home traditional West Indian food that satisfies your soul as much as it does your tummy. It's a tradition at the Breakfast Shed that goes back some 87 years…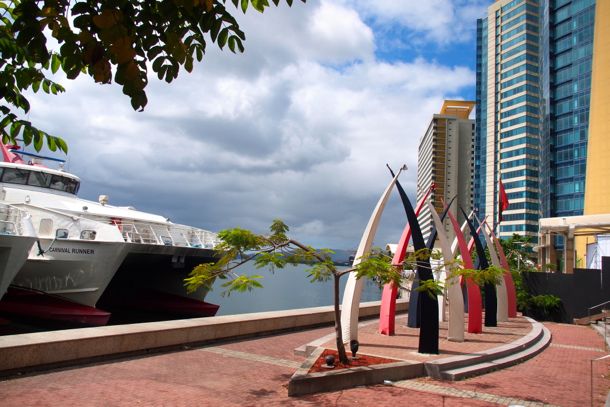 The year was 1926 and Audrey Layne Jeffers was through lamenting the plight of the Trinidad's impoverished children. A local social worker, she set about doing something to help, establishing the Coterie of Social Workers to provide free meals to the kids. This led to the very first Breakfast Shed. Offshoots soon followed, feeding needy children in many local communities all across Trinidad and Tobago.
Down on the waterfront in Port-of-Spain, the Breakfast Shed became the hot spot for dock workers and the blue collar set as it transitioned over the years from its charitable beginnings into a full-fledged enterprise, and now, a cherished TnT institution.
The new "Original" Breakfast Shed carries on the spirit of Ms. Jeffers' original mission, which to me just makes it that much more of a special place to eat. They're not giving the food away anymore, though that big container of goodies pictured above only set me back about US$7.00.
Bon appetit!
Related Posts