Deal of the Week: Iggies Beach Bar Turns 21, But You Get All the Gifts!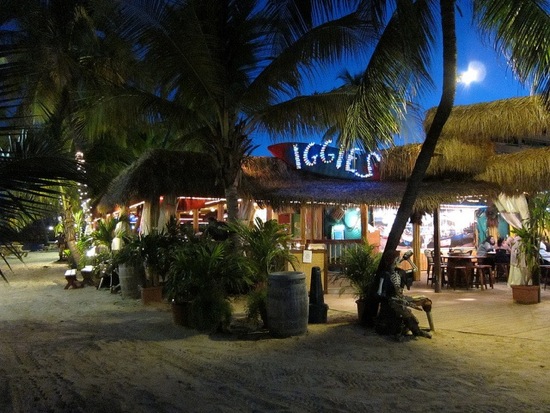 It's not every day that you'll find us hyping a beach bar that's on-property at an all-inclusive resort, much less one in all-too-common St. Thomas. But then again, Iggies is no ordinary beach bar, and the Bolongo Beach Resort where it's located, is no ordinary all-inclusive resort.
Originally opened in 1974 as a small (36 rooms), family-owned/operated property high on friendly, attentive service and unbeatable value, Bolongo is one of the special few older Caribbean resorts that has grown and improved with the times while still remaining true to its roots. Legendary V.I. hoteliers Joyce and Dick Doumeng got the place off the ground, developing one of the region's most successful independent hotels over Bolongo's first 20+ years in business. Today, Bolongo is larger (62 rooms), and a second generation of Doumeng's, led by eldest sons Richard and Paul, carry on the family tradition with an infectious zeal for hospitality that makes it next to impossible not to have a good time here.
From the resort's earliest days to now, Bolongo's success has always been about family pride.
The right attitude and family pride are nice, but the Doumeng's are also really good about continually upgrading the property with new amenities to keep the visitor experience fresh, lively and on-par with their much larger all-inclusive rivals. When you check-in at Sandals, it's no surprise to find a full array of water sports equipment for your enjoyment, up to and including a resort catamaran for day-sail excursions. Bolongo stands out for offering the exact same thing (check out their 53′ catamaran, Heavenly Days) in a more intimate setting, plus they make you feel like part of the family, though in a good way (no chores!).
I've known the Doumeng's (Richard most of all) for the better part of the past 20 years, and if there's one thing I can tell you about this family it's that THEY LOVE TO HAVE FUN. And when it comes to having fun at Bolongo, or anywhere on St. Thomas, Iggies is the #1 place to be.
Located smack dab in the sand just a few feet from the shore, Iggies is a St. Thomas institution, as popular with fun-loving locals as it is with visitors to the island, whether they're staying at Bolongo or not. One of the main reasons it's so popular is the fact that it's the only place on the island where you can find live entertainment every single night. No matter rain, shine, or any of the many, MANY Government holidays in the Virgin Islands (more on that here), the party just doesn't stop at Iggies.
Even better, this summer Iggies is turning 21, so you know the usual good times will be even better! To celebrate, Bolongo is offering a slew of savings for resort stays of five nights or more between May 1 to August 31, 2011. Not only do you get a 40% discount, but that last night will only cost you $21. If you have another couple that you and your better half like to travel and party with, then you'll save even more as the third and fourth adults sharing your room stay free. Remember that 53′ catamaran I mentioned earlier? The deal also includes a happy hour Sunset Cocktail Harbor Cruise. Did I mention that they also hook you up with a free bottle of Cruzan Rum at check-in?
Oh yeah, it's a good deal, alright.
So, let's say you've got three other friends who want to jump on this with you. The big question is how much, right? Well, a quick check of math shows that if you split the cost evenly among the four of you, it all works out to less than $70 per-person, per-day!
You may not believe it, but there are actually a few additional gifts waiting for you if you take advantage of this deal, but I'll let you discover them for yourself when you contact my friends at Bolongo to book the deal. For reservations, click here to visit Bolongo's new website, or call them at Tel: 800-524-4746.
* The information in this story was accurate at the time of publishing. All rates and specials are subject to change at the travel provider's discretion.
Related Posts