Friday Happy Hour: St. John Brewers Bottling 'Massive' New Reason to Visit the V.I.
Beer doesn't usually rate too highly among the top reasons people travel to the Caribbean. Spectacular beaches like Hawkesnest Bay in St. John (above) are generally the big draw, with most folks likely not even considering beer until they're packing a cooler to head out for some surf and sand.
Uncommon travelers know better, of course, especially when it comes to St. John. As we've shown previously here, here, and here, our friends at St. John Brewers have been churning out some of the region's very best and most creative craft beers for years.
For their latest trick, the SJB guys are going large – No, make that MASSIVE! – and in turn, providing beer lovers with a big new reason to visit St. John soon.
V.I. Massive is a new series of one-off ales developed after much fun trial and error by SJB at their brewery in Moongoose Junction. In line with the name, these new brews are being made available in 22-ounce bottles. They also feature some background on the very local term, "V.I. Massive," right on the label…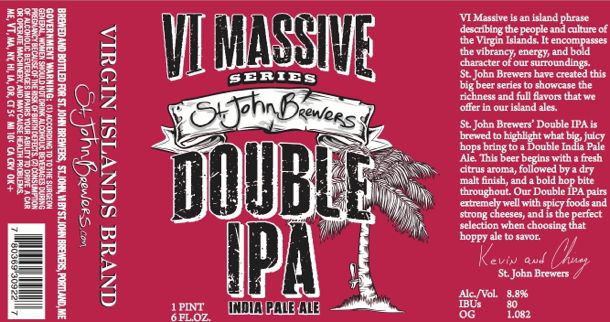 The first in new brew in the V.I. Massive series, St. John Brewers Double IPA, debuted this past December. Packing a hefty 8.8% alcohol by volume (about double the alcohol of your typical beer), this stuff is sure to satisfy in a hurry!
At least I think it will…
Truth is, I haven't tried the new V.I. Massive Double IPA just yet. The reason: SJB's big new beers are only being distributed in the Virgin Islands, and only for a limited time!
I can think of a lot of worse reasons to head back to St. John in 2014…
*Lead photo credit: fensterbme via Flickr.
Related Posts