Rare New Rum Finds are Real Reasons to Attend 2014 Miami Rum Renaissance Festival
The 2014 edition of the World's Sexiest Rum Party is currently underway in Miami, a development sure to solicit yawns from a few of you. After all, we've covered the event on several occasions before. Even if you LOVE rum and have REALLY enjoyed the event previously, what possible reason could there be to make sure this is the one rum event you shouldn't miss each and every year?
Different people will have their different reasons, of course, but for me it all boils down to one thing: rare new rum finds.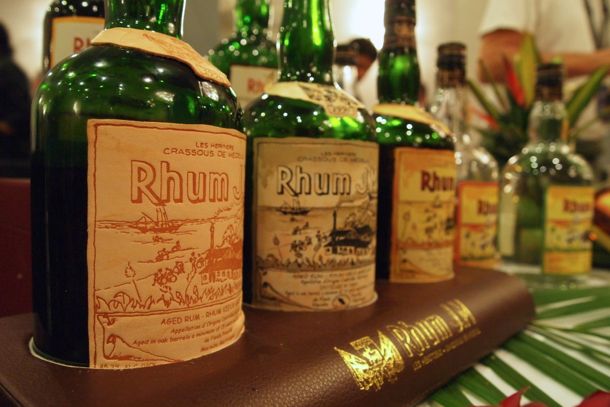 The pricey Rhum JM '97 from Martinique in the middle above is an amazing enough find on its own, though it's generally available at my local liquor store in Fort Lauderdale. That '94 JM at left? I'd never seen it outside of Martinique til I encountered it at the 2012 Miami Rum Renaissance Festival. As you might imagine, I lingered for quite a while by her side. Then, another set of rare beauties caught my eye…
I had only just heard of the amazing "contraband" that is the Caribbean 2003 Samaroli from my brother. The other two I hadn't seen anywhere before. I also haven't seen them since.
That's the thing about the Miami Rum Renaissance Festival – you always find something new, notable, and exciting to sample, further expanding your flavor palate and appreciation for the rum maker's art as it's practiced all over the world.
The 2014 Miami RumFest features more than 200 blends from 30+ countries around the world. When I went through the list yesterday, I found a good 25 rums that I'd never even heard of before!
The list includes Arcane Delicatissime and Penny Blue, two blends from Mauritius, Owney's Original from New York City, a Danish rum called Skotlander, and something called Edward Gunpowder Rum that's sure to be explosive!
According to Robert Burr, ringleader of all the rum fun in Miami, festival goers will want to pay special attention to Lost Spirits Navy Style Rum. Rob tells me it's made in a very Old School way; fermented slowly and carefully, distilled softly, and bottled at 68%. The result: a big, bold rum that doesn't kill you with harshness.
Another one high on Rob's list, Selvarey Cacao, a chocolate-infused rum 20+ years in the making!
This is a five year-old sipping rum with a chocolate note. You'll freak out over this one!
No doubt, most of everything that's new and interesting in the world of rum today will be on display and available for sampling during Rob's week-long Festival. I'm sure I won't like all 25 of the "new to me" rums on the list, but it will be fun sizing them up and rubbing elbows with fellow rum lovers from all over the world.
If you're in South Florida and want to join me, visit the official Miami Rum Renaissance Festival website for tickets and more information on the schedule of events.
Save
Related Posts