Boning Up on Eleuthera Through the Eyes of a Dog, Part III
Editor's Note: For this, his third and final post for Uncommon Caribbean stemming from his recent trip to Eleuthera, Crusoe the Celebrity Dachshund clues us in on what there is to do in this sleepy corner of The Bahamas…
So you might be asking yourself what drives people to come here, especially if you aren't a wealthy celebrity who can just build yourself a luxurious home on the island that has everything you need
Well I'm glad you asked. One of the biggest draws to this island is the angler's call for a true challenge – the elusive bone fish. They are called the "ghosts of the flats" for a reason. These shiny fish are easily spooked by even the most miniscule lack in fly fishing technique, and are usually caught in less than two feet of water.
I absolutely love fishing myself, so even though I couldn't physically cast the line, I was right there along the shore watching and waiting.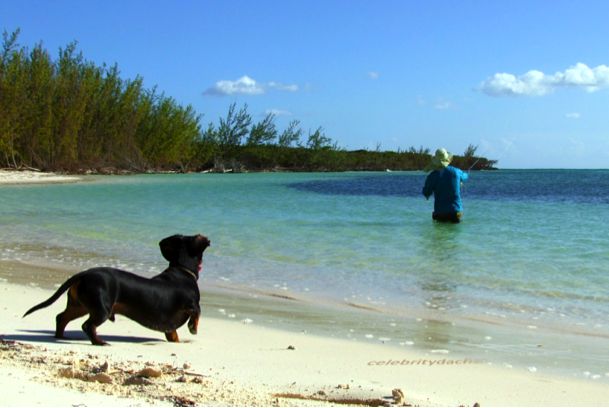 This was one of those pristine places I was referring to. We only arrived here by accident after taking a rocky road that looked like it hadn't been used in years and passing under a chain blocking the road with a rusty sign saying "private." I don't recommend you do this yourself unless you are an adventure-seeking celebrity such as myself.
I never got the chance to see the bone fish, but just to make up for that my Mum and Dad took me to a really cool place called the Ocean Hole, which is an inland saltwater lake fed by the ocean deep underground. It's also full of fish, and I got to watch them swim right under my nose!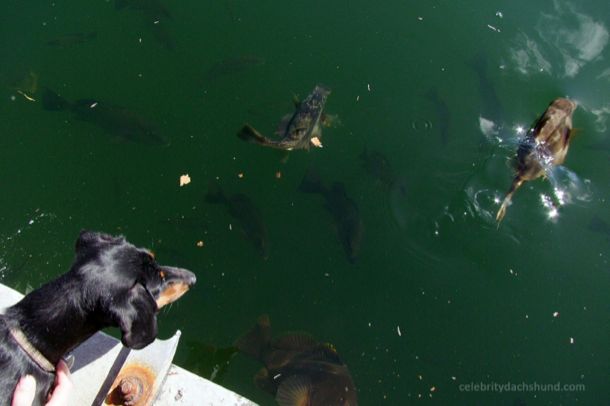 Mum had to keep a tight hold on my collar because I would have loved to dive in there and catch one for dinner.
Especially that grouper near the bottom. Mmmm…
So if you ever find yourself on the island of Eleuthera, don't expect the frills of luxury resorts and a booming tourist economy. This is a quiet and secluded place, often referred to as the authentic Bahamas. The local people are exceptionally welcoming of you – even if only to see a new face, not for the hope of your dollars. And although anywhere in the world is not immune to the refuse of man, the scenery and beaches are pristine and largely untouched, especially because of the difficulty in accessing them. As much as I wish everyone could enjoy them, I hope they stay that way for the most part.
Now I can't end this post without showing you my awesome snorkel gear!
If you'd like to read more about my trip to The Bahamas, visit my website for the full series. I'd also recommend you join me on Facebook for more of my epic exploits, antics, and adventures as I explore the world around me as the celebrity I think know I am.
Thanks again for all your great tips, photos and insights, Crusoe! Here's hoping our paths cross somewhere along a Caribbean road less traveled soon…
*Eleuthera beach photo above courtesy iwasthere.it via Flickr.
Save
Related Posts