On-Site Barbados: An Easygoing Guide to The Oistins Fish Fry
Note: This is a guest post from our good friend Jay Erickson. When he's not joining us for some Uncommon Caribbean fun in the sun, you can usually catch him leading his "Eclectic Americana/Hick Hop/Alt Country" band: Red Rooster or conversely leading the team of business software developers at Bootstrap Software in New York. Please make him feel welcome.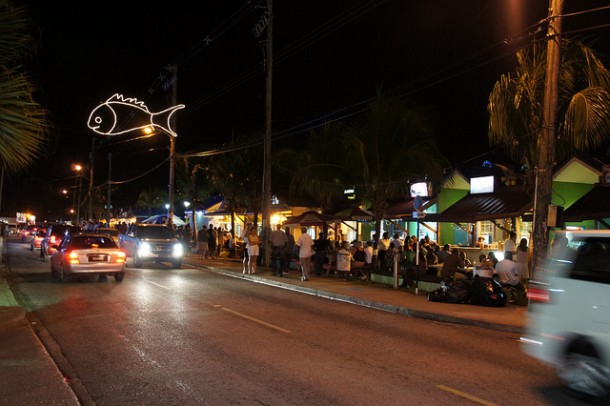 Arriving at the Oistins Fish Fry, you can't quite tell if you've stumbled upon a discreet gem of local culture or a tourist filled rum fest. Oddly enough, by the end of the night you may feel that same way, but this ambivalence is beside the point – this weekly party is just a great time for all.
Last year, we were lucky enough to have my old friend Patrick invite us to stay with his family over the holidays in Barbados. As we reviewed the list of potential activities and outings upon arrival he said, "You have to check out the weekly fish fry at Oistins." Well, he's the expert, right? So we did.
That night, Patrick stayed at home with his wife and little traveler while we set out on foot in the dark and balmy Friday night (with our headlamps, of course) up the coast from the house we were staying at on Freights Bay. After walking through a deserted Miami Beach to the Fish Fry, we made our initial meanderings through the vendor row set up closest to the water. As you might expect, the usual Bajan trinkets and shell necklaces were for sale along with some fine artisanal sculptures and print work.
We then wove our way through the many shacks selling fried and grilled fish with all the trimmings: sweet potato, macaroni pie, coleslaw, rice and peas and, of course, rum punch. The fish market is right next door, so you know it's probably the day's fresh catch that the peaceable mix of locals and tourists are munching on as they sit at picnic tables scattered throughout the site.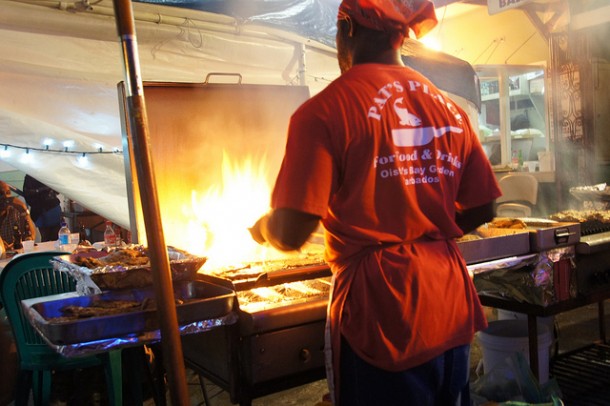 After chowing down, we wandered up to Lexie's bar (open 24 hours!) and the courtyard in front where four or five young men dressed in classic Michael Jackson sequined garb were preparing to put on show. We drank rum punch and stood delighted as these guys shook it, slided and glided in true MJ fashion, while what seemed like a row of their grandparents seated in beach chairs in the front nodded approvingly.
Continuing to wander, we beat it up to the main stage area where Top 40 songs had another group of performers working their gyrations and pops, getting the crowd warmed up. Bystanders slowly started to join in as the rum landed its punch. The music moved toward more local dancehall and a passing rain shower brought everyone closer under the stage roof. We danced in the rain while the crowd shifted to a more local mix as the buses loaded up and returned to the resorts.
Taking a break from the rain and the dancing we strolled across the street to a random bar and ordered a couple of Banks beers. Standing there, it wasn't long before I noticed there was some serious karaoke afoot! (And that people sing just as off-key in the Caribbean as they do in New York.) Maybe it was the rum punches. Maybe it was the Banks. Or maybe it was just the easygoing feeling you can't miss at the Friday Fish Fry… Whatever it was, I signed up to drop Marvin Gaye's "Sexual Healing." When my number came up, I did my best and the mostly local crowd was entirely supportive of this white boy's attempt at soul.
A pleasant buzz made our feet light as we walked back past Miami Beach—the sound of the surf at our side and our arms around each other. The Oistins Friday Fish Fry is a lot of things: party, tourist draw, local hangout, dining experience, karaoke challenge… For us, we felt wholly transported from our daily lives, in the fabric of Barbados, and in love.
I know Patrick has made the case that Oistins by day is quite an experience, but the Fish Fry is when it really comes alive! You can't miss it.
The weekly Fish Fry is both Friday and Saturday night (though Patrick tells me Friday's are generally better) from around 7pm until… Be warned, it does get crowded, so if you show up around 8 or 9, expect to wait for your fried goodies.
Related Posts