Friday Happy Hour: Sweet Gloria's Simple, Sinful Rum Punch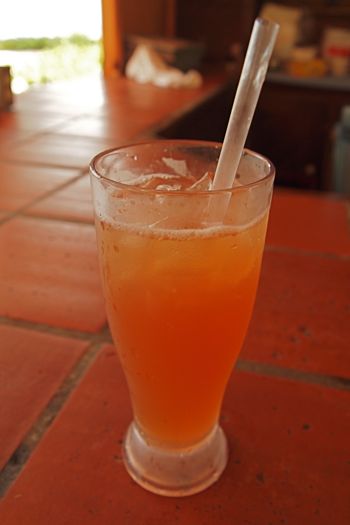 If you ask me, simplicity is the best policy for just about anything, but it's especially true when it comes to rum punch. The welcome drink of choice at every airport, cruise port, hotel/resort, and most every other "ort" anywhere in the Caribbean, rum punch seemingly comes in as many varieties as there are shells on a beach.
More often than not, though, this is a bad thing.
As our very own mixologist Jesse Card noted in sharing his White Empress recipe with us last March, some bartenders have a tendency to take things too far.
His words:
Out on the fringes of our noble profession,… there lurks a dark sub-culture of cocktailia fraught with overindulgence; a sect that just can't say "NO" to an extra gimmicky ingredient or two.
When it comes to rum punch, this overindulgence is usually all about adding ever more exotic and varied fruit flavors. It's as if some mix-masters feel that the more island fruits they include, the more quintessentially West Indian their rum punch will be.
I have two words for them: umm, no.
Maybe I'm just not much of a fruit guy. Maybe I just don't like it when the rum gets overwhelmed in whatever I'm drinking. Either way, I prefer my rum punch simple and sweet, like the one pictured above, which I encountered a few weeks ago in Barbados.
This particular rum punch comes courtesy of Gloria, the wonderful barmaid at the beach bar at the Divi Southwinds Resort in Christ Church. I was just getting set to head to the airport when I ran across a couple of the other rum judges with whom I had just spent the previous few days at the Caribbean Rum & Beer Festival. There was time for one final drink before leaving, and my friends suggested the rum punch, which they had enjoyed as a welcome drink when they arrived at the hotel earlier in the week.
When I had checked in, I opted for some Foursquare Spiced Rum on the rocks, so the welcome rum punch would be a good-bye beverage for me. After one sip, though, I wish I had just arrived again, or at least was staying a few extra days so that I could enjoy this special punch some more.
Simple, sweet and wonderfully refreshing, this was way different than the watered-down, overly-fruity rum punch so typical of hotel welcomes. The secret to its success is truly its simplicity and one special ingredient that only Gloria can provide.
Her words:
That's right, there's no wild collection of fruit juices competing to kill the rum flavor – just Mount Gay, simple syrup, lime juice, bitters, and Gloria's special secret.
If you decide to try your hand at this recipe, be warned: it's tough to replicate that secret ingredient. I mixed up a batch of this stuff for a Thanksgiving party yesterday using 100-proof Mount Gay Black Eclipse to kick-up the potency. It was tasty, but there was definitely something missing…
Oh well, I guess I'll have to make a trip back to Barbados soon to check back with Gloria. Valentine's Day would seem appropriate, no…?
Cheers!
Related Posts