Friday Happy Hour: White Empress
Living on an island takes some getting used to. The islands move at their own plodding gait, with no real destination in mind. It's a slow, easy trail full of smiles and breaks in the shade. There's a calm simplicity to the way people do things down here. Simple living, island style.
This simplicity extends to the best of Caribbean cocktails. Easy favorites, like the Barbados Swizzle or Hemmingway Daiquiri, have helped to caution a new generation of bartenders on the dangers of overthinking.
Out on the fringes of our noble profession, though, there lurks a dark sub-culture of cocktailia fraught with overindulgence; a sect that just can't say "NO" to an extra gimmicky ingredient or two. Now I'm sure there can be some merit to a "vadouvan scented sea salt rim" on my Daiquiri, but I much prefer the original just the way it is.
While it's true that the boys and girls working behind the stick these days have a lot more to play with behind the bar than the previous keepers of the shaker, it's the creativity of making something beautiful out of little that really makes a drink sing.
For example, a good friend of mine was in Seattle last summer at a pretty little outdoor café. The drink list was cloying and playful, with homemade tinctures and bitters used liberally throughout.
My friend sent a picture of a drink she was enjoying called the "Empress" that had an amazing nine different ingredients to fill a 5oz cocktail coupe. Nine ingredients for one drink!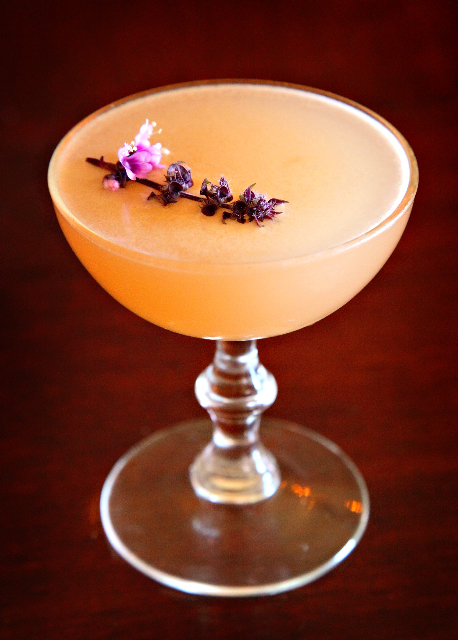 I asked her what it tasted like and if she could pick up the traces of "lavender tincture" or "essence of spring" as the menu suggested. "No," she replied, "but it does taste like a sweet, rum & grapefruit." Well, let's take that idea and tone it down a notch (actually six notches) and see what we can accomplish with less…
Ingredients
2oz light Cruzan Rum
1oz St. Germain Elderflower liqueur
1-1/2oz freshly squeezed ruby grapefruit juice
Combine over ice: 2oz light Cruzan Rum, 1oz St. Germain Elderflower liqueur, 1 1/2oz freshly squeezed ruby grapefruit juice. Shake hard in a cobbler shaker for 30 seconds and strain into a cocktail coupe.
This has quickly become the best-selling cocktail on my spring drink menu. The rum plays off so well with the grapefruit juice, providing a light bitterness that tickles the roof of your mouth, while the sweetness of the St. Germain just balances the lingering, fresh flavor of the elderflower — maybe this was the mystifying essence of spring they were referring to?
Drink creation can be artistic, magical, and whimsical as long as we don't take ourselves too seriously. And remember that the whole point is to enjoy it! (Preferably with an ingredient list you can read before your ice melts).
Cheers!
Related Posts