One Island a Month, For Life!
Note: This post has been sitting on my computer for two months. With the young explorer's first birthday coming up this weekend, I thought it was a good time to finally celebrate this boy's amazing life.

I mentioned this staggering figure before: there're over 7000 islands and islets in the Caribbean. Doing the math, it'd take around 600 years to visit each and every one—if you made it a point of visiting a new tropical destination every month.
I think I can speak for most of you when I say a life spent visiting a different Caribbean island every month would be the realization of an impossible dream.
An impossible dream my 10 month old son is living!
As you can imagine, I love to travel—and have for some time. In fact, I'd easily value my insatiable wanderlust as one of my most prized possessions. I don't watch TV. I've slowly let the latest fashions pass me by. And now, due to an unfortunate "accident," I don't even ride my beloved motorcycle. (For the time being.)
So it was very important, when I finally got around to having a child, that I'd both remain a traveler and make the effort to instill the virtues of traveling in my son.
With these loose goals as a guide, my son has now set foot on ten islands in the first ten months of his life!
Here's what we've learned.
1. St. Martin/St. Maarten – Car seats are awesome
Our son, appropriately named Trinidad (seriously), got his first taste of the West Indies not on his namesake island, but on this delightful, double nation destination. We chose SXM for many reasons I've outlined in a previous post, which you should definitely check out if you're thinking about baby's first Caribbean trip. One thing we didn't expect, though, was the multi-purpose usefulness of the car seat we brought along. Being new parents, we didn't know that many highchairs flip over to accommodate car seats. This was essential when heading out for dinner. But most importantly, we learned that as long as there's some airflow, babies are as comfy in these seats on the beach as they are in a car.
2. St. Lucia – Never give up.
This was the kicking off point for Trinidad's whirlwind travels aboard our old friend Trust Me as we sailed through the Grenadines. While we prepared for our departure, all around us were the signs of an island still in the midst of recovering from last year's Hurricane Tomas. Roads were heavily damaged. Many mountainsides bore the scars of landslides. Some resorts were still being repaired.
But the resiliency of the Lucians was hard to ignore. They'd been through tough times before. They'd be through them again. There was nothing else to do, but rebuild and continue welcoming lucky travelers to their shores. I can only hope some of that strength soaked into the boy.
3. St. Vincent – Safety first.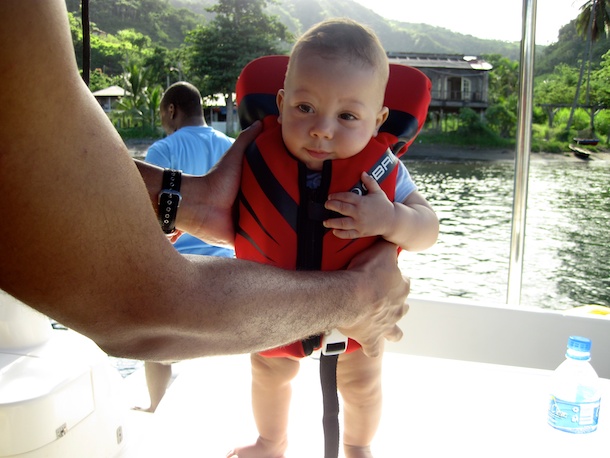 As my brother Steve noted a couple weeks ago in regards to Trinidad's (the island nation) recent declaration of a state of emergency to fight crime, when traveling in the Caribbean one shouldn't behave recklessly just because they're surrounded by gorgeous, serene surroundings. There's still some crime here and there, plus our waters have just as strong, if not stronger, currents than many visitors are used to.
For these reasons, when we first visited St. Vincent, little Trinidad learned to put safety first, even when just taking a dinghy in to visit the old, abandoned Pirates of the Caribbean sets in Wallilabou Bay.
4. Bequia – Respect
When we landed in Bequia to do a little re-provisioning at the local markets, we didn't really know what to expect. In my visits to markets throughout the Caribbean and many other parts of the world, I've learned you can never predict whether you'll be greeted with aggressive sales pitches or idle indifference. In this case, we were treated with a uniquely West Indian vibe.
While some vendors were pushy, and others were indeed indifferent, one quietly waited on the periphery until there was a break in the haggling to declare his respect, in authentic Rastafarian style, then cooly and patiently outlined what he had for sale and their reasonable costs… Guess who got our business?
5. Canouan – Where food comes from
In the mainland U.S., it can be difficult to know where your food comes from. In fact, I remember a conversation I recently had with a friend who was trying to grow tomatoes in her apartment. She hadn't ever considered that without the pollinating power of bees and other insects her tomato blossoms would never turn into juicy red orbs of goodness. She wasn't dumb, she'd just been buying tomatoes from the store for so long, she'd simply forgotten.
Luckily for Trinidad, food is all around you when traveling in the Caribbean. Mangoes, coconuts and all manner of other fruits grow on trees, plus the sea is crowded with delicacies like tuna, red snapper, and more. While anchored off Canouan, we were visited by an old fisherman with some mouthwatering spiny lobsters he'd just caught. They mesmerized the boy both before and after they were steamed, buttered and added to pasta!
6. Tobago Cays – Beauty of the world
When I talk to other parents raising their babies in New York City, they often speak excitedly of a time when their new children will appreciate all the big city has to offer. Museums, galleries, culture. These are all great, and I'm sure at some point Trinidad will be enriched by such things, but until then the majority of what he experiences of the city are dirty streets, grey filth, air filled with engine exhaust at best, and mystery stenches at worst. Sure, he makes it to the park, but the world between his home and those green oases is disgusting.
Here, again, travel can come to the rescue. I know he won't remember anything he sees before he's four years old or so, but I hope somehow exposing him to one of the most beautiful places I've ever been in the entire world will somehow seep into his being. So when he's back in New York, somehow he'll subconsciously know there's more beauty in the world than his immediate surroundings provide.
7. Union Island – Babies make great conversation starters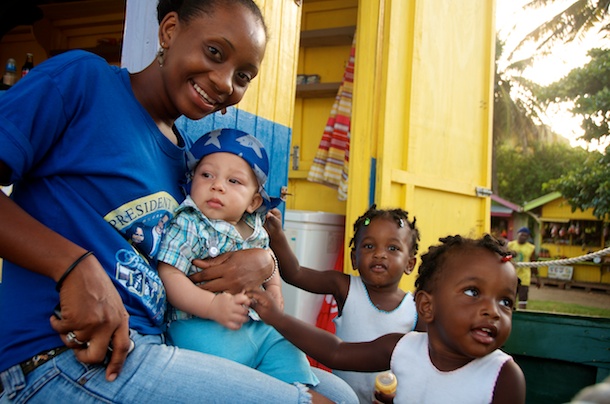 Another lesson for me was that traveling with an adorable baby is a great way to meet people. While most new parents may focus on the extra work involved in traveling with an infant, it all becomes worth it when you begin to notice how much friendlier everyone is to you.
Everywhere we went people wanted to talk to him (and by extension us). Some women would even excitedly request to hold him. While this startled me at first, I soon loosened up and Trinidad left a stream of smitten West Indian women in his wake wherever we went. Of course, it can go too far sometimes. One woman on Union Island loved the boy so much she continually threatened to take him home! It turned out she'd settle for us all hanging out and spending the afternoon eating ice cream with her twin girls… So it worked out in the end.
8. Grenada – A strong lime never hurt anyone. It can't be all about exploring.
Before we began this blog, I rarely traveled just to sit on the beach for days, then go home. I've always been interested in exploring. Of course, now that my travels need to populate these virtual pages, I now make even more of an effort to see and do as much as I can when on-island. This is great. I see a lot. But sometimes it can be easy to forget to relax a little.
One thing about traveling with an infant is that, again, it's a lot of work. So much so that you naturally savor quiet time more than ever before—especially when it means taking in Grand Anse Beach from a comfy chair with a rum in my hand. It can't be all about exploring!
9. Puerto Rico – Twelve hour limit
This will vary from child to child, I imagine, but we learned fairly quickly that Trinidad has a twelve hour travel limit. After that time, he will let you feel his displeasure at not being settled at his final destination by making your life hell.
Such was the case when we tried to fly from New York to San Juan, drive to Fajardo, catch the ferry, and get to Culebra as quickly as possible. It seemed like we could've made it, but in the end, we just missed the ferry. This set off a wait of four hours for the next one. We crossed the twelve hour limit just after we'd boarded the ferry… And that's when the inconsolable crying began.
Eventually, he and I went above deck to marvel at the jet-black Caribbean sea reflecting the spectacular, bright Milky Way arcing above. Satisfied, he finally went to sleep.
10 . Culebra – Life is good and it just keeps getting better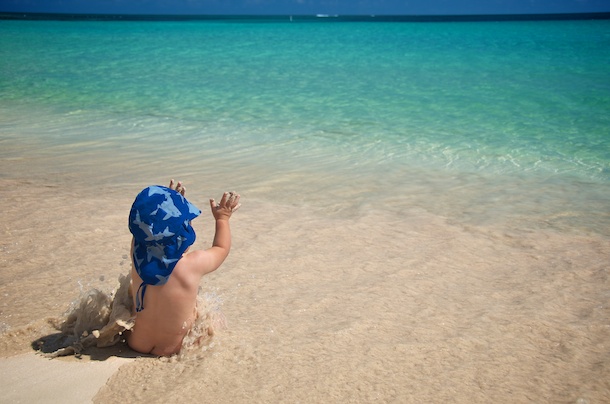 Can't wait to see where he goes next!
Happy Birthday, son.
Related Posts