Friday Happy Hour: Lemon-Rosemary Spritzer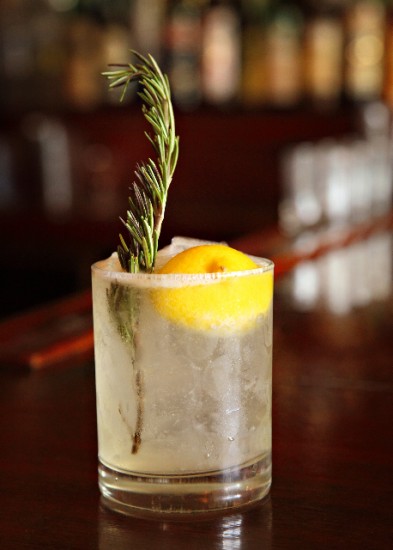 We live in a land of bounty. A land in which the next big thing to may make your mouth water could very well already be growing in your backyard, or that of your neighbor. All you have to do is find it.
Our latest project, a testament to spring, is a fairly easy and delicious way to get started. I give you the Lemon-Rosemary Spritzer.
Ingredients
4 lemons
6 stems fresh rosemary
1 bottle (750ml) Smirnoff Vodka
sugar
soda water
This is a two-day project, so if you're having company over on Saturday, start this on Thursday. We're making a lemon-rosemary infused vodka. Infusing spirits is an awesome way to add your own personal touch to your cocktails.
First we're going to zest our lemons and save all of that good zestiness in a one-liter mason jar. Next add the vodka to the jar (but save the empty vodka bottle!) and shake that sucker for a few seconds to disperse the zest. Put the freshly zested lemons in the fridge and save them; we're going to use 'em again. Let your lemon zest vodka rest in a dark cupboard overnight.
Bartender's note: We use the zest, because the oil from the lemon rind is 75% of the flavor, but if the pith is introduced, it will make your drink taste bitter.
The next day, de-stem the rosemary and add only the leaves to the jar. Agitate it again and hide it away for one more night.
On day three your vodka should have a nice herbal, citrus smell to it. While you can certainly let this sit for a few days longer, two days is all you really need for this small of a batch. Strain the vodka through a fine mesh strainer (I typically use a French Press coffee strainer just to make sure we get everything out, but it's not necessary) and re-pour it into the Vodka bottle. Now, revel in your own homemade Lemon-Rosemary Vodka!
For each drink, take two ounces of your LRV and combine over ice in a pint glass, juice of half a lemon, one tspn of sugar and fill with soda (tonic also makes a nice drink). Shake this bad boy and you're ready to serve a delightful springtime cocktail that whets the whistle, calms the nerves and enervates the soul.
I like to make a large batch of these at home and bring a pitcher to the beach. For those of you in the states that don't have immediate access to the beach, I suggest dunking your feet into a bucket of tepid saltwater and perusing Patrick's Uncommon pictures online while sipping on one of these.
Cheers!
Related Posts