Friday Happy Hour: Wine + Rum = Yum in Sailor Jerry Tiki Monkey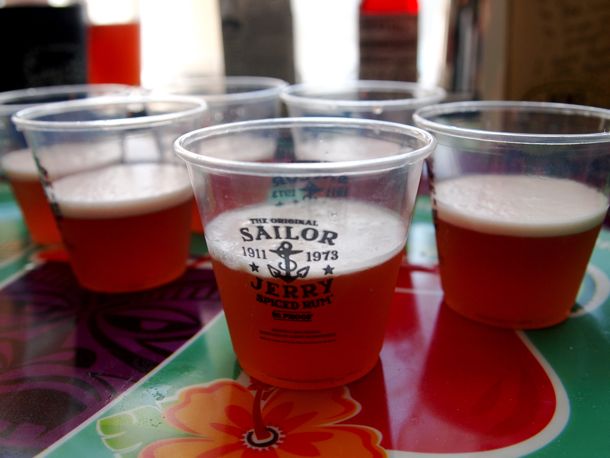 We're not cheesy enough to hand out awards for the finest cocktails served at the fancy rum festivals we frequent, but if we were, Sailor Jerry Spiced Rum would be clearing a spot in its trophy case for the second year in a row right about now.
Remember their ultra-refreshing Blood Orange Daiquiri that saved me from melting down into a puddle of sweat at last year's Miami Rum Renaissance Festival? Just as that marvelous mélange carried the day in 2010, so too did another Sailor Jerry concoction stand out for me at this year's Rumfest. It's called the Tiki Monkey, and if you're looking for a drink that can magically transport you to a seaside beach bar with just one sip, you can hardly do much better than this.
Ingredients:
1-1/2 oz Sailor Jerry
1/2 oz Port Wine
1/2 oz Fresh Lime Juice
1/2 oz Simple Syrup
1 oz Pineapple Juice
2 Dashes Peychaud
2 Dashes Angostura Bitters
Described as an "old-school tiki drink" by Charlotte Voisey, the beautiful, world-renowned mixologist on-hand at the event to craft and serve these sinful simians, the Tiki Monkey has a lot of what you'd expect from an island-style libation… plus a little European surprise.
Rum, of course, fresh fruit juices, bitters and simple syrup are all in there. The twist: port wine.
Yes, port, that sweet, heavy dessert red from Portugal with the high alcohol content. Doesn't really conjure images of swaying palms, aquamarine seas or irie vibes, now does it? More and more, though, surprising additions like port are making their way into the tastiest rum-based cocktails these days as ever-inventive mixologists like Charlotte continue to raise the bar on new ways to enjoy our preferred spirit of choice.
The marriage of port and Sailor Jerry (and all the other ingredients in the Tiki Monkey) definitely hits the mark for taste and refreshment. It's also real easy to make – just combine all the ingredients over ice, shake and pour – so you won't have to strain too much to really impress your friends at your next backyard BBQ this summer.
Cheers!
Related Posts