Black Cake: Possibly the BEST Christmas Gift I've Ever Received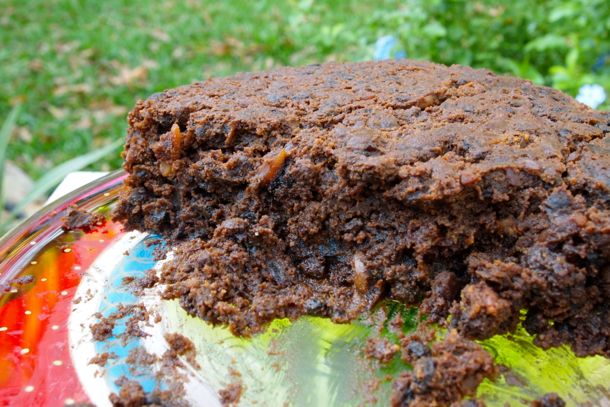 December 26th has long been celebrated as Boxing Day throughout much of the Caribbean; an added extra day off after Christmas to allow for more re-connecting with family and friends, revelry, and rum. Here in the States, though, the day after Christmas is mostly about one thing – RETURNS!
Americans are hauling an estimated $46 billion worth of gifts back to stores today, exchanging misfit toys and other assorted misguided presents for treasures they'll truly treasure. Thanks to my brother/UC partner, Patrick, and his lovely wife, I won't be one of them!
My BIG Christmas gift this year: the fabulous Black Cake seen here, which was sent to me via FedEx from Brooklyn by my brother late last week. Stare at it long enough and you just might get a whiff of its excessively strong rum flavor.
Oh yes, it's that good… that rich… that amazing!
Now, almost any gift of Black Cake is bound to be good, especially if the person doing the baking and gifting follow this recipe and soaks their fruit in rum for a good, long time. Judging by this Facebook post, the fruit in my cake soaked for a good four months, softening it nicely and creating the seamless consistency I mentioned here that traditional fruit cakes here in the U.S. can't touch.
All of this makes my cake very nice, but the fact that it arrived as a complete and total surprise makes it extra special to me.
So, thanks to Patrick and Kathleen for my super-sweet, rum-ilicious present! Like the wonderful rum balls I got from my other brother, Peter, last year, this is a treat I'm sure I'll never forget!
Am I a lucky brother, or what?!
Related Posts