How to make Sailing with Kids a Sweet Success
When describing to our friends that we were about to take three little boys under the age of eight on a sailing voyage through remote islands off Belize, pretty much everyone had the same reaction: "Are you nuts?!" We knew it would have its moments, but we're also seasoned adventurers who lead a very water-filled life, so we figured if anyone could go sailing with kids we should be able to.
First, we explained that we wouldn't be traveling on your average sailboat. Our vessel would be a 45-foot yacht. We'd be cruising on a Sunsail 454 — a luxurious catamaran with four spacious cabins, a sleek and modern living area, and the stability of a double hull. It's more like a traveling apartment than most people's concept of a boat. A wealth of room inside and out allowed everyone their private space. With three boys bouncing around and bickering over toys, this was well appreciated.
Long story short, all seven of us had a fantastic adventure traveling to remote islands, taking in local culture and exotic landscapes, sampling the delights of Central American cuisine, being rocked to sleep each night… and not throwing anyone off the boat.
The intimidation of taking a crew of young kids away from the safety of land was far outweighed by the joys we brought home. We met animals we'd only seen in books. We dined in a treehouse. We hiked through the rainforest. And we grew to be better sailors.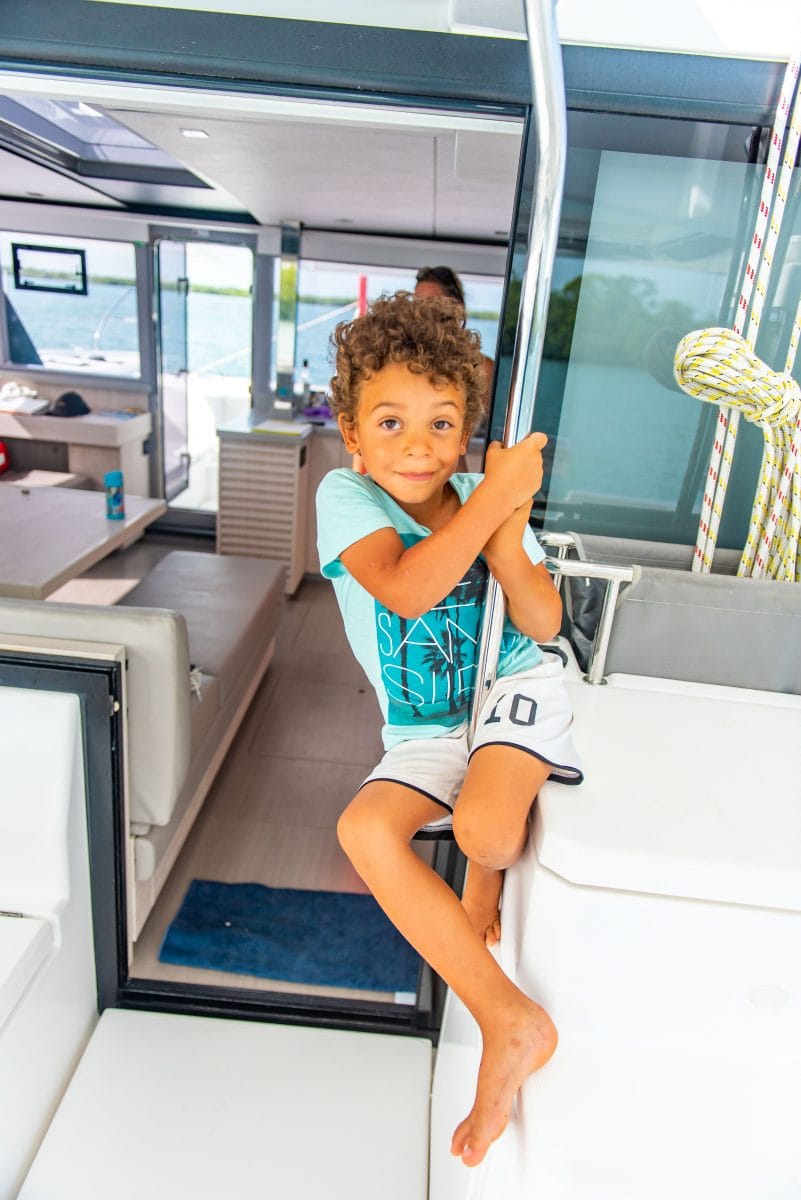 That said, we can offer a few tips for those considering sailing with kids:
Plan your provisions wisely.
Plan meals and portion ingredients in advance. Storage space is a valuable commodity on a boat, and perishables can quickly spoil in the Caribbean heat. Plan too much, and you'll be feeding the fish avocados. Plan too little, and you'll be wishing the tiny paradise you landed on had a bustling supermarket. Or at least a liquor store.
Pack Dramamine and Benadryl.
Bring more than you think you'll need. And then bring a little more. Even some seasoned sailors can get soured by heavy weather and kids are no different. To prevent suffering the consequences, take Dramamine early in the day before you pull anchor. Be sure to go for the non-drowsy, all-day version unless you have a lazy beach day on the agenda at your final destination.
Have a 'welcome' briefing.
As soon as everyone boards have a safety briefing. This is a good reminder for adults, too. Stress the importance of life jackets while underway and the helpfulness of lifelines while walking around. Explain any dangers before they're urgent, like sailing lines and hatches. Include other essential knowledge, like where the cookies will be stowed.
Keep the rules to a minimum.
You're all on the boat to have fun, so it's best to keep the list of "don'ts" as short as possible. Try not to make exceptions to the rules you make, though. Kids can get confused and throw a rule out the porthole if they know it's an option.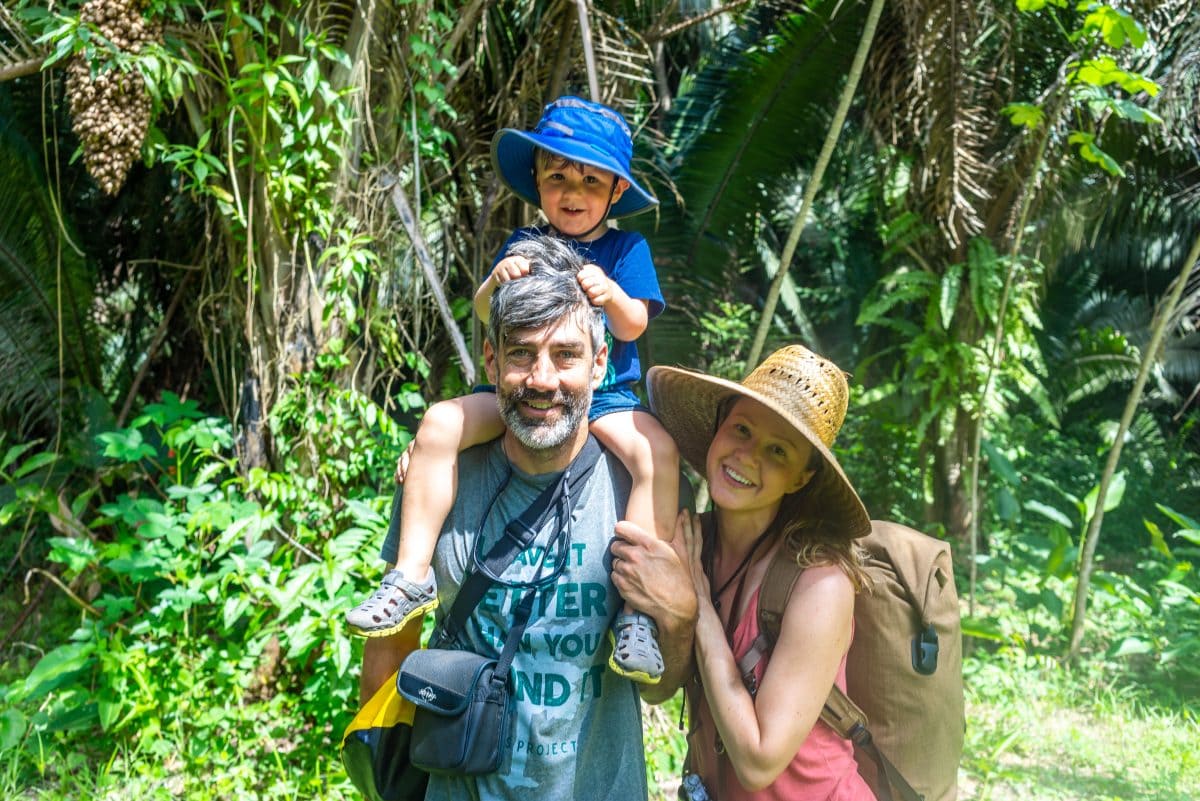 Get those wiggles out.
Make sure each day includes plenty of on-shore time. Kids need the chance to run around, and every shore offers a new discovery practically guaranteed to tire out and therefore quiet down a kid.
Go fishing.
Never underestimate the primal thrill of reeling in a fish, no matter how big or small. Kids learn the virtue of patience and relish in the triumph of accomplishment. As an added bonus, they come to understand where their food comes from. Plus, you might just get the freshest dinner you've ever eaten.
Indulge in a few rituals.
Have a celebratory treat whenever you arrive at your next destination. Talk about everyone's favorite new thing discovered that day. Look at the stars together from the deck each night. You're thousands of miles from home, the iPad will be there when you get back.
Finally, start each day with the motto:
Have fun, be safe, and learn something.
Follow these simple suggestions and sailing with kids can be fun (and safe) for everyone.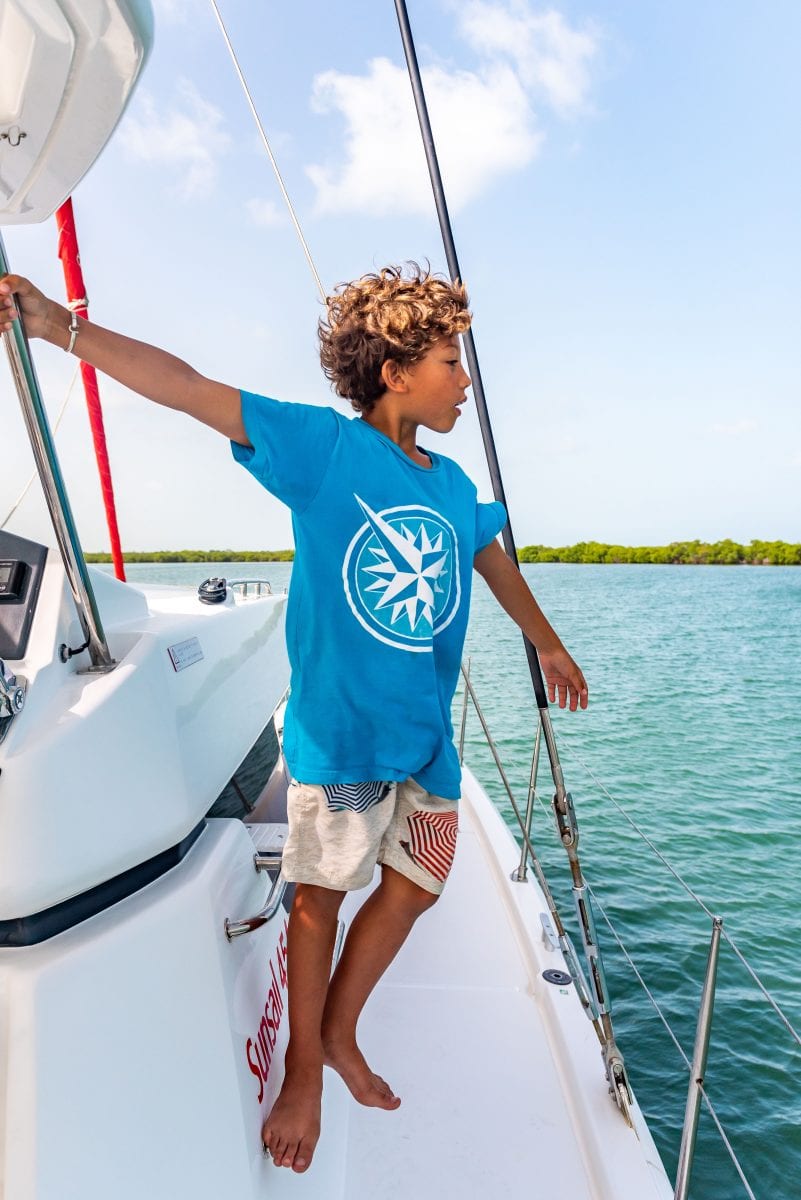 See you and the kids out on the water!
Related Posts