Welcome to The New Face of Uncommon Caribbean Travel
It's been a long time coming, but today we're finally ready to take the wraps off our first ever redesign! Every corner of every page of UncommonCaribbean.com has been completely rethought, reworked, and rebuilt from scratch. We're very proud of the new look and hope you'll love it too!
To continue to deliver the very best, most engaging daily Caribbean travel experience we focused on four major areas.
1. Photography
Whenever our friends, partners, and fans bring up what makes UC so special, photography is always high on the list. We spend a tremendous amount of time capturing the original imagery found in the vast majority of the posts we publish. The new design provides a more impactful stage for them to shine.
On the home page, the images accompanying the featured posts are way bigger than before. Wherever we list articles, they're now displayed as virtual photo cards, with large images drawing the eye and guiding your experience. Finally, we now feature positively massive lead-in visuals for articles setting the tone in a bigger, bolder way for the written word to follow.
And best of all, everything is now designed to look extra gorgeous on today's fancy new high-resolution screens, like the kinds found in retina display-equipped MacBooks, iPhones and iPads.
2. Responsive Design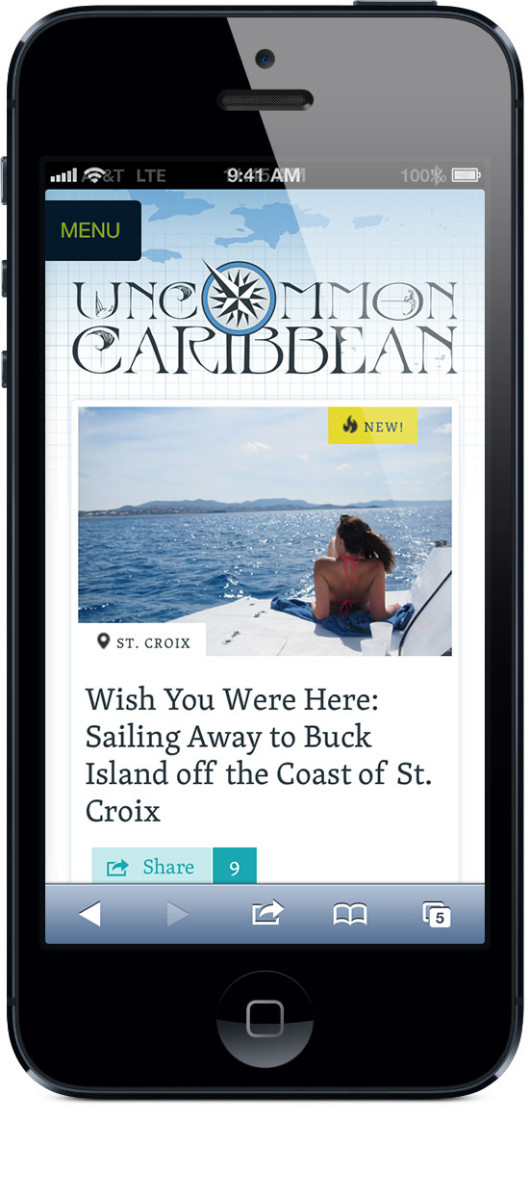 Speaking of iPads and iPhones, we formerly produced and maintained a completely separate mobile experience for those devices, effectively doubling our work to deliver a site that best appealed to you no matter how you preferred to access it. Of course, supporting two different versions of the site was not ideal, especially as readers increasingly began enjoying Uncommon Caribbean via mobile devices.
The new site is now one unified experience across all screens that adapts the content a bit here and there depending on screen size and resolution. This approach is called "responsive design," but all you really need to know is that UncommonCaribbean.com will look great on whatever device you choose to visit us on.
If you're on a desktop or laptop computer, you can get an idea of what I mean by resizing your browser window. See how everything reflows to fit different browser widths?
3. Forward Looking
This builds off the decision to use responsive design in the new site, but goes a bit further. We have some great new things in store for you all this coming year that the old site simply would not have been able to handle. You can expect new ways of customizing your Caribbean travel inspiration, new ways to tell us your own stories, new ways to share, and more.
Treating our articles more like discreet nuggets of inspiration that can be shared, collected and manipulated by anyone is our first step toward making all that cool stuff a reality.
As I said, Steve and I are super excited to be sharing our new look with you and look forward to making Uncommon Caribbean your favorite destination for Caribbean travel inspiration, deals, information, community and more!
Share your thoughts
Love the new look? Hate it? Have an idea on how we can make it even better? Sound off in the comments below!
Related Posts