On-Site Grand Cayman: Where to Go for the Best Weekend Fish Fry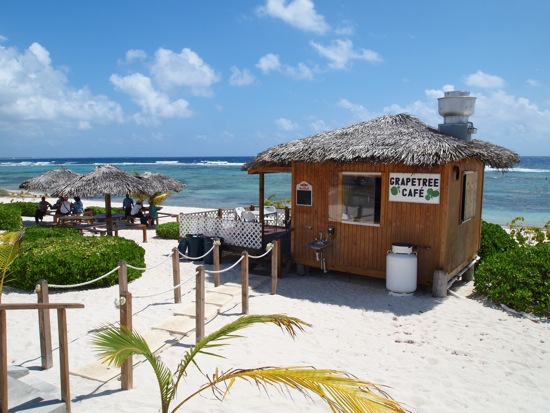 The Grape Tree Cafe in Grand Cayman combines two quintessentially Caribbean past times near and dear to my heart: hanging out at gas stations and eating fried fish.
The gas station part goes back to my youth in St. Croix, when I used to spend hours each weekend with friends at the Texaco station near the Sunny Isles shopping plaza. On an island as beautiful as St. Croix, offering so many wonderfully scenic places to lime, you might find it odd that we'd choose a gas station with a "view" of the highway as a prime spot for weekend fun. Like most teens, though, we were always strapped for cash, so the station's $1 Heinekens always kept us coming back for more.
Ironically, the station located directly behind the spot where I stood to snap the photo above is also a Texaco. The beers here are a little pricier, but the view is a helluva a lot nicer… and so is the food.
I found Grape Tree while on my photo tour of Grand Cayman's scenic seaside vistas. If you're driving east from Seven Mile Beach toward the island's more remote areas, it's hard to miss. It's basically located right in the middle of Bodden Town, and easily visible from the main road that runs along the shore. I stopped in on a Saturday afternoon, but Paula, the beautiful Honduran woman who runs the place, told me I had just missed the big party.
On Friday nights, people line-up from here to the road, eating and drinking all up and down the beach. This is the best weekend fish fry around!
Considering Grape Tree has only been open for a couple years, I wasn't too sure how valid Paula's assertion might be. After tasting the food, though, I can't believe she's too far off.
You know that kind of fish that's cooked so perfectly it just seems to melt in your mouth; no hard chewing required? The kind that bursts with so much flavor it just forces you to smile? That's the kind of fish you can expect to enjoy here!
Grape Tree's tidy menu consists of roast or fried fish (mahi, grouper, snapper), conch favorites and chicken. Some local soups and fish teas are also available, though not all the time. I had a sampler dish with fried versions of all three types of fish, plus a couple of mini Johnny Cakes (fritters) rolled into balls and a few plantains. It was absolutely delicious, with just the right amount of lemon and homemade hot sauce adding a nice little kick.
They don't sell beer at Grape Tree, but the Texaco carries all the Caybrew brands, plus a few others. There's also a liquor store on-site with a good selection of rum and other spirits.
Taken together, the gas station, the liquor store, Grape Tree and the amazing seaside location offer a uniquely local seafood dining experience not-to-be-missed. I can only imagine how great the atmosphere must be on Friday nights, which of course gives me a good reason to head back soon…
Grape Tree Cafe is open on weekends with Friday hours extending from 4pm to 9pm. Saturday hours are 1pm to 9pm, while on Sunday they open at 1pm and close at 8:00. For more info, click here to visit them on Facebook, or call Tel: 345-947-2385.
Related Posts