Friday Happy Hour: Caybrew, the Freshest Beer in the Caribbean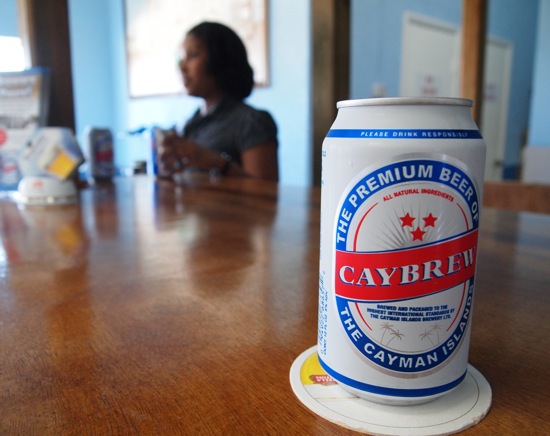 As was the case ahead of my trip to Grand Bahama Island last year, I had real doubts about Grand Cayman's ability to deliver "uncommon" travel experiences on par with less touristy destinations I've visited over the years. In places like Martinique, Nevis and Tobago, you're off the beaten path the minute you step off the plane. In more popular destinations, you have to seek out the uncommon.
If you've read this, this, or this, then you already know that I didn't have much problem finding and enjoying a side of Grand Cayman not found in traditional travel guides. The island is just full of cool surprises, not the least of which is its own homegrown beer.
Actually, the Cayman Islands Brewing Company (CIB) produces three different beers, each of which I hope to share with you, albeit in words and photos only (boo!, I know), in the coming weeks. To start, allow me to introduce CIB's flagship brand, Caybrew.
I came to gain first-hand knowledge of Caybrew soon after arriving in Grand Cayman. In fact, the CIB Brewery was my first stop on the island after picking up a rental car at the airport. You can bet I'll have a review of the brewery tour soon, but for today, let's focus on the beer. Here's how CIB describes Caybrew on its wesbite:
Caybrew is a smooth, full bodied premium lager, with a crisp , clean hop character which was awarded international gold medal for quality by the Monde Selection Jury in Brussels 2008.
That 2008 award is significant not just because it's a nice honor, but also because Caybrew earned the prestigious hardware after only about a year in production. The first few drops started pouring in March 2007, which really speaks to the quality of this fine beer.
You also see the quality in what goes into making Caybrew – German malts, hops from the Cascade Mountains and super-clean local water. The Caymans are famous for their pristine desalinated water, but the folks at CIB kick the cleanliness factor up a notch or two, purifying the water they use to 99.9%. The fresher the water, the fresher the beer, which makes Caybrew arguably the freshest beer in the Caribbean.
At 5% alcohol by volume, it's just about perfect for a nice warm day with nothing but limin' on your mind. You can also get it in cans, bottles or kegs direct from the brewery, giving party hearty travelers every option they could want for fun in and around Grand Cayman.
With all that there is to love about Caybrew, I found it surprising that it's not the dominant beer in Grand Cayman. Heineken is apparently still #1 here, but I'm thinking it's just a matter of time before Caybrew takes over. After all, it is THE beer for me in the Cayman Islands, and I am sure to be back soon.
Cheers!
Related Posts