Cask Rum Refills at Barb's Wholesale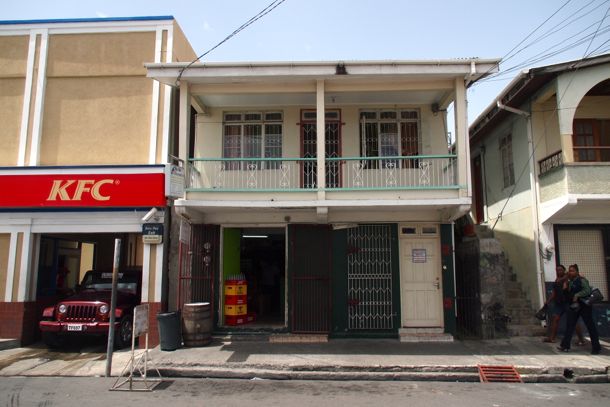 The many great places to drink and enjoy rum across the Caribbean come in all colors, shapes, and sizes, though few can match the uncommonness of Barb's Enterprises Wholesale. I stumbled across it while exploring the waterfront area of downtown Roseau, Dominica earlier this summer. By its name and outward appearance, you'd think Barb's is nothing more than a common convenience store – a place where you can grab a quick soft drink, a snack, maybe a newspaper. Stepping inside, though, reveals a whole lot more…
The first sign that this might not be your normal mini-mart is evident right at the entrance next to the garbage can. Yes, that's a rum barrel propped against the metal gatekeeping the entry way open. Just inside, three more rum barrels line the wall at left.
To the right, two more rum casks sit on their side, wedged in a corner behind a counter. They're tapped and for good reason…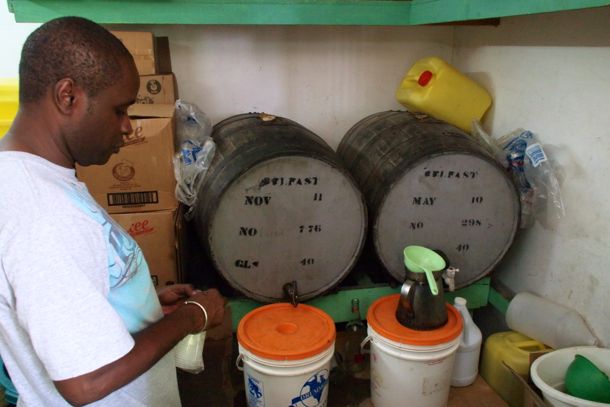 You see, Barb's is one of a handful of places in Dominica where you can get refills of rum straight from casks produced at the island's two primary distilleries – Belfast and Shillingford. Dexter, the man you see in the photo above preparing to pour me a sample, told me that the shop's owner, Barb, worked at the Belfast Distillery for 18 years. That connection enabled her to strike a deal when she opened her shop to have the distillery supply her with the barrels.
For the past 12 years, locals and those in the know have been bringing their empty bottles to Barb's for refills. The savings are decent versus store-bought bottles, but the difference in flavor is what really makes the casks popular. The two I tried were wikkid strong with all kinds of harshness, fire and tannins pulled from the wood of the barrels marking these rums among the heartiest I'd ever tried.
This, of course, is in keeping with the overproof rums preferred in most parts of the Caribbean. Real strong and bursting with attitude, these cask rums could no doubt kill any cold, or warm the coolest nights in Dominica's higher elevations.
Definitely a unique and very local experience, Barb's is not to be missed for those who want a real taste of the real Dominica. You'll find Barb's a block back from the waterfront in Roseau just across from The New Market. If you go and get to meet Dexter, be sure to ask him about his days playing in a band aboard a Carnival Cruise Lines ship. He's got quite the resume and some good stories to tell over some seriously strong rum.
Related Posts