The Sweet Science Of The Lab Rumshop in Mahaut, Dominica
The village of Mahaut has a reputation you might find a bit surprising for Dominica, an island so thoroughly quiet and laid back that its Nature Island nickname doesn't always fully capture just how peaceful it really is here.
Mahaut is known as Dominica's New York City – the little city that never sleeps – mainly due to the large commercial concerns based here. The sprawling Belfast Rum Distillery, producers of the ever-popular Red Cap Rum, and a Colgate-Palmolive plant keep this corner of Dominica hopping 24/7.
As working hours extend around the clock at the factories here, so too do the operating hours of many area rumshops. One of the best is known simply as "The Lab."
As much a laboratory, in many ways, as anything they've got tucked away behind the security gates at the Colgate-Palmolive plant, The Lab specializes in mixing up hundreds of different varieties of bush rum. The owner, Irvin, who took over the business from his father years ago, told me that he combines a wide range of local herbs and spices with cask rum from the Belfast Distillery to create his concoctions.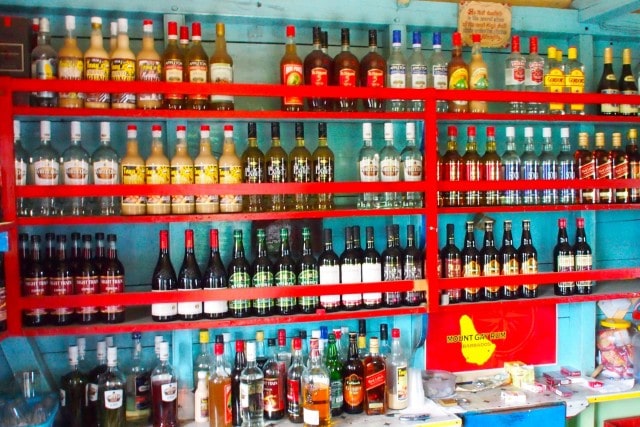 I tried his ginger rum last week and was truly impressed with its exceptional balance and flavor. Unlike the ginger I'd enjoyed/endured at Brenda's down in the New Market in Roseau several years prior, Irvin's version wasn't overly hot, spicy, and/or damaging. It was just right and nice; the kind of homemade rum treat you could sit and sip all day long.
By the looks of some of the guys lingering in and around The Lab during my quick visit last week, it was clear that a few were engaged in just such a marathon lime.
Still, the vibe was cool and breezy, with big laughs, boasts, and verbal jabs further spicing up the scene.
As with every other rumshop I've happened to find while wandering around Dominica, I didn't want to leave The Lab. If I hadn't, though, I would've never found Dominica's wildest and most exotic rum creations just a few miles further south!
More on that ridiculously uncommon spot later in the week…
For now, though, if you're headed to The Lab, just find your way onto the main coastal road that runs north-south right through Mahaut (Edward Oliver Leblanc Highway). You can't miss this place, day or night.
Related Posts