On-Site Dominica: Hitching a Ride in Search of Wa Bio Bush Rum, Part IV
After hitching a ride with one of the few people in Dominica more clueless as to how to get around the island than I was, finding and enjoying more than my fair share of Wa Bio, the island's notorious bush rum, at Brenda's Eatery along the waterfront in downtown Roseau, and even trekking over a river and through the bush to an actual illegal Wa Bio still in the wilds of Petite Savanne, you might think I'd be ready to call it a day.
Hardly.
Okay, admittedly I was pretty cooked upon leaving Petite Savanne, but my buddy Zahir from Rosalie Bay had one last spot for me to see; one last collection of wikkid Wa Bio for me to savor; one last unforgettable character for me to meet.
I am from Dominica. Are you not?
These are among the first words uttered to me by Melvina Boyer when Zahir, Daniele and I entered her roadside/seaside bar in Pointe Michel. Resplendent in a red and white striped shirt and beaming despite a heavily bandaged ankle, her eyes pierced into me, her smile and confident, flirtatious charm owning me from the word "go."
I am Melvina Boyer. I was born in Pointe Michel… This is the most popular place in Dominica, and they call here Melvina's. Everybody who comes to Dominica want to know who is Melvina… I am THE Uncommon Caribbean Woman!
Whoa, strong, right?! I had been in her bar all of 10 minutes and already I was hooked for life.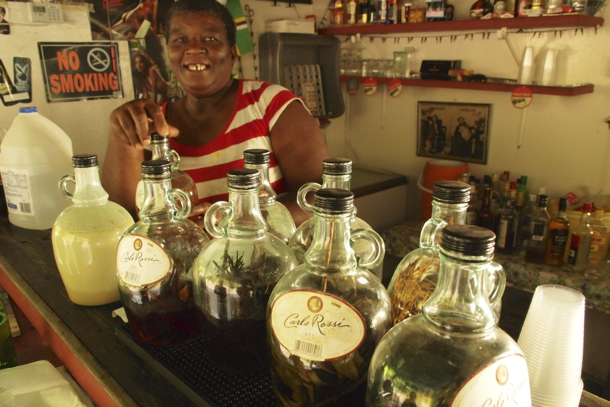 The strength in her words, though, was nothing compared to her Wa Bio. Peppered with love by THE Uncommon Caribbean Woman herself, Melvina's hellacious hooch put a perfect cap on my most uncommon rum journey to date.
She had more than 15 different "flavors" on display. Not sure how many I tried in the end, but one in particular certainly stood out. It stung on the nose, on the lips, the tongue and the throat. It didn't quite bring the heat of Brenda's ginger Wa Bio, but there was definitely nothing smooth or easy about this guy. Melvina meant to smack you with this one in a way that would send you right to bed.
The bush inside this bush rum – marijuana.
That shot was the capper for me. I remember liming about Melvina's for a bit longer; seeing the sunset from her seafront patio area…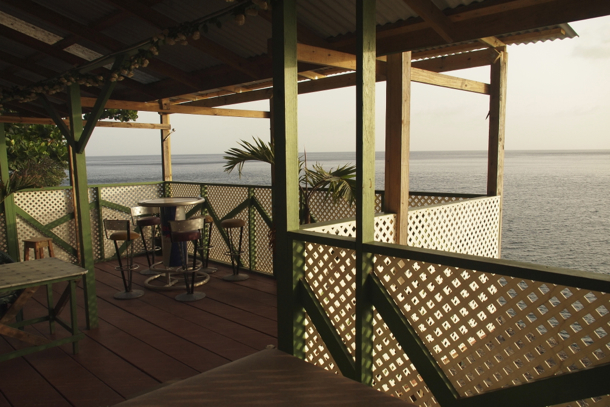 …chatting up my friend Daniele about how awesome the day had turned out…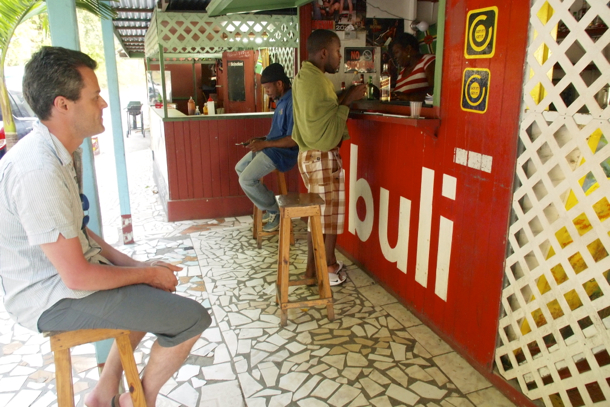 …even befriending a wayward dog.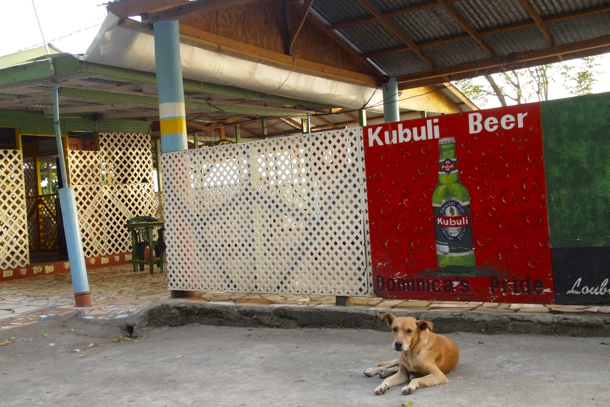 Memories of the drive back to Rosalie and the night's dinner, however, are a bit foggy.
Needless to say, any rum journey to Dominica simply MUST include a stop at Melvina's. The place really jumps late into the night on Fridays and Saturdays, but we obviously had plenty of fun liming here on a Tuesday afternoon.
You'll find that Melvina's is impossible to miss if you're heading south out of Roseau toward Champagne Reef. If you go, please give THE Uncommon Caribbean Woman a big hug from me…
Related Posts