On-Site Grenada: What I Remember About Umbrella's Beach Bar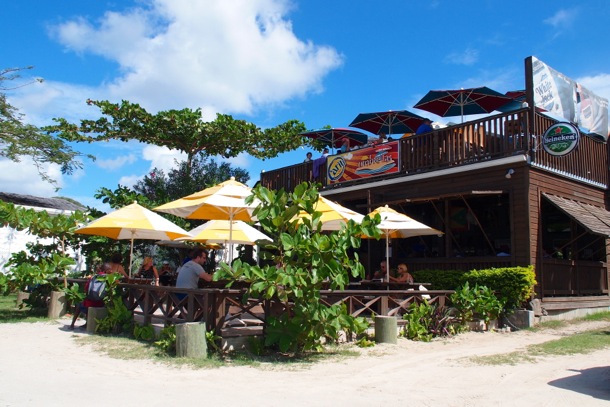 I tend to like my beach bars a little grimier than Umbrellas. There's no graffiti on the walls here. No random t-shirts and assorted unmentionables hanging from the ceiling either. All the tables and chairs even have all their legs, and aside from the sand tracked inside by beach-going patrons, the place is seriously clean.
So, why should you go here next time you're in Grenada…?
Drunkenness. It was drunkenness that originally drew me to Umbrella's on a Saturday night in early-November. Not my own, personal drunkenness, of course (I was driving), but rather that of a friend (name spared to protect the innocent) who had lost his shoes. Together, we'd also lost several of our other travel companions, so we wandered into Umbrella's thinking we might find both. Instead we found…
Sexy + Sassy Waitresses
"You know, the women outnumber the men here 12-to-1?" This is one of the first things our waitress (name spared again) at Umbrella's said to us when we sat down at one of the outdoor tables. It was flirty from the get-go, and with my shoeless friend emboldened in his current state, the talk only got spicier from there.
I know we ate something, though I can't remember what it was. There was a band playing inside too, as there always is at Umbrella's on Friday and Saturday nights, though I couldn't begin to tell you any of the songs they performed.
Yeah, the waitresses were that nice, friendly and fun. I remember that.
Another really good thing that I remember about Umbrella's was its…
Good Selection of Rums
It wasn't extensive by any means, but Umbrella's did have a few choice rums that I tend to seek out when I want something special. Most notably, we got into the El Dorado 21, which kept the smiles and banter flowing nicely.
Yes, I do remember that. Indeed.
I also remember not finding any wayward shoes, or our friends, factors that contributed strongly toward my returning to Umbrella's the next day, when I discovered its best attribute…
Upstairs Roofdeck
I don't think I went upstairs to check it out the night before, and I wouldn't have seen very much in the dark if I had, but Umbrella's offers an exceptional elevated view of Grand Anse from its roofdeck. Sitting up there with an ice-cold Stag, staring out at a lazy beach Sunday playing out across as far as my eyes could see, I didn't miss the grit and grime of my favorite beach bars. Umbrella's just isn't trying to be those places.
It's still plenty casual and fun, only in a more refined, elevated fashion that's welcoming to anyone ready to lime and chill by the beach.
Umbrella's is located right smack dab in the heart of Grand Anse Beach, among the sweetest stretches of sand and sea anywhere. They're closed on Mondays, but open every other day at 11am. Every other day, that is, except for Friday and Saturday when Umbrella's opens at 10am. Closing time is 9pm, 10pm or 11pm, depending on the night, and they're pretty punctual about it, so you'll want to give yourself plenty of leeway if you're looking for a late-night drink.
The menu is filled with typical fried bar food "favorites" – burgers, fries, hot dogs, wings, nachos – and I hear they make some pretty fancy cocktails too, though you're better off checking with our friends at Team Cocktail about that.
Not that I didn't have any cocktails at Umbrella's. I might've… I just don't remember…
For more on Umbrella's, visit them on Facebook.
Related Posts