River Antoine Estate, Grenada – A Quiet Visit
While in Grenada recently, I took my brother's advice and trekked up to the north coast of the island. Destination: River Antoine Estate. This is the Caribbean's most historic rum distillery. The place where the famed Rivers Rum is still produced in the same manner as it always has since the late-1700s. Loving history and rum as much as I do, I just had to witness the world's most enduring rum-making tradition first hand. Only problem was, my visit fell on a Saturday, a day of rest for the folks at Rivers.
Now, you might think this scheduling snafu might better qualify this visit for my recent post highlighting the mistakes I made in Grenada. On the contrary, though, it's actually quite interesting to visit River Antoine while it sleeps.
Meeting the Men of River Antoine
The workers you'd normally find toiling in the rum's production are instead relaxed. I found them playing dominoes and enjoying the spoils of their labor. At the same time, though, they were happy to greet me. They shared a bit about life in Grenada, working at the Estate, and the rum itself. On regular working days, many of these guys would be sweating it out in here: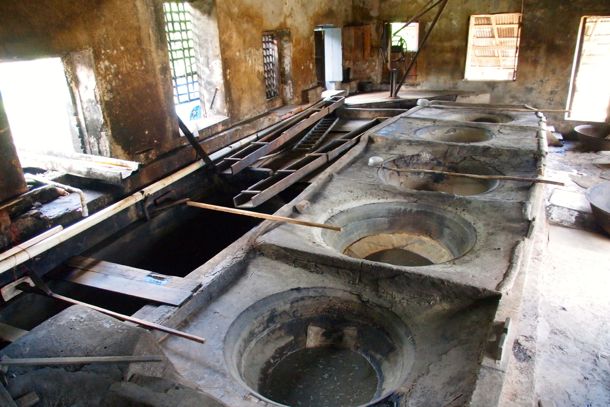 This is the Boiling House, where the fresh cane juice is filtered and collected before being processed into syrup. As noted by Patrick in point #4 in his story on River Antoine, all the work that's done in this room toward producing Rivers Rum is done by hand. Those long sticks with silver pans at the ends are the ladles used to move the boiling cane juice from one pot to the next until the right level of sweetness is achieved. Then the liquid is ladled, again by hand, into a holding tank. There it cools for two days before being transferred to fermentation tanks in the next room.
It must be an amazing process to witness, but I also enjoyed getting up-close to the pots and handling the ladles, no doubt no-no's during production.
Details I Might've Otherwise Missed
Walking around, I think I probably took closer note of things I would've otherwise missed, or not paid as much attention to during a group tour. Take this artistic mess of wood, for instance…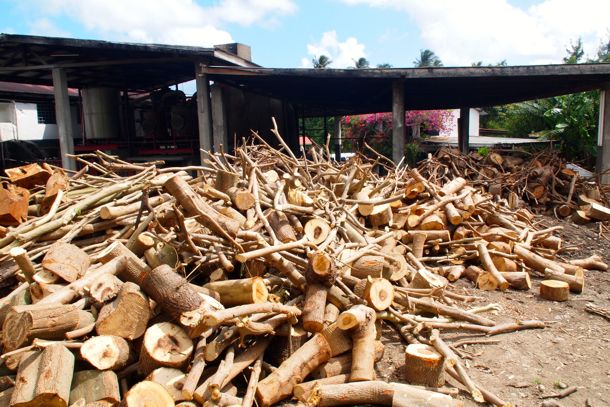 Or the notch cut out of this building near the entrance…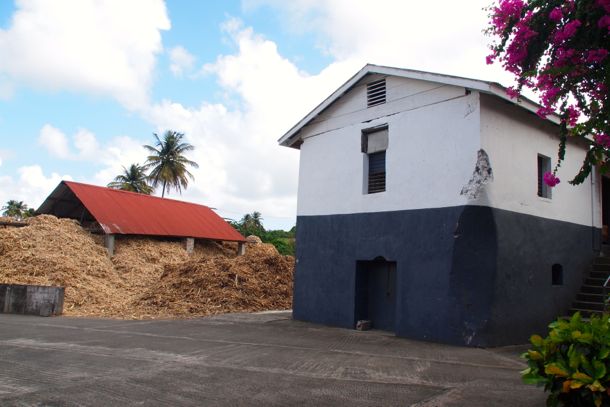 Over the years, trucks that came calling at the distillery grew larger and wider. To accommodate them, the corner of the building was slowly whittled away. It's still a fairly tight squeeze for larger vehicles, but better to improvise than tear down, right?
All in all, I really enjoyed visiting River Antoine in its quiet state. It was definitely more museum than distillery that day. The tasting at the end, though, made it clear that the good times are still flowing here. Just as they always have for more than two centuries…
Related Posts