Le Coin des Pécheurs for Sinfully Good Guadeloupean Cuisine
Editor's Note: UC contributor Laura Albritton is back with another colorfully descriptive account of her recent family trip to Guadeloupe. If excellent food is the deciding factor in determining your next travel destination, then you'll want to read on…
Some folks love a specific island for the fineness of its sand and the aqua-blue intensity of its surrounding seas. Others, the beauty of a coral reef, or the quicksilver kick of the local tipple. These enticements may have appealed the most to me in the past, but in recent years I've become all about the eats.
Sure, I luxuriated on breathtaking beaches like Grande Anse and Plage Leroux over my two-week stay in Guadeloupe earlier this summer. It was a blast watching striped sergeant majors, yellow tangs, and other vivid tropical fish dart about the shallows.
Still, the thing that most struck me about this Antillean archipelago was the sheer excellence of the Guadeloupean cuisine.
After almost every meal my husband Zickie and I sat back, stared at one another, and said, "Wow."
(To be honest, what went through our minds was more like "Holy ****," but this was a family expedition.)
Since we headquartered in the picturesque Deshaies area of hilly Basse-Terre, Zickie, our daughter, and I had plenty of opportunities to sample local delicacies. One of the best gastronomic destinations? The intriguingly named Le Coin des Pécheurs.
In French, the word coin means corner, and pêcheurs, with that funny, cone-hat accent mark means "fishermen." So coin des pêcheurs would mean fishermen's corner, which makes sense since Desahaies' enchanting harbor brims with fishing boats after the day's catch.
However, when you change the accent mark so that it's slanted – like on the sign above the entrance to the restaurant – the word becomes "pécheurs," which translates to sinners.
Sinners' Corner? Was the sign a mistake, or a deliberate statement? I would soon discover one plausible theory…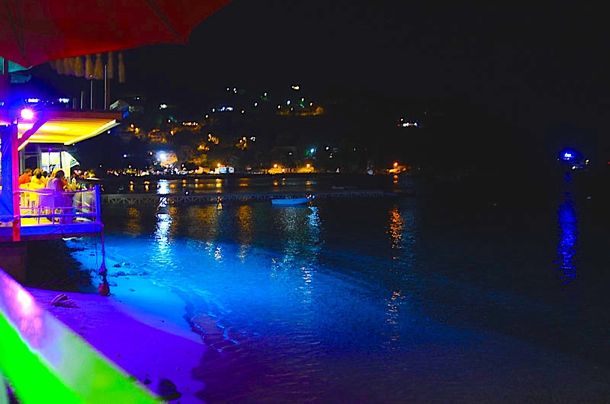 The very exterior of this place invites you in, with cheerful colors and painted scenes decorating the façade, and a chalkboard menu listing delectable possibilities, from lobster to snapper to shrimp. The view alone of Deshaies harbor at night was almost worth the price of the whole evening – just gorgeous.
At Le Coin des Pécheurs you sit on a wooden cantilevered deck, literally hovering over the sea as the surf rolls in beneath you. Blue spotlights illuminate the water. Sailboats loll at anchor. The atmosphere, utterly intoxicating.
Our friendly waitress, who moved too fast for me to catch her name, quickly brought drinks. A Ti' Punch for me, French red wine for my better half. (As a French département, Gaudeloupe imports wine from France with no foreign duties, so it's a bargain compared to prices in the States.)
Scanning the menu, my eyes alighted on "blaff." I'd read about blaff before our trip, and from what I'd gleaned it was a whole fish marinated for hours in lime juice, garlic, onions, fresh herbs, and other spices and then essentially poached in a broth. Fish cooked in this fashion was utterly new to me, so I couldn't wait. Meanwhile Zickie selected a "prix fixe" three-course meal, which, as he gleefully pointed out, cost about the same as my entrée.
Before long our waitress delivered Zickie's first course, a plate of accras, or cod fritters. Fortunately, he shared. (As if he had a choice!) These small fried balls of happiness were perfectly cooked, with light, crispy exteriors. The savory, fluffy middles tasted faintly of fish, but weren't overly "fishy."
The cheerful Guadeloupean women running this popular establishment didn't let guests languish unattended. They moved gracefully but with purpose, quickly replenishing drinks and checking in to ensure all was well. "You like the accras?" our waitress asked our daughter, trying out a little English. Our daughter smiled shyly and whispered, "Yes, I do."
Next came our entrées. Curiously cutting into the first bite of blaff, I smelled an amazing aroma of spices as the broth steamed upwards from the casserole dish. The succulent fish tasted extraordinary – delicate, very juicy, and savory, with a slight hint of acid (the lime juice, I'm guessing) that gave it some brightness. The rice served on the side worked as a wonderful means to sop up more of the broth, which had a subtle, even sophisticated flavor. Once Zickie tried the blaff, I thought he'd steal my plate. Seriously, I could eat fish cooked like this every week.
His own snapper had been grilled to perfection, and he enjoyed his christophine, a vegetable that had been cut up, spiced, and cooked in butter. Neither of us love squash, but this tasted wonderfully nutty. The biggest surprise, however, turned out to be our daughter's poulet Colombo.
"How's the chicken?" I prodded.
"Great," she replied, busily devouring the next morsel. Given the fact that our 10-year-old is a ridiculously picky eater, of course, her parents had to sample it. Created from a home-made mixture, the curry sauce itself wasn't spicy-hot but had loads of flavor. Thyme, cloves, coriander, mild peppers, garlic, lemon, and hard to know what else, but the cumulative effect was simply addictive. Hands down, one of my favorite Guadeloupean discoveries.
Just when we thought we couldn't stomach another bite, the waitress asked Zickie, "What would you like for dessert, banane flambé or coco flan?"
We'd forgotten about his third and final course.
"Banane flambé," he said immediately. (For reasons that escape me, my Jamaican spouse cannot abide coconut.) A few minutes later, the waitress brought out a whole banana gorgeously caramelized, with a hint of cinnamon. Over this very tempting concoction, she poured rum, then set it alight with a little hand-held gas stove lighter.
I'm convinced Zickie deliberately took large bites, so his wife and daughter didn't have time to swipe more than a spoonful each of his dessert, transformed into scrumptious goodness by means of an amazing quartet of sugar, butter, fire, and rum.
Over an espresso made from strong Guadeloupean coffee, the final grace note to a memorable meal at Le Coin des Pécheurs, I pondered the name of the establishment. "Fisherman's Corner?" I mused. "Or Sinners' Corner? What's the real name?"
We gazed off into the distance, each of us thinking back to the extraordinary flavors we'd just enjoyed. Any experience that felt that good, tasted that good, and looked that good…. Zickie and I suddenly grinned at one another.
"Sinners, definitely."
Thanks for another great post, Laura!
Related Posts